We had a White Christmas Handicap at Sherdley Park this year. In the seniors races 6 men and 1 lady completed the course. Dave Forrester and Matt Crehan eased away from the field but with 100m to go, stopped and crouched down in a sprint style starting position. They set off again when the fast finishing Jake Healy caught them up and all 3 sprinted to the finish where Dave and Matt crossed the line together with Jake just a few strides behind. Jake won the Handicap race - full details are as follows (actual time in brackets): 1. Jake Healy 13.40 (15.03), 2. Barry Graney 13.44 (15.24) 3. Matt Crehan 14.00 (15.00) 4. Steve Tate 14.07 (17.17) 5. Stan Erlam 14.22 (19.02) 6. Ray Vose 14.41 (17.51) 7. Dave Forrester 15.00 (15.00). Chris Dempsey won the ladies race finishing the course in under 20 minutes.
The Juniors ran one lap of the senior course - results and report to follow. Any more photos welcome.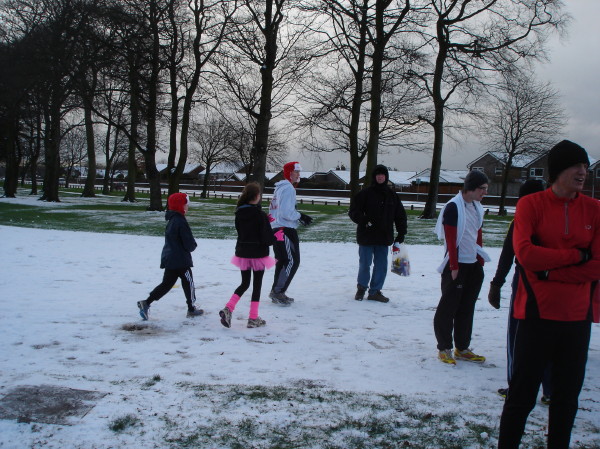 Thanks to Janet Holmes and John Irwin for setting the course and to Julia Hayes for organising the prizes.
Manchester Area Cross Country League Match 3 : Boggart Hole Clough, 12 December
On a quiet day for St Helens- Sutton's senior ladies team two athletes competed on an extremely muddy course at Boggart Hole Clough.
Gemma Connolly was first home in 7th position overall in a time of 29.18 and Chris Dempsey kept up her 100% finishing record by completing the course in 38.26 (10th L45).
Lack of numbers meant that we didn't score on the team front so please let's have a full turnout for the next match (Woodbank Park Stockport Sun 3rd Jan) to rectify this problem.
Guys10 : Bilsborrow near Preston
John Appleton (76: 67.33), Pam Appleton (268: 87.25) and Dorothy Fairhurst (323: 96.49) contested this very tough race.
Results
London Marathon 2010 - Final Call
The draw for the club's London Marathon places will take place soon, if you haven't already registered your interest you should do so as soon as possible As published in October's News, the first round is for those members rejected in the ballot this year, all members are eligible for any remaining places. If you wish to be considered let your team captain or the club secretary know now..
2010 Annual Subscriptions
The committee would like to remind all members that their annual subscriptions for 2010 are now due.