St Helens Sutton Athletic Club
November 2009
Salford Womens Run 5.25m: Swinton, 29th November.
The club fielded two complete teams of four in this popular road race which ends with a beautiful incline through quiet streets.. The first team of Pam Appleton (34: 42.56), Cecilia Schroeder (37: 43.48), Chris Dempsey (39: 43.51) and Cheryl Orrick (41: 44.07) finished sixth overall with Cecilia marking her very welcome return to club representation by winning the L60 prize. Pam was third L35 while Chris and Cheryl were sixth in their respective age groups.
The B team was made up of Lynsey Wilson (55: 45.29), Sarah Hattersley (86: 46.42), Dorothy Fairhurst (94: 49.58) and Joanne Keogh who finished 110th in 51.38, despite not having trained for five weeks, Dorothy was second L65. Thanks to John Appleton and Ritchie Bradshaw for providing practical and moral support.
Results
UKA McCain Cross Challenge : Sefton Park, 28th November.
Six young athletes represented the Club on Saturday with very muddy conditions producing heavy going.
Matt Shirling (4, 9:51) had a great run finishing 4th in a very competitive U15 race.
Chelsea Jarvis (18, 11:29) finished well  in the U15 girls and the Mcgoldrick twins Rachel (64, 13:30)  and Marie (82: 14:10) in the U13 girls.
U17 boys were John Ashcroft (36, 19:03) slipping about in the mud and Jamie White (61, 19:39) not far behind..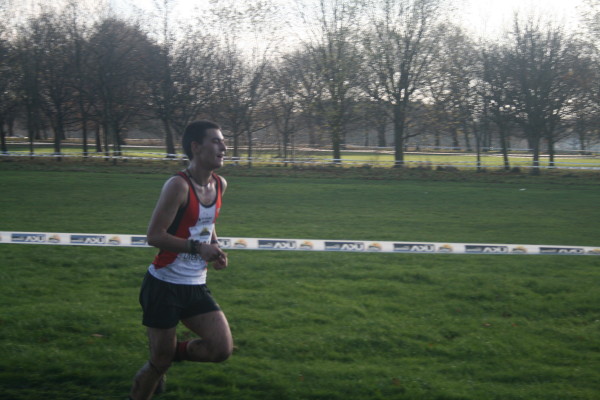 The U20 Men were represented by Matt Crehan (40, 21:16) producing another fine run, and Jake Healey (103, 25:13) chased home by Steven Clague (104, 25:31).

The Senior Men were led home by Dave Forrester (6: 31.33), excellent considering how little training he has been able to do recently, Rob Marsh (48: 37.24) looked comfortable throughout, Ian White (71: 38.55) showed great pace judgement coming through the field, Peter Johnson (80: 39.46) who timed his catch of Mark Davis (82: 39.48) to perfection with Alan McNally (40.31) ensuring we finished a team . The team result will be published when known.

UK Cross Results Senior Men L&D Results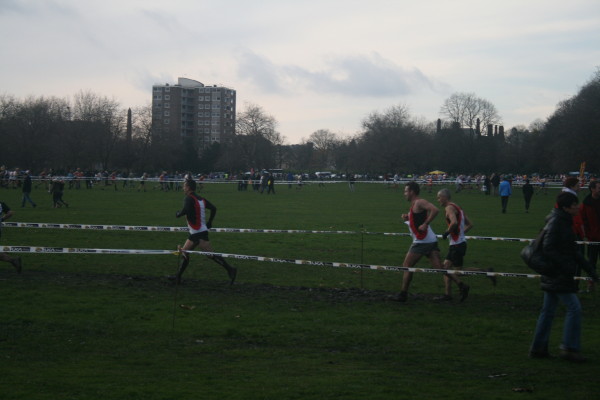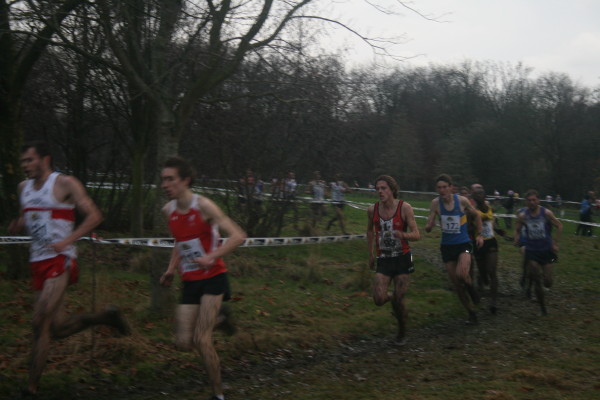 Championship Events: 2010
Entries for the Merseyside County and Northern Cross Country Championships are required as soon as possible. Please contact your coach, team manager for closing dates or pay at the desk in the clubhouse as soon as possible to avoid disappointment. Please enquire with the Secretary about forms for the Greater Manchester and/or Cheshire Championships or via the appropriate county website.
Inter-Counties Schools Race Stoke on Trent. 21 November.
Some excellent performances once again from the young athletes of the Club representing Merseyside on what must have been one of the rainiest days of the year!
Year 7 girls had 3 representatives: Danielle Webb finishing an outstanding 5th and also making the winning team. Rosie Johnson 14th and Lucy Griffiths 15th.
Junior girls: Chelsea Jarvis finished 6th and came 3rd team
Junior boys: Mathew Shirling had a great winning run both individually and in the team for the second time in two weeks.
Intermediate boys: Jamie White finished an excellent 11th overall in a  very strongly contested race.
All athletes ran well and were a credit to the Club on the day, well done to all.
Next race the McCain Challenge at Sefton Park on 28th November.
Results
National YAL. AGM
As a result of the NYAL AGM the club will be in a restructured League one against Bolton, SouthportWaterloo, Crewe & Nantwich, LPS, Trafford, Wigan, Altrincham and Macclesfield. It's a more complicated structure than in previous years but in simple terms there will be four matches each consisting of three teams. In all events the first past the post will be the A string, irrespective of who has been declared as A or B. In addition all matches will be double headers. This means that there will be two three club matches taking place at the same venue but not necessarily involving clubs from the same division!!!! The one good thing arising from the fact that there are two three club matches taking place is that the club will only be obliged to produce one track judge, one timekeeper and a team of four field event judges. On the other hand ten points are awarded per official so the loss in not providing any officials will be 60 points. The dates for the four matches on the fixtures list. Please note the Northern YA Championships date has been moved to the end of May.
Heanor Christmas Pudding 10k 15 November
Tuhin Wahid "Chewy" finished fifteenth in this event in a time of 35.53. Results
Inter Counties Schools selection
Congratulations to: Jamie White, Matt Shirling, Chelsea Jarvis, Rosie Johnson, Danielle Webb and Lucy Griffiths who have all been selected to represent Merseyside in next week's Inter Counties Schools in Stoke.
Manchester Area Cross Country League Match 2 : St Helens, 15 November
The club hosted the second match in the Manchester league on a fantastic day of sunshine and mild temperatures. The course held up much better than expected given the recent downpours, and the whole day was a world away from last year's cold, wet December date.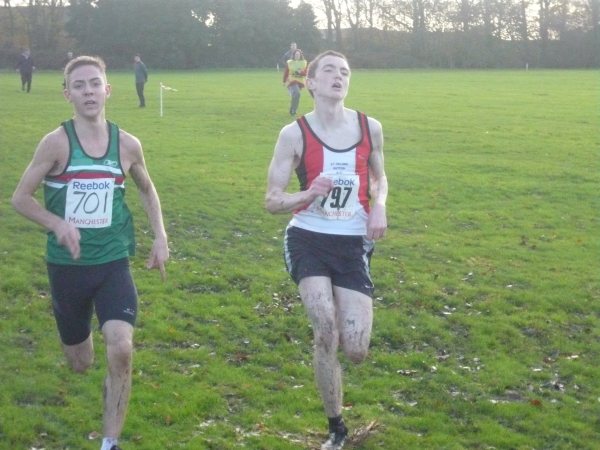 There was a great turn out of
28
runners, easily the best attendance for a Cross Country race by the young athletes.
U11s
were in attendance for the first time and all ran really well, with the debutants hopefully enjoying their first Cross Country race! The
U11 girls
came
9th
team with
Alex Bottomley (31) , Adele Tate (38), Hannah Seabrook (39), Abbie Roberts (43) and Chloe Orrick (48)
. The
U11 boys
came
4th
team with an excellent performance from
Adam Woosey (4), Joseph Walker (18) and Antony Walker (27)
. The
U13 girls
fielded two teams but were missing poorly
Rosie Johnson
and two new members to the Club the McGoldrick twins. The first team came
4th
with
Danielle Webb (11), Rachel McGoldrick (14), Lucy Griffiths (16),
followed by
the second team in
8th
with
Maria Mcgoldrick (27), Rachel Woosey (30) , Sally Ashton (39) and Lauren Wilcock (52)
. The club now has a strong girls squad taking shape. The
U13 boys
came
6th
team with
Daniel Elston (20), Owen Kennedy (31) and Paul Tate (35)
. The
U15 girls
matched the U13s in finishing
4th
team with
Chelsea Jarvis (10), Vicky Lamb (21), Rachel Wilcock (25) and Louise Hayes (31)
. The
U15 boys
came
5th
team with an outstanding performance and
first win
for
Matt Shirling
,
Chris Garrity (24) and Alex Bleakley (25)
. The
U17 girls
saw a welcome return for
Natalie Garrity
competing again and coming a respectable
12th
. The
U17 boys
were the team of the day beating Sale by one point to
clinch the win
.
John Ashcroft (2)
battled for first place all the way to line with an excellent run, supported by
Jamie White (8) and Dave Griffiths (11)
. A big well done to all who turned up and competed, it was a joy to watch. Team managers on the day were
Adrian and Lynn Webb.
Senior Ladies Report: By Gemma Connolly
Another good day weather-wise saw eight senior ladies compete on a drier course than in previous years. Gemma Connolly came in first, 6th overall with a time of 27.16, followed by Louise Hogg in 46th position (31.29 and 6th L35). The next four to finish came in within 5 places of each other, with Cheryl Orrick heading the pack on her debut (wearing trainers!) in 82nd (35.34 and 12th L35) just one place ahead of Pam Appleton in 83rd (35.52 and 4th L55). Chris Dempsey was next to finish in 86th place (36.24) but appears to be missing from the L45 category standings, unless reading all these number has made me go cross eyed (if anyone can see her on the results please let me know).** Finishing just behind Chris in 87th place was Linsey Wilson completing her second outing on the country and just getting into the L35 category before her Birthday on Tuesday (36.28 and 13th L35). Completing the team were Sarah Hattersley, making her debut on her Birthday (she must be mad) and running well to finish in 109th in 40.52 and Pauline Picton who was just behind in the standings in 113th place (44.43 and 7th L55). Overall the strengthened teams performed well with the seniors taking 8th place again and the vets team gaining an extra place from Heaton Park by finishing 7th.
** This has now been rectified.
Acknowledgements
Many thanks to the course setters, led by John Irwin, Janet Holmes and Colin Spark, who were on the course from 7.30 am until the last markers were collected at about 4.30 pm. They were assisted by Barry Graney, Ian Hayburn and Steve Tate. Thanks too must go to Sue Clague and her many volunteers who helped marshal the course (including Dorothy Fairhurst, Chris Dempsey, Tony Raffle, Linda White, Jane Ashcroft, Colin Spark, George Mullineux, Mike Healy, Peter Johnson, Jamie Webb, Ian Costello, Bob Johnson and Julie Woosey). Janet Holmes filled in the gaps between course setting by serving as the First Aider (and nearly had a few of the men's field to cope with, had it not been for the quick reactions of the driver who almost spun onto the course!). Thanks too to Pete Johnson and Lousie Hogg for providing the changing facilities and food and drink & next time it's going to be on a bigger scale, worth turning out just to see what's cooking... Finally thanks to all those supporting and to anyone who's been missed out, let me know. Hopefully we'll get some pictures later from the photographers who were dotted round the course.
Results: Seniors and U20 Men Juniors and women Pictures
Christmas Meal
Steve Tate is trying to organise a Christmas meal for adult members of the club, which is open also to parents of athletes at the club. If you are interested in attending please respond to Steve as soon as possible.

He has managed to secure a provisional booking (confirmed once full deposit received) at the Beefeater (address below), at 8.30pm on Saturday 5th December 2009. The celebration menu can be seen here and consists of 3 courses @ £16.99 per person (drinks extra).

Micklehead Green
Eurolink
Lea Green
St Helens
WA9 4TT

As time is short those wishing to attend please email Steve Tate at tatesj@hotmail.com or telephone: 07905344541 to secure your place and arrange payment of a non refundable £5.00 per person deposit.

This is an ideal opportunity for club adults to get together and have a great evening. The cut off date is Wednesday 18th November so the deposit can be paid. If there is insufficient response the event will be cancelled.

Red Rose League - Bury 7 November
Matthew Crehan had a run out at Bury winning the junior men's race and finishing third overall in the senior event. in 36.41.
Northern Track and Field League AGM - 2010 Programme.
The Northern Cup has been discontinued and been replaced by a paper match, based on league performances, which will decide the finalists. The proposal to introduce minimum standards was rejected. The date of the fourth match has been changed from Sunday 1 August to Saturday 31 July.
Manchester Area Cross Country League 15 November
The club is hosting the next match in the Manchester area cross country competition on the 15th November. Along with hoping for an increased turn out of athletes, we will need volunteers to marshal the course or help with setting out / taking in the course markers. Please email Sue Clague if you are available to help, or sign up on the notice in the club house - even half an hour will give someone the chance to get a cup of tea (or ice cream given the recent weather!).