St Helens Sutton Athletic Club
September 2009
Northern Veterans' Championships Hyndburn 27 September
Garry Ireland competed in the above championships winning the javelin with a throw in excess of 41 metres, finishing second in the hammer and shot and contesting the discus. Full details - and details of other competitors - once the results are published.
Medicine & Chernobyl Belarus Aid 10k, Parbold 27 September
John and Pam Appleton tackled this event, John taking twelfth place in 41.37 (2nd M55) while Pam was first F55 in 50.02 finishing 46th overall.
Medal Meeting - Blackpool 27 September
Four athletes took part in the final track and field meeting of the season at Stanley Park. Liane Bibby won the javelin (34.32) and threw the discus (16.95). Sprinter Bethany Baxter was third in the long jump with a pb 4.32 and was in the top six in both the 100 (14.1) and 200 (29.1). Taylor Caton-Hand was second in the 100m and completed the 200 in 29.8. Tricia Spark was fourth in the discus (19.09), set a season's best 14.0 in the 100 and recorded 28.9 (200). Information from Colin Sparks. Results.
Northern Road Relays, Young Athletes- Leeds 27 September
The Young Athletes had a great day out at Leeds for the Northern Road Relays with some excellent runs.

U13 girls consisting of Rosie Johnson (11.12) Sally Ashton (13.15) and Danielle Webb (11.46) finished a very good 15th overall without Rachel Woosey who was competing for the County at rugby.

U15 boys lost Alex Bleakley to swine flu so had an incomplete team consisting of Matt Shirling (9.12) equal 2nd fastest leg of the day and an outstanding run against a quality field. Chris Garrity very nervously took the second leg in 12.26 finishing 26th after leg two, having a very good run.

U17 boys fielded two teams with the A team of John Ashcroft (9.42) Dave Griffiths (11.02) and Jamie White (10.24) finishing 5th overall with great runs from all. John came in a very close 3rd and got the 4th fastest leg of the day. Dave running a very good second leg bring them home 10th and Jamie White brought the team home in style moving up 5 places on the last leg. The B team consisting of Danny Hughes (11.24) Jamie Webb (11.56) and Nathan Brown (11.05) finished a very respectable 20th.

U15 girls were Vicky Lamb (12.47) Louise Hayes(13.10) and Rachel Wilcock (13.20) finished well at 33rd overall.
Well done to all who competed and thank you for turning out.
Results
.
Northern Road Relays, Seniors - Leeds 26 September

The club finished two teams at the road relays this year in Leeds on a day that was more like summer than autumn. The organisers did a good job of hiding the venue, and set out an undulating, slightly longer (6k) course than last weeks NW relays. The A team qualified for the nationals with some great performances, the highlight being Dave Forrester's run, 8th fastest overall on the day.
Matt Crehan (24th position, 18:32) led the A team off well giving Dave Forrester (5th, 17:18) plenty of people to chase, although he only managed to catch 19 of them! Danny Griffiths (11th, 19:04) was next up holding on well. Jake Healey (18th, 21:05) and Ian Costello (23rd, 21:36) put in solid performances before Greg Williams (24th, 19:52) produced a fine run on last leg.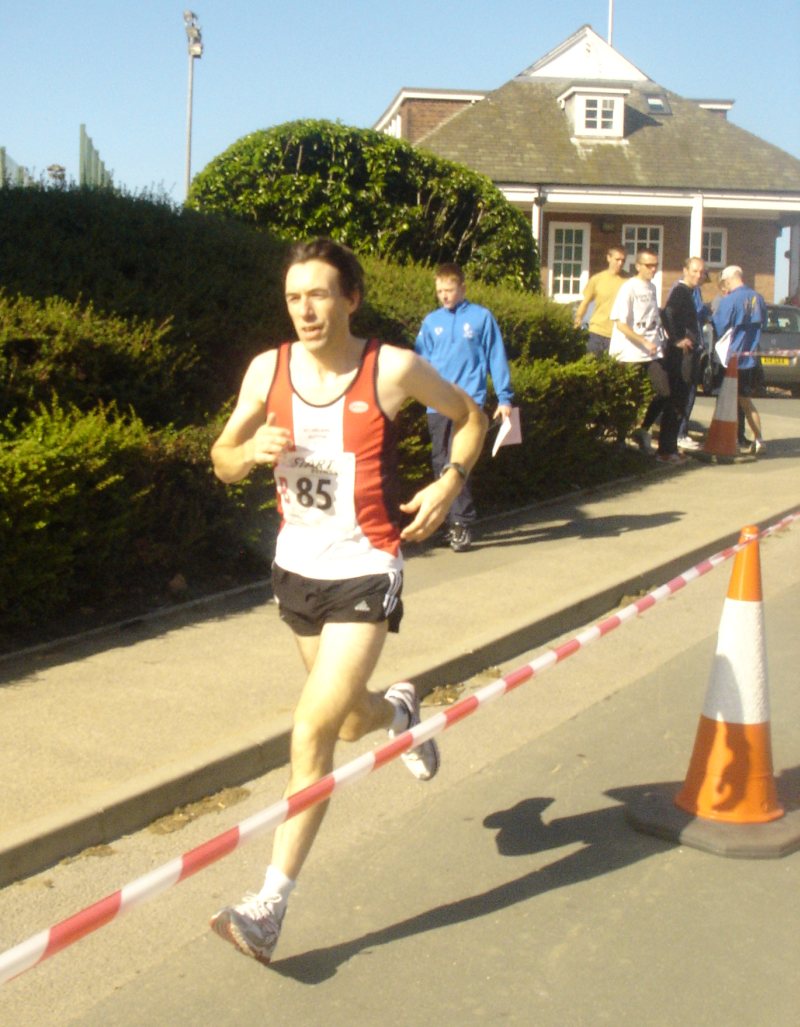 Mark Davies (72nd, 21:00) led the B team out before Barry Graney (61, 20:37) moved nicely through the field, both legs good enough for an A team spot showing good depth to the squad. Steve Tate (65, 22:12) handed over to Ian White (66, 21:46) who somehow managed to combine a morning training session with a good race! Alan McNally (68, 23:54) and Steve Clague (68, 24:01) completed the team.

Thanks to the reserves (Tony Raffle, Pete Johnson) and Parents for great support on the course. The only disappointment on the day was lack of a senior women's team again, come on ladies where are you? Report by Barry Graney. Results
Yorkshire Veterans Championships - Cleckheaton 20 September
Michael Hughes travelled across the Pennines to compete as a guest, recording 29.50 (Hammer -ninth), 8.46 (shot - 12th), 25.40 (discus - 12th) and 21.17 (javelin -tenth). Unfortunately, Michael was unable to enter the Northern Veterans Championships as he received the entry form too late to do so.
Guilden Sutton 10k -Chester 20 September
John Appleton completed this event in 67th place in a time of 41.26.
Great North Run - Newcastle - 20 September
At the last count seven runners from Sutton raced in the Great North Run. Dennis Wharton was first home finishing in 1hr27, 7th V50. He was followed by Jim Crehan in 1hr34mins, 20th in his age group. Julian Corfe sneaked under the two hour mark (1:59), followed by Sarah Hattersley & Cherryl Orrick finishing together in (2:00). Dorothy Fairhurst (2:13-ish, non chip time) and Joanne Keogh (2:18) completed the turn out for the club. Results
Arnold Seddon Memorial Meeting - Wigan 19 September
Chelsea Jarvis set a new club record of 42 seconds for the 300m at Robin Park and collected a second gold by winning the 1500m in 4.51.9. Taylor Caton-Hand was second in the long jump (4.43), finished fifth in the 100m final in 13.9 and seventh in the shot with 7.13.
North West and Merseyside Road Relays - Blackpool - 19 September
The Young Athletes had a great turn out at Blackpool with some excellent results.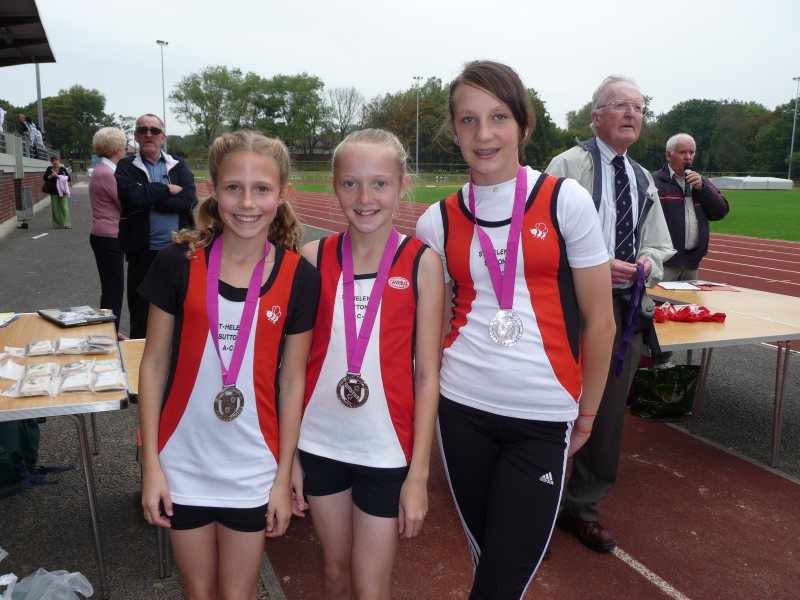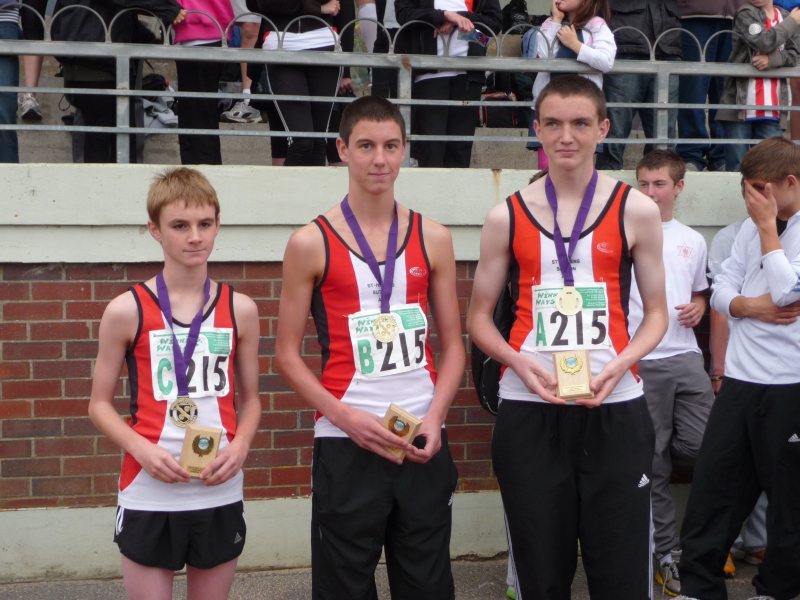 The U13GA Team consisting of Rosie Johnson (6:41), Danielle Webb (7:06) and Rachel Woosey (6:54) finished 4th overall and 2nd County team in a close race with the first four teams finishing within a few seconds of each other. Emma McCartney (7:39), Sally Ashton (7:47) and Lucy Griffiths (7:59) made up the B Team with Lauren Wilcock (9:06) on her own in the C Team. All had excellent performances with results to follow.

The U13B consisting of Owen Kennedy (6:58), Daniel Elston (7:05) and Paul Tate (10:07), and the U15G Louise Hayes (13:31), Rachel Wilcock (13:13) and Vicky Lamb (12:52) both picked up 3rd Merseyside Team with again excellent performances.
U15B had an incomplete team consisting of Matt Shirling (9:24) and Alex Bleakley (12:05). Matt taking the first leg and coming in first place with Alex running a very good 2nd leg.

There were two U17B teams. The A Team consisting of John Ashcroft, David Griffith and Jamie White all had fantastic runs leading the whole field from start to finish and beating for the first time ever the Warrington lads to get first North West Team and 1st County Team. The B Team consisting of Danny Hughes, Nathan Brown and Jamie Webb came 8th overall. As the team was a composite trio they were allowed to run as non-counters but were unable to collect medals as the first club B team from a Merseyside club to finish.
A great day was had by all and well done to everybody.
The Senior Men managed to field three full teams with two reserves running in a fourth team. Dave Forrester (14:47) led the A team off, coming home comfortably in first place, Danny Griffiths (15:59) , Jake Healy (17:05) and Barry Graney (17:29) all ran well to earn 3rd county team.


The B team was largely a non counting mix of Cheshire and Greater Manchester athletes, led out with a great run by Matt Crehan (15:35), followed by Mark Davies (17:35), Ste Clague (19:03, with a pit stop to replace a shoe) and Ian Pass (18:19). The C team was led off by Alan McNulty (19:26) followed by Steve Tate (18:52), Ian White (18:17) and Ian Hayburn (20:28). New captain Pete Johnson (19:13) had a run out in the D team before handing over to Tony Raffle (21:52) .
Throws and Jumps Meeting - Wavertree - 19 September
Liane Bibby achieved a Grade 1 in the javelin (31.45) and set a personal best in the discus (21.76) while Tricia Spark put the shot 8.92 and threw the hammer 33.97.
Nightly Subscription:
At the AGM the membership approved an increase in the nightly subs. The club has held off increasing this rate but must now match the increase in the track hire costs. Starting from 1st October, the subs will be Juniors 70p, Seniors 80p. Family subscriptions are still capped at the cost of two members.
Stretton Skyline Fell Race 13 September
Top racer Mark Davies travelled to Church Stretton in Shropshire to run the Stretton Skyline Fell Race. The 18.7 mile race took in five hills forming the skyline around Church Stretton with a combined ascent of approximately 4500 feet. Mark finished 46th out of 85 in a time of 3:35:45. Results
Blackpool Medal Meeting 13 September
A small group of motivated athletes travelled to Blackpool for the first of the two September medal meetings. Taylor Caton-Hand and Daniel Elston contested three events each. Taylor won the long jump (4.65) and shot putt (7.38) and finished second in the 100m (14.2). Daniel recorded 3.81(long jump), 5.09 (shot) and 2.41.5 (800) finishing seventh, fifth and eighth respectively.
Michael Hughes won the hammer (30.78) and finished fourth in the shot (8.70). Danny Hughes was second in the shot (9.42) and 400 (58.4). Bethany Baxter took second in the shot (6.59), third in the 100 (13.9) and ninth in the 800 (2.48.9). Heather Drillingcourt was fourth in the 100 (13.6) while Patricia Spark won the hammer (36.31), finished fourth in the shot (8.60) and eighth in the 200 (28.8).
Life Membership:
At the recent AGM Life Membership was conferred on Stan Erlam and Julia Hayes. The criteria for life membership remains (a) International Representative Honours at club level (schools' internationals do not count) or (b) other outstanding contribution to the club. The full list of current life members are Billy McMinnis, Ken Wilcock, Ray Vose, Trevor Prescott, John Irwin, Tony Raffle, Dave Forrester, Phil Thomas, Stan Erlam and Julia Hayes.
Road Running: Penny Lane Striders 10k
The Penny Lane Striders 10k road race scheduled for Sunday 11 October has been cancelled.
Cheshire League: 6 September
Taylor Caton-Hand set a new U13 Boys' javelin club record of 27.57, winning the event at Eccles. Callum Baxter (22.78) won the B string. Taylor was also second in the long jump (4.40) and third in the 100 (14.3). Daniel Elson was second in the 100 (15.5) and long jumped 3.77, later winning the 1500 in 5.38.4. Another 1500m winner was Nathan Brown who recorded 4.45.5.
Tricia Spark won the discus (17.79) and was third in the 200 (29.9). Louise Hayes was third over 200 (31.7) and long jumped 3.43. Bethany Baxter won the 200 (29.2) and shot (6.41) as well as finishing fourth over 800 (2.48.1).
Many thanks to those who supported the meeting, especially those who risked public transport on a Sunday. Results.
Open Meetings:
Liane Bibby competed at the Kingston Upon Hull Open meeting on 5 September, winning the javelin with 31.37m and taking second in the 100m in 14.2. On 6 September she competed at Pendle winning the javelin (33.32) - breaking the competition's 24 year old record and finished second in the discus (20.82).
The Woosey family spent the weekend in North Wales, contesting the Colwyn Bay Games on 5 September. Adam won the long jump (3.82) and 600 (1.54.4) both pb's and recorded 15.6 for fourth place in the 100 (15.5 in the heat). Rachael was second in the 800 (2.37.7pb) and was also fourth in the 100m in 14.4. In addition, she contested the long jump leaping 3.66.
Jim's Great North Run

Jim Crehan will be running the Great North Run on the 22 September. He will be running to raise money for the British Heart Foundation., If anyone would like to sponsor him please use the link below. Jim says,
.
"I wouldn't normally run for charity as running is my hobby but owing to a major heart attack in December 2006 I feel the need to help raise much needed funds for this worthwhile charity. Without their continuous research I may have been one of the 50% who don't survive, leaving a wife & two young sons".
See attached link to my Just giving web site where I am asking for sponsorship."