St Helens Sutton Athletic Club
March 2009
Northern 12 stage and 6 Stage Road Relays - Stockport Sunday 5 April
As things stand we have teams in both the men's and ladies events which start at 11.30.am. Ian Hayburn and Sue Clague are in charge of the teams on the day and will be making the team declarations shortly after 10.30 a.m. so please make sure you know which stage you are running. Also note that the parking at the venue is limited (therefore you might need to hunt around for a car parking space in the surrounding streets, some of which do not permit parking) and there is a ten minute walk from the car park to the start. Full details are on the Northern Athletics website.
Elite Mile - Middlesbrough 29 March
Dave Forrester finished sixth in the above event in 4.13, helping England to a team win. Dave's time of 4.13 (one second behind the North East's Nick McCormack) is a record for a mile road race and comes at the end of an illness bedevilled winter. Hopefully he will repeat the time on the track this season. Dave also kept Steve Cram entertained during his visit when the former world record holder dropped in at Dave's hotel for some tips on top class racing. Apparently Steve offered Dave some advice as well.
Open Meeting Wigan 29 March
Although several members competed at Wigan the only results we know at the moment are those of Michael Causer who equalled the club U15 long jump record with 5.50m (12cm up on his recent indoor performance at Sport City) and ran 12.8 in the 100m. Jonathan Causer jumped 3.50 in the long jump, threw the javelin 14.09 and ran 3.08 for the 800m. Further information when available.
We now have the additional results from the above meeting. Megan Westerside made her debut in the U13 Girls recording 18.8 in the 75m hurdles, 17.2 (100) and 34.1(200). Rachel Wilcock (100 - 15.7 : 1500 5.46.7) and Chelsea Jarvis (200 27.8 : 800 2.23.1) contested the 1500m. Steve Clague ran 56.6 for the 400m while opening their U17 accounts in the 400/3000 were Danny Hughes (56.2/10.12.1), John Ashcroft (59.2 / 9.41.4), Jamie White (59.9/9.57.8) and David T Griffiths (60/10.45.6).
Half Marathon Season. Liverpool & Wilmslow 29 March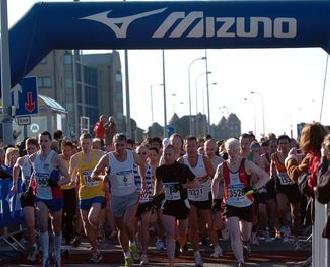 Paul Carrier shot off the line at the Liverpool Half Marathon and quickly opened up a gap on the chasing field. Unfortunately this meant he was first to reach the dead end after a quarter of a mile, as the marshalls failed to direct the runners. The leading runners then had to double back, rejoin the main race and work through the ipod & fancy dress crowds. Despite the glitch the race was run over a great course and the weather was just perfect too. Paul Carrier (77.37) and Barry Graney (78.36) finished ninth and thirteenth (2nd V40) respectively, assuring both a long run in next week's 12 stage road relays at Stockport. Chris Levy (86.51), Connor McEntee (87.17), Steve Tate (91.46) and Alan McNally (96.13) also completed the course, as did Joanne Keogh - who like Steve is taking part in the London Marathon - and finished in 2.16.18. Results

Over at Wilmslow Martin Howard finished 272nd in 99.35. The previous day Mark Davis was sixteenth in 20.04 at the Bramhall Park Race. Results

Coniston 14 : 28 March

Dennis Wharton was our first runner home in 1.38.38, John Appleton followed in 1.46.55 pursued by half a dozen ladies led by Pam Appleton (2.01.36), Jackie Turner (2.16.55), Dorothy Fairhurst ,whose 2.36.31, earned her the 065 prize, Pauline Picton 2.45.12, Sue O'Hanlon 2.49.06 and Janet Holmes 2.52.18. Results

Trafford 10k : 15 March

Gemma Connolly and Mark Davis contested the prestigious Trafford 10k, Gemma finishing fifteenth lady in 37.10 and Mark 194th overall with a time of 43.11 Results

Blackpool Open Meeting 15 March

Four athletes kicked off their 2009 track season at Blackpool. Michael Hughes was second in the hammer with 27.28 and third in the shot (7.25).

Liane Bibby and Tricia Spark competed at U15 level and Shelby Jack for the U13's. Liane won the javelin (28.33) and threw a pb 21.37 for second in the discus while Tricia took won the hammer (32.68) and second in the shot with a pb 9.08. Shelby ran her first competitive 600m in 2:12.8 prior to taking a hard fought win in the 80m heat in 11.4 seconds, third overall.

Report from Carl Bibby..

Haigh Hall Relays - Wigan 14 March

The senior men made a return to racing by taking eighteenth place at the Haigh Hall Relays. Ian White (22.59) and Ian Hayburn (25.02) top and tailed the quartet in eighteenth place, youngster Dave Griffiths (23.48) brought them up to fifteenth on leg two but Dennis Wharton, despite running a splendid 24.46, was unable to hold off strong opposition and return in eighteenth spot on the penultimate lap. Unfortunately David was regarded as too young to be counted as a veteran in which a place in the top six was available. However, the composition of the team shows the potential for the next few years as the youngsters move through into senior competition. Results

English Schools Championships - Leicestershire 14 March

All five of the club's athletes who were in the Merseyside and Greater Manchester Schools' teams made the count on a hot day in Leicestershire. Both Chelsea Jarvis (30th junior girls) and John Ashcroft (38th intermediate boys) were first home for the county as their teams finished 26th and 22nd respectively. Jamie White made it a double by coming home fifth counter (189th) in an age group he will contest again next season. Newcomer Matthew Shirling showed great potential in only his third race by finishing 59th (fourth counter in the Junior Boys' race). Merseyside were seventh. Competing for Greater Manchester Matthew Crehan was his county's fourth man home in the senior boys' race in 67th place as the team finished fifth.

Inter-Counties Cross Country Championships - Nottingham 7 March

St Helens-Sutton club athletes made their presence felt for Merseyside at Nottingham in what is generally regarded as one of the hardest races in the winter calendar. Chelsea Jarvis (72) and Rosie Johnson (82) were second and third counters for the county U13 Girls' team while Jamie White (81) and Jamie Webb (207) were second and fourth counters for the U15 Boys' team. Steve Clague (154) was Merseyside's third U20's counter while Louise Hogg (252) was the County's seventh counter home. Matt Crehan (Greater Manchester U17) was second counter in 64th place while Gemma Connolly (Cheshire) was fourth counter in 148th place. Information from a very hoarse Sue Clague.

County Track and Field Championships

Entry forms are now available for the Merseyside track and field championships in May. Those for Cheshire will follow as soon as they are available.

Training at Sutton Leisure Centre.

Training on club nights (Tuesdays and Thursdays) at Sutton Leisure Centre is done on a block booking basis which is why it is so cheap. Anyone training on a non-club night, including weekends, must pay the appropriate user fee (£1.60 for junior members) at reception and obtain a receipt before using the track. Being a club member does not entitle athletes to free use of the track at any time.

North West Sports Hall League Final Wigan - 1 March

There was a fine effort from the three teams which reached the North West League final. Tricia Spark (9.15) and Liane Bibby (7.97) won the A and B shot and, supported by Louise Hayes and Joanna Bebbington, took fourth place overall. The U11 Boys were equal fourth with Deeside, Daniel Elston (2nd) and Owen Kennedy (3rd) finding good support from Adam Woosey, Jamie Dinnar, Scott Houghton and Jonathan Causer. The U13 Girls were sixth, Sally Ashton winning the speed bounce, Bethany Baxter claiming second in the 4 lap race, Elisha Cane proving an excellent all rounder and Rachel Wilcock demonstrating promise for next year.