St Helens Sutton Athletic Club
January 2009
Merseyside Inter-Counties Team.
The following athletes have been chosen to represent Merseyside in the inter-counties at Nottingham in March. Chelsea Jarvis, Rosie Johnson, Heather Drillingcourt and Louise Hogg. Rachel Wilcock is reserve for the U15 age group. We understand that Dave Forrester has been selected for the senior men's contest, Steve Clague for the junior men's contest with Jamie Webb and Jamie White in the U15 team. John Ashcroft is a non travelling reserve.
Northern Indoor Championships - Sheffield - 25 January
Tom Green powered into the semi-final of the 60m with 7.64, reducing that to 7.63 in the semi-final itself. As Tom has had a number of football related injuries which have interrupted his preparation, running 0.06 seconds than his personal best shows he can look forward to a good track season provided he keeps injury free.
Northern Cross Country Championships - Sherdley Park - St Helens - 24 January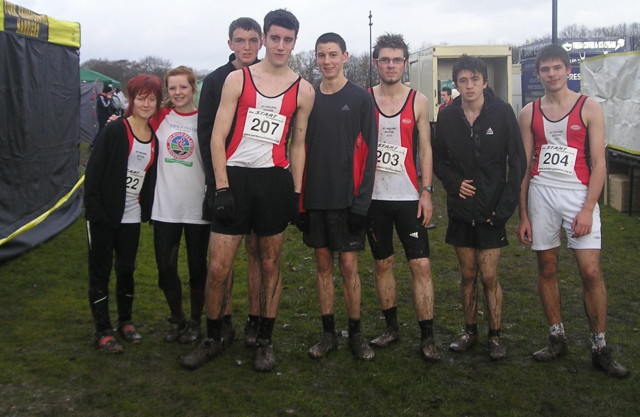 53 club members entered, 39 ran and completed the course, one fell over and was unable to finish with a damaged ankle and we had complete teams in the U13, U15 and U17 Boys, senior men and U13 girls contests. This was more than in 2004 when the championships were last held at Sherdley Park although then, as now, Tony Smith led the senior men home while Ray Vose and Ian White made the team count yet again.
The other members of the senior team on this occasion were Barry Graney, an injured Peter Johnson and a reliable Dennis Wharton while Ian Hayburn, Billy Mousdale, Andy Drillingcourt and John Skinley all completed the course to finish twentysecond, one place ahead of SouthportWaterloo but two places behind Liverpool Running Club featuring Maurice Collins (He'll have bragging rights this week !!).
Only three of the fit senior ladies turned up to compete, Gemma Connolly who made the top fifty, Jo Clisham-Marsh who finished ahead of Chris Dempsey over the increasingly muddy course which tested their resolve. Steve Clague missed a weekend away in order to compete and was rewarded with a solid performance.
The U17's had mixed fortunes Matt Crehan going off too fast but hanging on for eleventh. John Ashcroft, Jake Healy, suffering badly with stomach problems, Dave Griffiths and Danny Hughes covered by a mere 31 seconds, while Adam Fackey made his first championship appearance of the season with 23.37. The U17 girls performed steadily Heather Drillingcourt (60) and the courageous Siobhan Hattersley (81) completing the course watched by the injured Natalie Garrity and Lauren Bradshaw both superbly dressed for the occasion.
The U15 Boys finished fourteenth, Jamie Webb, Jamie White, Nathan Brown and Ryan Wilson completing the count, while the U13 Boys had five runners and six finishers!!! Matthew Atherton, Ryan Houghton, Alex Bleakley, Daniel Elston and, Chris Garrity were counted through then Ryan was counted a second time (which might explain why he was very tired, running the course twice!!)
The U13 Girls team suffered a blow when Chelsea Jarvis was ruled out with 'flu and they had a further setback when Emma McCartney fell and twisted her ankle. Rosie Johnson (22) led the girls home with Rachel Woosey, Vicky Lamb and the ebullient Sally Ashton earning fourteenth place in the team race.
The U15 girls trio of Rachel Wilcock, sprinter Jenny Lamb and Louise Hayes (the last two packing brilliantly) completed the course in splendid fashion, each one of them watched by at least one of their grandparents!!!
John Irwin, Mr Bleakley, Mr McCartney and others responded to the need to raise a tent which was as muddy as the athletes by the end of a very pleasant afternoon's sport. The burden of tent raising now passes to the next generation of senior athletes. Julia Hayes carried out the team manager's duties on an rapidly decreasing patch of dry ground.
Those present included former Sutton members of the 1969 senior men's team who finished third over a snow filled Sherdley Park (Ron Barlow and Steve James). Ken Wilcock (1962 European Silver medalist in the 4x400) and stalwart Trevor Prescott (still competing in the O75 age group) were also amongst those watching, while the chairman was honoured by presenting the medals to the first three in the U17 Men's race. Those with a warped sense of humour can find the photograph on the Northern Athletics website (they didn't get my good side, honest and I was wearing a dozen jumpers). Results.
Weekend Round Up: 17/18 January
Matthew Stone recorded 51.37 to reach the B final of the Northern Indoor 400m, where he took fourth place in 52.91.
Ian Costello (17.54) and Andrew Mark Davies (23.13) finished third and thirtyseventh respectively over 5k at Bramall while twentyone club members competed in the Helsby Half Marathon led by Gemma Connolly who claimed the prize as the second lady.
Barry Graney, Ian White, Louise Hogg, Pam Appleton, Dorothy Fairhurst and Dennis Wharton all finished in the top ten of their respective age groups. Mark Glynn, Pauline Picton, John Appleton and Joanne Clisham-Marsh all took top twenty age group places while those earning top thirty places included Jackie Turner and Christine Dickinson.
Other completing the course included Chris Levy, Ian Pass, welcomed back after a serious eye operation, Julian Corfe, Steve Tate, after injury, John Skinley, Joanne Keogh, Linda White and Robbie Marsh who managed to stay alongside Joanne for the whole race.
Presentation Evening: 16 January
After a busy day helping St Helens MBC stage their annual schools' races Julia Hayes and the club's coaches turned up at Penlake for the annual presentations. The main awards went to David Forrester for numerous performances at world and international level, Sue Lowrie for her splendid effort in tackling seven events (and imitating the Ministry of Funny Walks while tackling the high jump at Spenborough) and high jump coach Rob Brocklebank for coming out of retirement to score sufficient points at Blackpool to prevent the club from being relegated. In addition there were awards for Ian Costello and Gemma Connolly both of whom displayed a consistent willingness to compete for the club, no matter what the challenge. Both have excluded the word "can't" from their vocabulary. It is to be hoped others follow their splendid example.
The Junior Athletes of the Year were John Ashcroft for the Boys while the Girls' award was jointly shared between Lauren Bradshaw and Heather Drillingcourt. All three tackled a wide range of events, without demur, as requested in the interests of the club. Their events ranged from 100 to 3000 with hurdles, long, high, triple jumps supplemented the occasional throw. They maintained a positive attitude to competition and towards other team members.
In the Young Athletes Performance of the Year the award for the Boys went to Tom Green, who placed third in the Northern Indoor sprint final and contributed to the team throughout the year, especially in the sprints, relay and shot putt. The Female award was shared between Liane Bibby and Kathryn Sumner in recognition of their massive improvements in the javelin and hammer respectively which saw each of them become the leading thrower in Merseyside, in the top echelons of Northern athletes compete for Merseyside at the ESAA and Inter-Counties competitions.
The Chairman's Award for the Volunteer Of The Year went to Susan Clague who often didn't know she had volunteered until she was told!!! During the year Susan competed, acted as an official (taking and passing her field judge exam) and acted as team manager for the National Junior League. She proved so good at the latter that she's volunteered this year too and will act as Chief Marshall when the club stages its next home cross country meeting (she probably didn't know until she read this item).
A warm thank you to all those who turned up and especially to Julia Hayes for whom it was a long, long day and who undertook the ordering of the splendid awards (and yes, Sue, and Tom, you will get your awards when the previous winners return them).
Finally, thanks to Andy Drillingcourt for providing the disco which, owing to an urgent appointment with a book, I had to miss.
Peter Riley:
We regret to report the death of Peter Riley. Peter was never a member of Sutton Harriers but his daughter Jane was and he was in attendance when she dead-heated with Donna Hoggart for the Northern sprint title. Not even the photofinish could separate them. Peter had been diagnosed with cancer, was in remission but passed away on 10 January after a short illness. Our sympathies go to Ann, Jane and Paul. The funeral is at St John Fisher Church, Widnes, on Thursday 15 January at 12 noon.
Schools Liaison:
Adrian Webb has been appointed Secondary Schools Liaison Officer for the club. Julia Hayes will concentrate on Primary Schools Liaison and Schools' Sports Hall while Phil Thomas will continue to provide administrative services where needed. Additional assistance will be provided by Colin Spark (Disabled Provision) and all recently qualified L1 coaches as part of their coaching and leadership development skills.
Young Athletes League - Further Developments
The provisional venues for the Young Athletes League matches are as follows.
3 May Halifax: 17 May Warrington: 31 May Deeside: 21June Warrington: 19 July Carlisle.
Merseyside Championships - Arrowe Park : Birkenhead - 10 January
Chelsea Jarvis added her name to the list of the club's county champions on a cold day at Arrowe Park. Running a splendid race Chelsea finished three seconds clear for victory. With Rosie Johnson (8), Rachel Woosey (12) and Emma McCartney (13) the club took second place in the team race with their best result for some time. There was consistent support too from Vicky Lamb (22) and Sally Ashton (28) covering for injuries and playing a valuable part in the squad.
The U13 Boys fielded Matthew Atherton (29) and Chris Garrity (42) after illness but are hoping to have a full team available on home ground at the Northern on January 24th. The same is true in the U15 age group where our two competitors, Jamie Webb and Jamie White finished second and third clinching their place in the County team.
Forty seconds covered Rachel Wilcock (13), Louise Hayes (14) and Jenny Lamb (16). Only the absence of a fourth counter prevented the girls collecting the bronze. Heather Drillingcourt, Natalie Garrity and Siobhan Hattersley finished 16th, 17th and 18th in close order but injury prevented them from completing a team too.
No such problem for the U17 Boys who grabbed third place thanks to John Ashcroft (5), Jake Healy (12) Danny Hughes (17) and David T Griffiths (21) who will have Matt Crehan and Adam Fackey back for the Northern. Steve Clague was eighth in the Junior race and can look forward to the support of Dave Forrester at the Northern.
Louise Hogg finished eighth and took the O35 prize in the senior women's race in which Chris Dempsey (21) braved the course after dental treatment. The club would have collected the bronze medals had we been able to field a full team. Hopefully the situation will be rectified in time for the Northern.
The senior men also missed out on the bronze medals owing to absences but there is a lot of illness about this winter and Wirral, who grabbed third place, were also under strength so perhaps the medals would have been unjust. Besides which we did beat most other clubs to take fourth place.
Tony Smith led the team home finishing in 19th place, closely followed by the improving Greg Williams (20), the solid and dependable Ian White (24) and Barry Graney (31) who is another returning to form. The injured Peter Johnson bravely finished 38th, Ray Vose (52) and the evergreen Dennis "Wigan were playing on Sunday" Wharton (60) followed by Ian Hayburn (66). Results:
Cheshire Championships - Winsford - 10 January
Four club members competed in the Cheshire Championships. Gemma Connolly was eighth in the senior ladies' race, Nathan Brown took 14th place in the U15 event, Ian Costello took 32nd place in the senior men's race with triathlete Matt Shillabeer finishing 69th. Results:
Greater Manchester Cross Country Championships - Stockport 10 January.
Matthew Crehan went to Specsavers and ran away from a good field wearing his glasses and avoiding trees on the way. He was obviously feeling better after his cold last week, holding back on the first lap, lying in third place up the hill for the first time, then took the lead around the back of the track and continued to extend his lead around the second lap all the way to the finish. He ran 1min 8sec faster than last week on the same course and becomes the club's first Greater Manchester Champion. Results:
Result: Matthew Crehan (St Helens-Sutton) 20min 49sec; Dominic Boyle (Trafford) 21min 22; Tom Carson - Bolton (2nd English Schools & Schools International last year with Matthew 65th) 21.32; Jamie Crompton - Horwich (Northern under 15 champion at Leeds last year) 21.52. Report from a very proud Jim Crehan
Young Athletes League Notice:
The club has been reinstated into division one west of the Young Athletes League for 2009. This may mean some additional travel but it also means we have two home matches at Warrington. The first is on 17 May and the second on 21 June.
Notice to All Parents:
Children attending matches without parental accompaniment must have with them a contact number or other means of contact in case of emergency. This is to meet health and safety requirements and is compulsory with immediate effect.
Lauren Bradshaw
Lauren has been hospitalised recently with glandular fever. Everyone at the club wishes her a speedy recovery.
Northern Championships
A group of National Health Specialists (including surgeons) will be at the Northern Championships at Sherdley Park on 24 January to provide advice on knee, ankle and other athletics' injuries. The service is FREE but you must make an appointment beforehand . Full details on the Northern Athletics website. Don't miss this opportunity and don't put off making an appointment as the service is likely to be in high demand.
Indoor Meeting : SportCity - Manchester 4 January
Sophie Rigby cleared 1.50 for the second time in a month in the high jump and Ryan Fahey recorded 8.02 (60) and 24.99 (200) on the track.
Manchester League : Woodbank Park: Stockport 4 January
The club collected its first medals of the current season when Rosie Johnson finished third in the Girls' U11 individual competition and the U11 Boys' team of Owen Kennedy, Jonathan Causer and Adam Woosey won the aggregate bronze.. The other U11 Boys who took part this season (Daniel Elston, Ben Walsh and Scott Houghton) will receive their medals at the end of the season).
We also know that Chelsea Jarvis has won the U13 Girls' competition, even though she will be missing from the final match and Jamie White has a chance of being amongst the medals although he, too, will be competing elsewhere. Both won today in impressive style.
With the support of Nathan Brown and Jamie Webb the team finished second only missing first on countback while Ryan Wilson continued his career development in 21st position. Emma McCartney (12), Rachel Woosey (14), Vicky Lamb (27) and Sally Ashton (33) provided good support as the U13 Girls took third place. Alex Bleakley was nineteenth in the U13 Boys events.
The U17 girls missed the chance to win the championship outright today but can do so next time round. Only Heather Drillingcourt (sixth) made it to the race. The U17 Boys and U15 Boys are assured of team medals and the U13 Girls should hold on to third place.
All the U17's secured places in the top dozen, Matthew Crehan taking second after running into a tree (should have gone to Specsavers) followed by John Ashcroft (6th), Danny "earings" Hughes 9th, Jake Healy (11th), David Griffiths (12th).
Gemma Connolly is third overall (but it's close after finishing fourth today) and Ian White is lying third in the V45 category after a superb run - he's obviously over the flu quicker than the rest of us - and led the overall and vets teams splendidly into tenth and seven place respectively.
It was also good to see Greg Williams (46) out with an excellent run after an injury hit 2008 which he intends to put behind him, just edging out Maurice Collins (47) who was one place behind him. Jim Crehan (81), Peter Johnson(96) and Dennis Wharton (114) made sure we finished a team for the fourth successive match. Hope fully we can make it a full house at the last match in February.
Our full commitment into the Manchester Area League has paid off in terms of team development and hopefully we can build on this in future seasons.