St Helens Sutton Athletic Club
July 2009
BMC Gold Standard Meeting - Watford : 29 July
David Forrester won the 1500 in 3.42.4 while Chelsea Jarvis recorded 2.14.95 for tenth place in the 800m.
Merseyside Team For The Northern Inter-Counties Match at Wigan. Saturday 29 August.
The following athletes have been invited to represent Merseyside at the Northern Inter-Counties match to be held at Wigan on Saturday 29 August. The eagle-eyed amongst you will have noticed that this is the date of the Rugby League Challenge Club final at Wembley.
John Ashcroft, David Forrester, Michael Causer, Gary Ireland , Josie Barrow, Sophie Rigby, Kathryn Sumner, Chelsea Jarvis, Trisha Spark, Liane Bibby.
National Junior League - Trafford - 26 July
The National Junior League squad managed to hold off Wirral by eight points to clinch sixth position overall after the final match at Trafford, a splendid performance by the under-strength squad.
Abi Fitzpatrick and Sophie Rigby were are only two female athletes. Abi ran a strong 400mH and, despite nearly tumbling on the second to last hurdle, finished second in a time of 67.6. Sophie finished second in the high jump with 1.55m having earlier in the day finished third in the pole vault.
The menís team was slightly bigger. Between them there were some good performances. Thaddeus Anim-Somuah and James Gladman in the 100m contested the 100m,. Thaddeus finishing first in his race in 11.8 and James second in his event in 11.9. Both gents later competed in the 200m, this time James finishing ahead of Thaddeus with times of 23.1 and 24.00
Adam Nicholls and Danny Hughes ran in the non scoring 100m and Danny contested the 400m. Adam came third in the long and triple jumps, jumping 6.00m in the long and 11.96 in the triple.
David Griffiths partnered Thomas Dempsey, who was competing for the first time in the junior league, in the javelin, both performing very well whilst throwing a javelin slightly heavier than they are used to. David threw 30.51 and Thomas 23.60. Thomas also competed in the discus with his best throw being 16.11.
On the track John Ashcroft and Jake Healey doubled up to run in the 800m, both running strong races in times of 2.03.8 and 2.15.9. In the 1500m Jamie White ran really well to achieve a personal best time of 4.25.50 and his team mate Jamie Webb finished second B in a time of 4.39.40. David was our sole contestant in the 3000m finishing with a sprint finish to achieve 10.21.2.
To end the day the lads managed to put two relays together, finishing third in both of them, with times of 47.0 (4x100m) and 3.49.90 in the 4x400m.
Many thanks to our officials and supporters on the day. Report by Sue Clague : Team Manager Results
Mid Lancs League - Bolton 25 July
Liane Bibby, competing as a guest, won the U15 javelin with a throw of 33.13m
Open Meeting - Stretford 21 July
Ten club athletes competed at Streford. Sprinters Ian Cooney and Chris Lyon recorded 12.19/24.26 and 12.84/26.89 respectively for the 100/200, Danny Hughes 56.2 (400) while 800m runners Jamie Webb, Chelsea Jarvis and Matty Shirling recorded 2.11.36, 2.13.53 and 2.17.12 respectively for the 800. Jake Healey's 1500m time was 4.32.47 and Gemma Connolly's 4.55.53. In the javelin David Griffiths and Liane Bibby threw 32.80 and 32.41 respectively.
National Young Athletes League Match - Carlisle 19 July.
An enthusiastic group of club athletes travelled to Carlisle for the final YAL match of the season finishing fourth. David T Griffiths set a new U17 javelin club best of 35.82 improving the old record by five metres while Taylor Caton-Hand equalled the 75m hurdles record he set earlier in the season recording 13.9. The club's Athletes of the Match were David T Griffiths and Bethany Baxter. Full report to follow. Results.
BMC - Frank Horwill Junior Mile. Solihull 18 July
Chelsea Jarvis took part in this BMC event recording 5.09.01 for the mile.
European Juniors - Kaunas - Lithunania 17 July 2009
David Forrester moved smoothly into Sunday's 1500m final by finishing second in his semi in a time of 3.43.61 and is joined in the final by the other two British athletes who were selected. In the final David finished tenth in a tactical race in which all 12 competitors were covered by less than two seconds. The winner recorded 3.51.19 while Dave was timed at 3.52.94 following laps of 63, 67, 61 and a final 300m burn up of 42 seconds!!!! Commentating after the race double Olympic Champion, Dame Kelly Holmes, said, "The competition is always tough when you are racing at an international championship against the best athletes in Europe and the races are often slow and tactical. I am sure that David will have learnt a lot from the experience that he can take forward in his athletics career."
Barnsley Open Meeting 12 July
Following the ESAA Championships the Bibby family stayed an extra night in the Sheffield area and called in at the Barnsley Open Meeting on the way back where Liane won the U15 girls Javelin with a throw of 33.26.
Cheshire League 12 July
There were numerous personal bests in the Cheshire League match at Ashton Under Lyne which was attended by a couple of dozen athletes and supporters. Michael Causer set new club records in the U15 100(11.7), long jump (6.20) and shot putt (10.77). Brother Jonathon set a personal best in the 1500 (5.44) while there was a new long jump best for Louise Hayes (3.89) who represented the U15's. Molly Stott, Alex Bottomley and Abbie Roberts competed for the U11 girls with Bethany Baxter, Rosie Johnson and Danielle Webb all competing over 800m for the U13's. The U17 Boys' quartet of Danny Hughes, Jamie White, Jamie Webb and Nathan Brown contested the 1500m and produced a very effective 4x100 relay time of 53.1. Taylor Caton-Hand continued his fine run of form with a 4.66 long jump, Daniel Elston was excellent with 4.02 in support. Michael Hughes threw the discus over 23 metres, while John Irwin set a season's best in excess of 13 metres. Andrew Mark Davies was the club's distance runner continuing his policy of regular racing by running the 1500 and 3000m. Many thanks to all the athletes who competed, parents who supported and those who acted as officials. Report by Julia Hayes. Results.
UK Championships & World Championship Trials: Birmingham 11 & 12 July,
David Forrester reached the final of the 1500m (to be held tomorrow) finishing third in his semifinal in a tactical race with a time of 3.46.40. In the final itself David ran splendidly to finish fourth in a time of 3.42.65 and place himself in the top echelons of 1500m running the in the UK. We wish him well in the European U23 Championships in Lithuania next week.
Fund Raising Training Night
Chelsea Jarvis and Rachel Wilcock recently organised a training night with a difference to help raise money to fund the coach trip to the YAL match in Carlisle.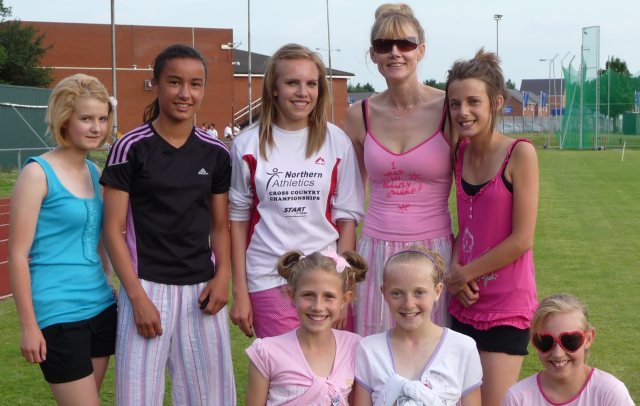 For a small donation athletes could train in their pyjamas. Many athletes joined in with the fun and the girls raised the fantastic amount of £72. Our thanks go to all involved in the night, especially Rachel, Chelsea and all who donated. More Pics..
ESAA Championships - Sheffield 10/11 July
On Friday, John Ashcroft (1500m 4.08.78) and Chelsea Jarvis (800m 2.18.61) both qualified for their respective finals at the ESAA Championships to be held on Saturday at the Don Valley Stadium in Sheffield. Michael Causer (LJ 5.55m 10th), Sophie Rigby (HJ: 1.54:13th) and Patricia Spark (SP: 19th 8.43) all competed in their respective finals on Friday and can now relax and watch the second day of competition.
On Saturday Chelsea Jarvis pulled off a great victory to win the Junior Girls 800 in 2.14.65 by one hundredth of a second, despite losing one shoe after 200m!!!!! Liane Bibby finished twelfth in the JG javelin (31.44). John Ashcroft finished tenth in the IB 1500m in 4.06.94, a new personal best.
L&D Catholic Schools Championship - Wavertree 7 July
Lucy Griffiths won the silver medal in the Year Six 600 metres final at the Liverpool and District Catholic Schools Champion of Champions Athletics Championships held at Wavertree on Tuesday 7th July. Athletes from 38 schools contested this event, Lucy having qualified by winning the same event at the large-sized schools competition held on 16th June, again at Wavertree.
Grand Prix Meeting - Stretford 7 July
Liane Bibby set a new U17 club record with a throw of 33.55m at Stretford. Jake Healy ran 2.10.51 for the 800m.
Northern League Division 2 (West) Ellesmere Port 5 June
In the 3rd match of the Northern League, held at Ellesmere Port. A creditable 5th place was achieved. Due to last minute cancellations and in some cases total lack of communication, many people went above and beyond reasonable expectations for the good of the club. It was also nice to see the return to the athletics scene of Dr Phil Thomas, after his recent bout of ill health.
Despite the problems there were some excellent performances, numerous athletes achieved PBs and some managed to break club records.
In the ladies hammer Kathryn Sumner came 1st (A) string thrower with a PB and new club record in not only the U17 age group but the U20 and Senior age groups, with a throw of 37.61. Natalie Mullineux also finished 1st in the (B) competition, 2nd in the (A) discus and 3rd in the (B) shot. Her team mate Lucy Croft finished 4th (A) in the shot, 2nd(B) in the discus and 4th (B) in the javelin alongside the returning Emma McClatchey who finished 4th in the (A) string event. Emma also competed in all three jumps, accumulating some very valuable points. Heather Drillingcourt competed alongside Emma in the long jump and broke her PB with 4.36 finishing in 3rd place. She then went on to compete in the triple jump, run the 400m and end the day on second leg of the 4x100m relay.
Sophie Rigby, once again had an excellent day coming 2nd in both the pole vault and high jump. She then went on to run an excellent first leg of the 4x100m. Sophie and Heather were accompanied by Natalie Bannister and Jenny Lamb in the 4x100m relay team finishing 4th and ahead of SWAC. Both of these athletes competed earlier in the 100 and 200m sprints, earning valuable points between them. Natalie was our sole contender in the 400m hurdles finishing a creditable 3rd in a time of 76.3 and Jenny rounded her day off running third leg of the 4x400m relay.
Old faithful, Gemma Connolly once again pushed herself to the extreme, running in all three distance events as well as the 4x400m relay. She ran a strong 800m and 1500m but her best performance was in the 3000m where she finished a strong 2nd with a PB of 10.33.9. Gemma was joined in the 800 and 3000 by newcomer to the track, Sarah Hattersley, who alongside one of her training partners, Jane Ashcroft, showed what the real meaning of team spirit is. Sarah finished 3rd in the 800m (B) gaining 4 valuable points and Jane volunteered to run the (B) string 400m and then partnered Gemma, Jenny and Sarah in the 4x400m relay. Well done ladies!
The menís team also produced some superb performances. Gary Ireland broke his previous club record of nearly 1 metre finishing 2nd in the (A) string shot putt. His team mate, Mike Hughes also finished 2nd in the (B) string event. Both men also competed in the hammer, Gary finishing 4th (A) and Mike 2nd (B). Gary also finished 4th in the javelin and 5th in the discus.
Ray Vose finished 4th in the (B) string javelin and earlier in the day was joined by Greg Williams in the 110mH both finishing 4th in the (A) and (B) string races. Greg had also started the day off well coming 1st in the (B) string 400mH and later 2nd in the 3km steeplechase. He was accompanied by Ste Clague in both of these events. Ste finished 4th in the (A) string 400mH, breaking his own club record in 62.4 and later finished 2nd in the (B) string 3kms/c. Earlier in the day Ste had also broken his own U20 club record in the pole vault, clearing 2.40 but had to miss his attempt at 2.50 to go and compete in his 400mH.
Ian Hayburn and Andy Drillingcourt stepped in at very short notice to compete in both the long and triple jumps. Both, between them gained valuable and much needed points for the club. Both of Andyís jumps were PBs. Steve Moran and Matthew Stone both finished 3rd consecutively in the A and B string 100m. Steve then finished 4th (A) in the 200m alongside team mate Ian Cooney who also finished 4th (B) runner. Matthew came 3rd in the 400m (B) and his team mate and G.B. athlete David Forrester finished 2nd in the 400m (A) in a time of 49.3 after winning the 800m earlier, in a time of 1.53.2. His team mate, John Ashcroft finished 2nd in the (B) race in a time of 2.01.1.
In the 1500m Ian Costello (A) and Nathan Brown (B) both ran strongly to achieve PBs. Jake Healey and Peter Johnson both ran 12 1/2 laps of the track, in the 5000m to also gain much earned and valuable points. When Jake wasnít racing he was busy earning points officiating the field events.
The day ended with the relays. The 4x100m team of Chris Lyon, Ian Cooney, Steve Moran and Ste Clague, finished 4th in a time of 46.7 and the 4x400m, the final event of the day, saw Ian Cooney, Ste Clague, Matthew Stone and David Forrester finish 3rd with a time of 3.36.8.
Special thanks, once again, must go to all our spectators and especially our officials; Dave Morley on the track, Pam Appleton and Janet Holmes our time keepers, John Irwin, Colin Spark, George Mullineux and Jake Healey on the field.