Xmas Handicap Sunday 22nd December
The Christmas Handicap is Sunday 22rd December at 10.30am. It is a fun run for ALL Athletes and Parents around Sherdley Park with head starts given to slower runners so that everyone has a chance of winning.
There are prizes for all junior runners, the winners and for the best fancy dress (optional). Hopefully some seasonal refreshments should be available for supporters and runners too.
Meet at the Yellow Gates on Marshalls Cross Rd at 10.15am.
SportCity indoor meeting, Sunday 15th December
A quartet of Athletes travelled to compete at SportCity with some success.
Christopher Lamb competed in the U15 60m (8.15), long jump (4.88), Shot putt (10.06) and 60m Hurdles 10.48. In the absence of any previous performance in this event the hurdles time would appear to be a club record.
The U17's consisted of Jacob Beesley (9.89 shot putt), George Asson (7.75 60m) and (1.40m high jump) and Matthew Lamb who recorded 7.56 (60m), 58.78 (400m) and 5.11 (long jump).
The next meeting is early in the New Year when it is expected more athletes will take part.

NW Sportshall League, Widnes : Sunday 8th December
On Sunday 8th December 40 athletes competed in the final NW Sportshall League Fixture of the season at Widnes.
Yet again the U15 boys team of Matthew and Christopher Lamb, George Assan, Lewis Cowan and Jacob Beesely were victorious topping the points and surely finishing in contention for several places in the Merseyside Squad for the County Finals on 15th March at Sportcity.
The U15 Girls team finished 2nd again and must also stand a good chance of selection, well done to Emily Smith, Zoe Pye, Caitlin Young, Megan Lang, Olivia Harwood-Moss and Erin Makin.
The U13 boys were again short of numbers but managed a creditable 3rd place and should qualify for the NW League Finals on 26th January at Widnes. Well done to Daniel Dobson, Jordan Benson and Benjamin Coulthard.
The U13 Girls team were just 12 points off 3rd place finishing in 4th and face a nervous wait to see if they qualify. Well done to Jorden Pilkington, Elizabeth Griffiths, Ellie Farrell, Kaitlin Naylor, Lauren Marshall, Mia Langton, Olivia Milow, Rebecca Brown, Rebecca Houghton and Emily Watts.
The U11 Girls team consisting of debutant Harriet King, Lauren Park, Amber Escoffery, Any Barrow, Grace Terry, Imogen Harwood Moss and Lizzie Tracey finished in 5th. Credit to Lauren, Amber and Harriet who all did Cross Country yesterday as well as competing for points today.
The U11 Boys team was Dylan Naylor, Elliot and Ryan Murray, Debutant Ben Keating, Jack Woolland, Michael Brussels, Nathan Rawlinson and Matthew Crehan finished in 4th place on the day. Credit again to Michael Brussels for competing for 2 days on the trot.
Huge thank you to all of our wonderful parents for their support throughout the season and especially today to Pete, Jane and Ken King who volunteered to judge the standing long jump. Without such people the competition wouldn't run.
Fingers crossed for the final league tables and county selection, hopefully we will have strong representation in both.
Team Manager - Antony Young.
Liverpool & District League Cross Country Match 3, Stadt Moers Park, Whiston: Saturday 7th December
Luke Towers ran a fantastic race to show what he's capable of coming 4th in this competitive race. Well done Luke.
Manchester League Cross Country Match Three, Sherdley Park, St Helens : Saturday 7th December
A good turn out of volunteers helped set out a superb course on Sherdley park for the 3rd round of the Manchester cross country league. The day was perfect for cross country with the usual testing course holding up really well and providing great running.
46 athletes competed at Sherdley Park for the third Manchester Area Cross Country League.

First off for the club were the under 11 girls, 2200m course. Ellie Doyle led the team home in 29th place in a time of 10.27, shortly followed by Abigail McHugh who represented the club for the first time and finished in 35th position in 10.50. Amber Escoffery finished strongly to finish 36th in a time of 10.52. A great race from Elizabeth Greenall meant that she finished in 43rd place in 11.36, whilst Lauren Park completed the race in 44th place in 11.57. They finished 11th- well done!


The under 13 girls were next off alongside the under 11 boys, they competed over 2200m. Charlie Roberts finished superbly, he finished in 7th in 8.54. Michael Brussels ran well to finish in 28th in 10.53. Jamie Ford finished 34th in 11.16 and Joseph Matthews finished in 38th in 11.29. The boys finished 7th as a team.
For the under 13 girls; Kanyarat Avison finished in 51st place in 10.58, Imogen King ran strongly and finished 52nd in a time of 11.00. Lucy Price finished in 53rd place in 11.12 and Bethany Haughey finished in 54th in 11.29. Rosie Dwyer finished great in 56th in 11.44 and Natalie Tate completed the race in 57th place in 11.54. The team finished 12th and 13th, well done!


Thirdly for the club was the under 13 boys and under 15 girls, they covered the distance of 3200m. Joe Houghton finished in 18th place in 13.28 and Matthew Slevin finished in 32nd place in 14.37. Well done boys!
For the under 15 girls Samantha Price completed the race in 28th position in 14.49 whilst Emily Ashton started the race fantastically, unfortunately she did not complete the race- well done girls and thank you for trying so hard!


Next for the club were the under 15 boys and under 17 girls race. They covered the distance of 5300m. Rachel McGoldrick was the first one back for the club finishing in 15th place in 24.36 closely followed by twin sister Maria McGoldrick who finished 16th in 24.58. Maddie Williams ran excellently for the club, she finished in 21st in a time of 25.41. The girls finished in 5th place overall, well done girls!
Sam Thompson led the under 15 boys home, he finished in 32nd place in 24.56, followed by Anthony Walker who finished 33rd in 25.17. Competing for the first time was Curtis Adamson, he finished well in 36th place in 26.34! Joseph Woods finished in 37th place in 28.25 and Connor Whalley finished the course in 38th in 29.07. The team finished 9th, well done!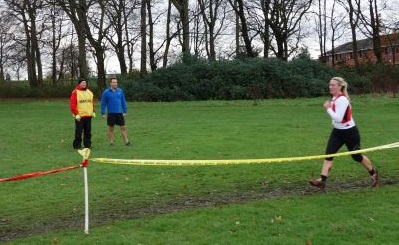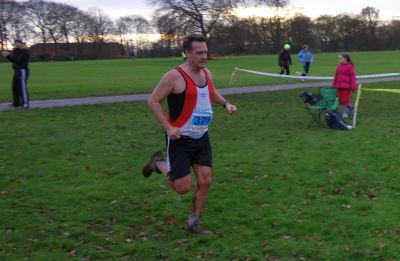 Senior women; 6200m course- Gemma Connolly finished 8th (stewards enquiry?) in a time of 25.34, Julia Eccleston finished in 56th in 31.07. Sonya Monaghan finished 62nd in 31.32, Louise Hogg finished in 78th place in 32.42 and Pam Appleton completed the course in 108th position in 36.14. The ladies finished in 10th-well done!


For the Senior men; John Greenall had a great race to finish in 60th place in a time of 37.56. Tom Griffiths was happy to finish the the race despite an injury in 73rd place in 38.34, Andy Wilson continues to improve and ran well to finish in 80th place in 38.50. Barry Graney finished 93rd in 39.21, Ian Hayburn finished in 100th in 39.58 whilst Chris Levy finished 125th in 41.37. Andy O'Connor finished the course in 135th place in 42.01, whilst Mark Liptrott finished in 167th in 44.05. Ian Roberts closed up on his rivals completing the course in 168th in 44.10,
John Appleton completed his race in 175th position in 44.45, Jonathon Ford competed in a cross country for the first time and finished 181st in 45.28, Alan McNally finished well in 194th in 46.16. Peter Johnson finished in 46.42 in 200th place and Gary Oldham also competed in the cross country for the first time and finished in 216th in a time of 48.11. The team finished 15th in the vets and 29th place overall - well done!

Well done to everyone who competed for the club and huge thanks to all volunteers, timekeeping, marshalling, setting the course and shifting the portaloos!



NEXT RACE: Christmas Handicap Sunday 22nd December 10:30, meet at yellow gates at 10:15. Fancy dress is optional. Hope to see you all there!

Team manager: Helena Results