TRAINING CANCELLED
Due to a lack of coaching cover on 31st October the following groups are cancelled: Beginners (6-7), Simon, Stuart and Ant's Groups.
There are also issues next Tuesday (5th Nov) as the centre is being used for parking for Sherdley park Fireworks. The same groups PLUS Helena's are off on Tuesday.
Please assume that all other groups are ON unless your coach tells you otherwise.
Parkrun roundup
Two of our members ran in last weeks Princes Parkrun Diane Taktak and Shirley Fox both finished together in 32:43.
Julia Eccleston ran in Delamere finishing in 24:05.
Liverpool and District Cross Country, Arrowe Park, Wirral : Saturday 26th October
Four senior men made the trip to Arrowe park for the first L&D fixture. Conditions turned out better than expected but there were still some good slippery sections to trip people up. First back was Ian Hayburn. tracked in by Andy Wilson, completing the turnout were Ray Vose and Tony Doyle. Results
NW Sportshall League, Kingsway, Widnes : Sunday 20th October
On Sunday 20th October 34 athletes from the club attended the first league meeting of the season at Widnes.
Many of the athletes were competing for the first time including Hannah Kelly, Dylan Naylor, Elliot, Ryan and Ethan Murray, Jack Richards, Matthew Crehan, Christopher Taktak, George Assan and Lewis Cowan.
Every team did really well with most finishing in second or third place overall on the day. However, performance of the day must go to the U15 boys for winning their event. Well done to David Barrow, Christopher and Matthew Lamb, Lewis Cowan and George Assan.
Huge thanks to the parents who helped out on the day, Damian Lamb, Alan Doyle, Ann Griffiths and Karen Young.
Other athletes who competed include: Amber Escoffery, Amy Barrow, Ellie Doyle, Imogen and Olivia Harwood Moss, Katie and Megan Lang, Lauren Park, Lizzie Tracey, Michael Brussels, Nathan Rawlinson, Elizabeth Griffiths, Hana Brew, Jorden Pilkington, Kaitlin Naylor, Mia Langton, Rebecca Houghton, Caitlin Young, Emily Smith, Hannah Seabrook and Zoe Pye.
Superb team effort, well done to everyone.
Manchester League Cross Country Match One, Heaton Park, Manchester : Saturday 19th October
Saturday 19th October, 26 athletes travelled to Heaton Park for the first Manchester Area Cross Country League.
First off for the club was the under 13 girls. Kanyarat Avison finished in 53rd place in 14.09, Lucy Price finished in 61st place in 14.17, Sian Glynn finished in 65th in 16.07 and Natalie Tate finished in 66th in 16.07. The team finished 17th, well done girls!
Next for the club was the under 13 boys and under 15 girls. Joe Houghton finished in 20th place in 13.38 and Reece Ellis finished in 33rd in 15.05. Well done boys! For the under 15 girls Samantha Price competed for the first time and completed the race in 34th position in 15.42 whilst Emily Ashton finished in 42nd place in 17.27. Alex Glynn finished the course in 45th in 18.37 and Ellie Mawdsley finished in 46th in 18.49. The team finished 10th, well done girls!
Thirdly for the club was the under 15 boys and under 17 girls race. Connor Whalley was the first one back for the club finishing in 33rd place in 17.30 and Joseph Woods finished in 36th place in 19.02. Well done! Rachel McGoldrick finished in 14th place in a time of 17.31 and Maria McGoldrick finished in 28th place in 19.08. Well done girls!
Senior women; Gemma Connolly finished 13th in a time of 32.51, Julia Eccleston finished in 105th in 41.11, Pam Appleton finished in 171st in 46.41 and Chris Dempsey finished 199th in 52.07. The team finished in 28th, well done!
For the Senior men; Ian Hayburn finished in 95th in 41.13, John Appleton (junior) finished in 115th in 42.03, Ian Costello finished in 174th place in a time of 44.31. Andy O'Connor finished in 190th in 44.59, John Appleton (senior) finished the course in 47.01 in 228th place. Ian Roberts completed his race in 275th position in 49.50, Ray Vose finished in 50.23 in 282nd place and Tony Doyle finished in 329th in a time of 56.13.
Well done to everyone who competed for the club, hope to keep up the team spirit at the next meeting!

Results Team manager: Helena
Record Breakers!
On Thursday 17th October two teams of members set out to break the World Marathon Record as part of Save the Children's World Marathon Challenge.
27 Juniors and 32 seniors took part and ran relay legs of 200m trying to break Wilson Kipsang's record of 2 hours, 3 minutes and 23 seconds. This meant that they had to average 35 seconds per 200m leg for 211 legs per team.
Within a few laps the Juniors had edged ahead running 10km in 28.17 and the Seniors in 32.36, both excellent times that would have easily won the St Helens 10KM race.
At the half marathon mark, the Juniors recorded 1hour, 1min, 39 seconds and the Seniors 1hr, 11min, 48s again, superb times.
With each member running around 8 legs tiredness started to take its toll and the times started to slip. With 10 laps to go the Juniors needed to improve their averages by around 5 seconds per lap. It was at this point that they really started to pull together with superb support from team members and watching parents. The Juniors broke the World Marathon record with just 11 seconds to spare in a time of 2hours, 3 minutes and 12 seconds.
Attention then turned to the Seniors. They had a great evening with lots of camaraderie and it was great to see so many people who are new to running taking part. They crossed the line in a superb time of 2hours, 22minutes and 46 seconds.
Appeals by the seniors that they had broken the record for fastest marathon dressed as a film character (the Coneheads) was turned down due to runners only wearing the costume for the last leg.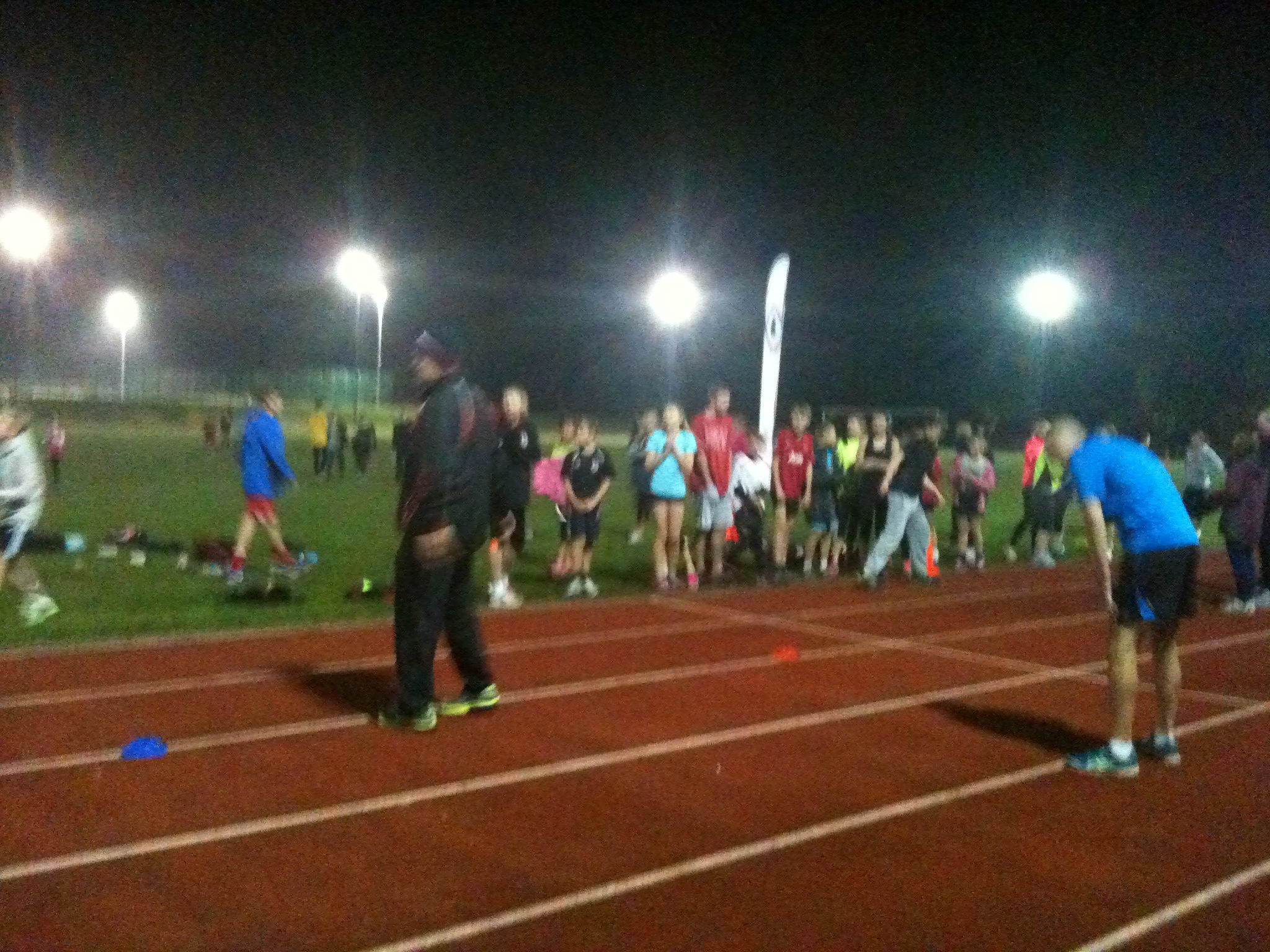 The event raised over £100 for Save the Children.
Huge well done to both teams and thank you to the volunteers on the night, Damian Lamb, Chris Dempsey, Helena McGoldrick and Mr Whalley. Every single runner should be proud of their achievement.
| | |
| --- | --- |
| Lucy Price | Andrea Beesely |
| Kan Avison | Chris Coatsworth |
| Joseph Woods | Diane Taktak |
| Josh Oldham | Dot Fairhurst |
| Karl Lyon | Elaine Ahern |
| Beth Haughey | Gary Oldham |
| Samantha Price | Greg Carns |
| Ben Oldham | Ian Hayburn |
| James Makell | Ian Roberts |
| Anthony Walker | Jane Ashcroft |
| Charlie Roberts | Karen Harrison |
| Caitlin Young | Karen Mawdsley |
| Ellie Doyle | Karen Young |
| Ellie Mawdsley | Kevin Cunningham |
| Katie Lang | Laura Anthony |
| Joe Houghton | Lisa Cashman |
| Megan Lang | Lisa Roberts |
| Mia Langton | Lyne White |
| Jorden Pilkington | Pam Appleton |
| Emily Ashton | Pauline Picton |
| Connor Whalley | Rachel Beesley |
| Lauren Marshall | Stan Erlam |
| Erin Makin | Wendy Anthony |
| Michael Brussels | Joshua Neal |
| Zoe Pye | Louise Hill |
| Matthew Slevin | Alan Doyle |
| Christopher Lamb | Barry Graney |
| | Tony Doyle |
| | Tony Raffle |
| | Stuart Woolland |
| | Helena McGoldrick |
| | Antony Young |
Seniors Club Championship Update
The last 2 weekends have seen a couple of gaps open up at the top of the leader boards. The final positions will all come down to Training Points for September and October or whether we get a group of 5 out in a race before the 31st.
The winners will be announced at Presentation Evening on 22nd November.
Huge thank you to all 47 runners for supporting the inaugural championship. There are a number of changes planned for 2014 now that we know what works / what doesn't so watch this space.
Ladies Championship Standings Men Championship Standings

Wirral Half Marathon and 10k: Sunday 13th October
Seven club members turned out for this inaugural local half. The weather was kind, nice and cool but with a bit of a stiff headwind to deal with. A nice surprise waited the runners with a surprise stretch on the beach.
Pam Appleton came in first for the club and 2nd vet in 1.55.38, just ahead of Lynsey Wilson (666) in 1.55.40.
Linda White came fifth in her vet category in 1.58.52 followed by the club's only male representative Pete McAleny just outside the two hour mark in 2.01.10
Jane Ashcroft was next home in 2.08.08 with Dorothy Fairhurst completing the club's turnout and winning her age group in 2.14.42.
Two of the clubs runners preferred to tackle the 10k with Pauline Picton coming 5th in her age group in 1:07:14 and Janet Holmes not far behind in 1:08:39.
Results Wirral Half Championship Results
Park Run Roundup Saturday 12th October
Three runners took part in two park runs at the weekend.
Julia Eccelston ran at Delamere completing the scenic course in 23:37, while Rosie Dyer and Mark Liptrot ran at Pennington Flash in 29:37 and 36:02 respectively.
Save the Children World Marathon Challenge - Thursday 17th October
We have had a great response to the World Marathon Challenge and will be running two teams this coming Thursday. One is made up of Junior Members and one is for Seniors.
As things stand, the Juniors will be running 8 x 200m and the seniors 14 x 200m trying to break the Marathon World Record of 2,03,23 set this year by Wilson Kipsang or the Women's record of 2,15,25 set by Paula Radcliffe.
The team sheets are below.
World Marathon Challenge Teams 2013
The challenge will be starting at 6pm and will finish just after 8pm on the track. The Club will donate Thursday's subs for all WMC runners to Save the Children but participants can also get sponsored or make a donation too. For a sponsorship form please visit: http://www.savethechildren.org.uk/wmc/resources
We need to start promptly so please can all junior athletes highlighted in yellow arrive at 5.45pm for a warm up. We also need at least half of the Seniors to arrive at 5.45pm as well so that you can have reasonable breaks between your reps. We will sort this out on Tuesday 15th at training.
For more information about the challenge please visit: http://www.savethechildren.org.uk/wmc
It's not too late to sign up. Please see the notice boards at the club on Tuesday and get fund raising!
Chester Marathon, Chester : Sunday 6th October
Four club members ran in the reportedly fast, flat Chester Marathon.
Andrew Wilson (232, 3:13:44) was first home for the club followed by Craig Orrick (427, 3:26:03)
Ian Roberts (1272, 3:56:55) dipped under the hour mark for a great debut run. and Kevin Cunningham (2324, 4:41:37) completed the turnout.
Results Chester Marathon Championship Results
Gin Pit 5, Tyldsley :Sunday 6th October
Gin Pit 5 Championship Results
Northern Cross Country Relay, Sheffield : Saturday 5th October

Nine athletes travelled to Graves Park, Sheffield for the Northern Cross Country Relays. The conditions were dry and ideal.

First off for the club was the under 17 ladies. On first leg for the girls was Rachel McGoldrick she covered the 2300m course in 9.17 and finished in 14th place. Second for the girls was Maria McGoldrick who ran a strong race to finish in 10.03 also in 14th position. Maddie Williams brought the team home and ran superb finishing in 9.48. Overall they finished 13th in 29.08!

The under 11 girls were next off for the club. The team was made up of Ellie Doyle, Elizabeth Greenall and Amber Escoffery. Ellie led the girls off to a good start, she covered the distance of 1500m in 6.09 and finished in 11th. Elizabeth competed in her first cross country and ran excellent. She finished in 7.04 in 12th position. Amber ran fantastic, she also competed in her first cross country and finished in 6.40 in 16th place. As a team they finished in 15th place in 19.53!

Finally for the club, the under 15 boys covered the distance of 2000m. Connor Whalley led the boys off to a great start, he finished in 8.59 in 31st position. Joseph Woods also ran excellent and finished in 9.41 in 30th. Anthony Walker was on the final leg and came home in 9.17 in 27th place. Overall they finished 27th in 27.57!

Well done to everyone who competed for the club!
Team manager: Helena
World Marathon Challenge
Quite a few seniors have expressed an interest in taking on the World Marathon Challenge on Thursday 17th October (Details)
To make it work we need at least 10 senior runners / parents to do 200m relay legs.
Please register your interest on the notice board or via email THIS WEEK if you are up for a challenge.
We are also hopefully running at least one 1500m challenge for our junior athletes (Details), again sign up or email THIS WEEK if you are interested.
Runners can choose to get sponsored for Save the Children should they wish.
Club Championship
All change again at the top of the leaderboards following the Road Relays and last weeks Parkrun. Latest tables are linked below.
There are just 2 fixtures left, the Gin Pit 5M and Chester Marathon both on 6th October.
Training Points will still be calculated through to the end of October so still 10 points up for grabs for anyone who trains with the groups.
Now that the Club Championship has been piloted and seems to be well received (at least by the ladies) Antony would like to hand it over to a willing volunteer for 2014. We're looking for a volunteer to step forward and become the league administrator so that Antony can move on to other projects.
This new championship has worked well so far. It has certainly got more people talking and racing together and our presence has been noted by other clubs. However please feedback any changes you would like us to consider before next year's competition is setup.
Ladies Championship Standings Men Championship Standings

Officiating
Fancy getting more involved but don't fancy Coaching? Why not take a look at officiating?
You can then help out at our own league meetings or even further afield, several people regularly officiate at international matches and get to meet all of the stars.
Please see this link (Officiating courses) it will explain the Officials Role and how you can become an Official. Officials are vital for events to take place so if you want to volunteer and get involved see the list of courses attached, currently one per region but more to come.
Please see Colin Spark if you are interested, no prior experience needed.