Provisional Junior Fixtures for Summer 2013
Now available to download. As ever, please confirm that they are definitely going ahead as scheduled and confirm whether you need to enter online beforehand, via a Team Manager or on the day.
Latest Juniors Newsletter (January 2013)
Now available to download.
Sportshall final match - Shavington, Crewe : 27th January
On Sunday 27th January we took a strong squad to the final fixture in the Northwest Sportshall League at Shavington Leisure Centre in Crewe. Despite a few last minute illnesses 28 athletes made the trip to try and improve our final league placings.
For the Under 11 Girls, Bethany Haughey, Jess Smith, Ellie Doyle, Rebecca Houghton, Kaitlin Naylor, Katie Lang and Lucy Price should all be extremely proud of their 1st season competing for the club. Despite suffering from a really bad cold Lizzie Tracey did as well as ever in her 2nd season and is a great example of dedication to the team cause. And finally, making her debut for the team was Isabelle Gent who performed really well in the 4lap Long Jump and Chest Push. Both girls relay teams came 2nd in their heats with some really neat baton changes moving us up the field.

The entire Under 11 Boys team were in their 1st season and gave a good account of themselves. Most are still eligible for u11 next time around so many of this years closely contested races should swing our way next season. Well done to Charlie Roberts, Ignacio Barnes Suarez, Jack Woolland, Jake Atherton, Jordan Benson, Michael Brussels and Nathan Rawlinson. Unfortunately top speed bouncer William Connolly fell victim to the bug that's doing the rounds so couldn't join us. The boys scoring team came 2nd in the relay.

The Under 13 Girls were missing two regulars but the remaining athletes really stepped unto the mark scoring highly in races, triple jump, long jump and speed bounce. We also came 2nd in the relay. Well done and thanks to Lorna Glenn, Caitlin Young, Erin Makin, Mia Langton, Zoe Pye, Ellie Farrell and Hannah Seabrook. Abigail Gent had a fine debut for the club featuring strongly in the 2 lap, speed bounce and triple jump.

The Under 13 Boys were hit by 2 late withdrawals so only Joseph Woods, Christopher Lamb and Daniel Dobson competed. Desire this, we scored well and will hopefully still make the County finals. Christopher did really well to finish his 2 lap heat after slipping and hitting the turning board on his backside.

Well done to all of the athletes and thank you to all parents for their support this year.

Northern Cross Country Championships - Knowsley Safari Park : 26th January
Juniors
On Saturday ten young athletes competed in the Northern Cross Country Championship at Knowsley Safari Park.in very snowy conditions.
First race was the under 17 girls (5.3km) Rachel McGoldrick finished the course in 68th 26:22 Maria McGoldrick completed the race in 75th 26:55.
Second race was the Junior women with Katie Bowers-Folan completing the 5.8km in 36th 29:08 well done Katie .
The under 13 girls covered the snowy distance of 3km. Leading the girls home was Susan Shirling finishing in 54th 14:42, followed by Abbie Roberts 140th 18:50 and Caitlin Young 141st 18:52.
A lonesome under 13 boy runner Ben Oldham ran the distance of 3km and finished 111th in 15:03.
The under 15 girls ran the distance of 4km Lucy Griffiths 92nd 21:14 whilst Maddie Williams finished 120th 24:33.
Also racing the same 4km course were the under 15 boys with Adam Woosey finishing strongly in 76th 17:00.
Well done to all of the athletes who competed today in the Northern Athletes Cross Country .
Team Manager Helena McGoldrick
Seniors
Knowsley provided an interesting course with varied terrain; there was mud, frozen mud, wet mud and a new one for me snow-mud. Also at least some of the course was part of the safari park open to animals judging by the smell of my clothing and shoes when I got home!

The senior men had a really good turn out, with two full teams and spare runners in reserve. Greg Williams (48:29, 104) continued his good form as shown in his time gap over Tony Smith (51:23, 162). Tom Griffiths (54:09, 233) continues to head back to his old standards with a solid race.
Barry Graney (56:11, 286) next in for the club ahead of Ian Costello (58:50, 373) and Ian Hayburn (58:50, 374) completing the scoring six. Team finished in 28th overall.

Mark Liptrot (58:55, 375) lead in the second team, with Andrew Wilson (59:08, 378) the last of our runners to slip inside the hour. Andrew O'Connor (1:00:53, 410) threw off a couple of falls to to stay ahead of Peter Johnson (1:01:10, 415) who finally felt like he was racing again. Ray Vose (1:02:04, 433) and Alan McNally (1:02:17, 436) had a battle for the line to complete the second team who finished in 47th place.

Greg Carns (1:04:31, 478), Ian White (1:04:54, 488) and Steven Clague (1:07:24, 514) completed the clubs runners over what was a very testing course.

First back for the Ladies was Gemma Connolly (36:34, 49) a really good result considering she lost her shoe twice, abandoning it second time.



Sonya Monaghan (45:58, 152) was next in just ahead of Louise Hogg (46:15, 153). Cheryl Orrick (50:11, 180) completed the team which finished twentieth beating near neighbours Wigan, Penny Lane and Skelmersdale.


Team manager Sue Clague was overjoyed. 'The course was one of the toughest I've seen in a very long time.
Getting round was an achievement in itself and everyone who did so did exceptionally well and can be very proud of themselves'.

Results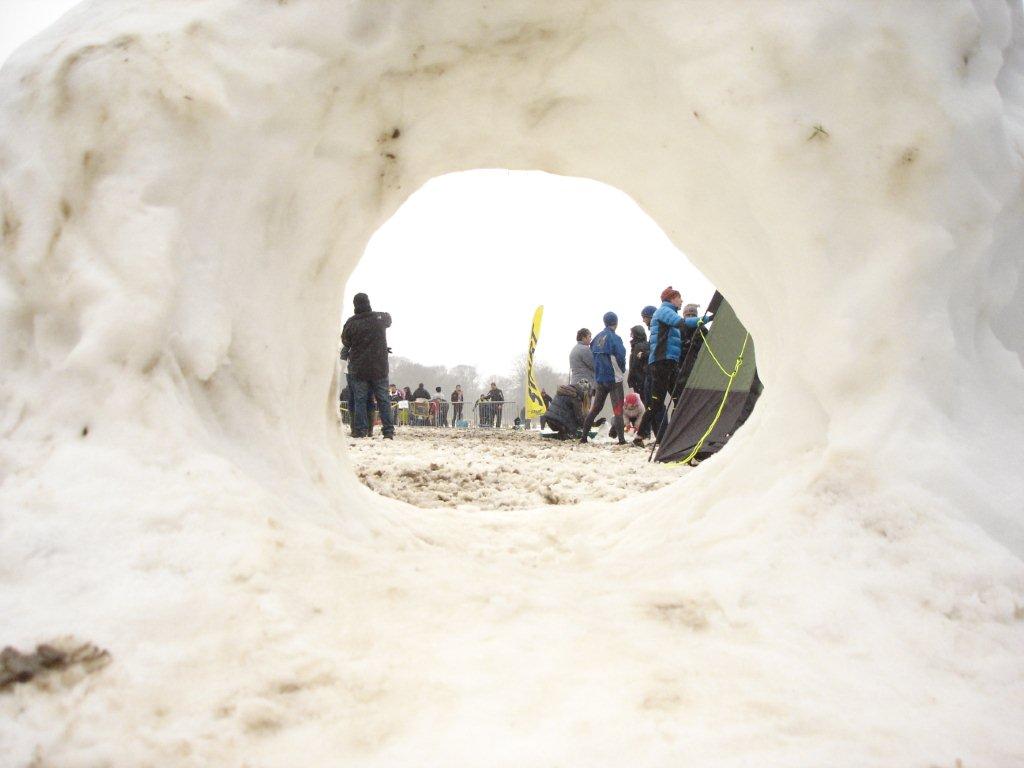 Weather Updates
Lots of Juniors still turned up for outdoor track training on Thursday despite us sending out lots of cancellation messages.
If you didn't get a text or email from us on Thursday afternoon then it's because we don't have your details in Teamer.
All members are uploaded into Teamer and get SMS or emails regarding fixtures, weather etc. please renew your membership ASAP and give your mobile and email details on the form.

If you are a longer standing member and don't complete a new form each year then please write your details down and pass them directly to Ant and he will upload them.
Teamer does lack details for Joe, Dave and John's Groups in particular.

Northern Indoor Championships at Sheffield. 11/12 January
Taylor Caton-Hand won the U17 long jump title with a p.b. 6.50 and finished third in the triple jump with 12.28. Thaddeus Anim-Somuah popped over from Holland where he is working to record 51.24 in his 400m heat and 50.38 in his semi final.
High jumpers Hannah Seabrook and Chloe Rigby finished sixth in their respective age group high jump finals, Hannah recording 1.45 and Chloe 1.50.

Seniors
Ian Costello finished eighth at the Bramhall Park Run on 11 January recording 18.55. These are good regular races for seniors.

Manchester & District League Match 4, Boggart Hole Clough, Stockport - 12 January
On Sunday 13th January 2013, 19 athletes travelled to Boggart Hole Clough for the 4th match of the Manchester Area Cross Country League. The conditions were ideal for cross country; very wet and boggy underfoot!
First off for the club were the Under 11 Girls. Elizabeth Griffiths represented the club alone and competed in her first cross country race. She finished very well, 47th in 7:26.
Secondly, the Under 11 Boys. Joe Houghton led the team home 12th in 10:34. Charlie Roberts finished 17th in 11:15. Also Jamie Ford completed the race in 20th in 11:32, and Xander Storey came 30th in 14:29. The team finished in 6th position.
The Under 13 Girls had two complete teams; firstly Susan Shirling finished 13th in 10:09. Abbie Roberts was 43rd in 12:04, closely followed by Freya Roberts, 48th in 12:24. Caitlin Young was 51st in 13:01. Ellie Mawdsley completed the course 52nd in 13:12 and Rosie Dwyer came 54th in 14:20. The teams finished in 11th and 15th position.
The Under 13 Boys ran the distance of 3200m. Joe Ford ran well and finished in 7th in 14:27. Liam O'Donoghue experienced what cross country was about for the first time.
Meanwhile, the Under 15 Girls were led home by Lucy Griffiths who was 20th in 16:32. Alex Glynn was 34th in 20:20 and Elizabeth Dingsdale was 35th in 20:21. Emily Roberts finished 36th in 21:28. As a team the girls finished 8th overall.
Finally, the Under 17 Ladies. Rachel McGoldrick ran a strong race finishing 10th in 17:10. Maria McGoldrick was closely behind in 15th place and finished in 17:44.
Well done to everyone who raced; hope to see you all at Woodbank Park, Stockport on Sunday 10th February.
(H McGoldrick)
Seniors
Gemma Connolly kept herself in the hunt for an aggregate award as our only lady finisher while a quartet of senior men (Tom Griffiths 44.08; Mark Liptrot 48.20; Andy O'Connor 49.46 and Peter Johnson 53.55) completed the men's turn out.

Merseyside County Championships, Arrowe Park : 5th January
The club had a good selection of runners in this year's championship race on a testing course particularly the waterlogged field.
Report to follow.
Cheshire County Championships, Reaseheath : 5th January
Three ladies represented the club in the Cheshire Championships. For the Senior Women Gemma Connelly came home well up the field 5th in 31:28. For the U17 girls Rachel and Maria McGoldrick both made it into the top ten, finishing 9 and 10th in 20:31 and 21:33 respectively.
Isle of Man Northern Senior Track and Field fixture
Please read the linked document that details current travel arrangements for travel to this fixture. Although the fixture seems a long time away, this needs to be finalised as soon as possible to ensure travel and accommodation can be arranged, as it falls on a Bank holiday weekend. The club will subsidise this trip and has agreed to cap the amount athletes will pay, giving a great opportunity to visit and compete on the Isle of Man with two nights B&B and travel included.
If you have said you will attend, or are interested in coming along on what is always a great trip, please read the details and confirm your interest as soon as possible.
2013 Annual Subscriptions
The committee would like to remind all members that their annual subscriptions for 2013 should be paid for next year. If you haven't filled a membership form in recently why not update the club with your contact details and any relevant medical notes. Fees are listed on the membership form (or see link on left - Join Us). Don't forget nightly track fees are now £2 for non members so save yourself some money and join us.
Please return form with Cheque payable to St Helens Sutton AC to address on membership form or pay at the desk on the night.
Happy New Year!
Time to put those new year resolutions to the test and burn off a bit of the Christmas pudding.
Training resumes
as normal at the club on
Tuesdays and Thursdays
, starting this
Thursday 3rd Jan
.