Four Villages Half Marathon, Helsby : Sunday 18th January
Five Sutton athletes joined 1800 other runners for the Helsby Half Marathon on a perfect day for running.
Gemma Connolly once again featured in the medals, winning her age group and coming third female in the overall race (1st FSEN, 1:21:31). Barry Graney was the sole male representative and stayed well away from Gemma to run a comfortable race for a change ( 24th M45, 1:25:59).
Tami Garvey-Jones ( 33rd F40, 1:47:33) ran well to finish high in this competitive category. Linda White ( 32nd F50, 2:04:28) and Karen Harrison ( 63rd F45, 2:06:42) both ran well on this hilly course.

Results Photos
North of England Championships, Sheffield : Sunday 18th January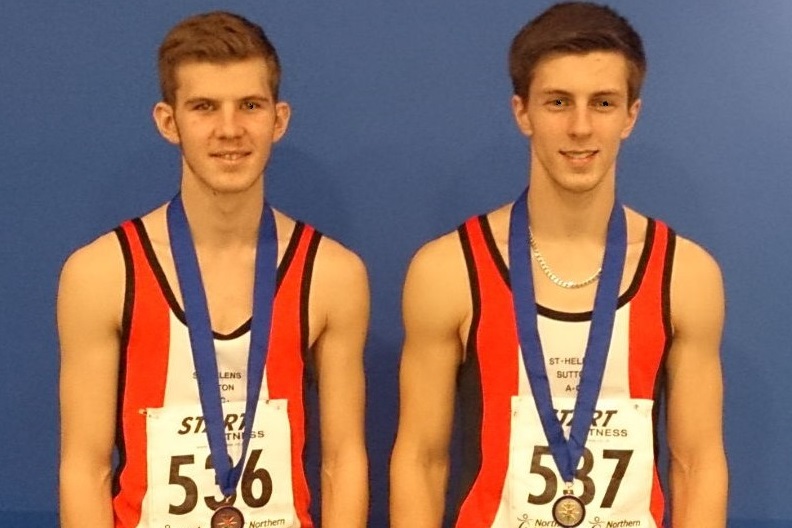 Two St Helens Sutton athletes, Michael Causer and Taylor Caton Hand, competed at the North of England Championships at Sheffield on Sunday 18th January. Michael, who is in his last year competing as an U20, not only won gold with a superb jump of 7.41m, but also broke the Championship record. This was Michaelís first competition since picking up a bad injury at the National Championships in June 2013. This is a great start to the year for Michael, as he is hoping to qualify for selection to the World Junior Championships in Eugene USA in July 2014. His next competition in March is the National Indoor Championships where he will be defending his 2013 championís title.
Taylor, who was competing for the first time as an U20, had stiff competition which left him in fifth place until his last jump of 6.58m moved him up into 3rd place, giving him the bronze medal. Well done to both of them and good luck for 2014.
Pennington Flash Park Run 17th January
Pauline Picton ran in the Pennington Flash Park Run clocking 34:52 and finishing 197th.
Merseyside Schools Cross Country Entries
Any athletes that would like to compete in the Merseyside Schools Cross Country on 1st Feb will need to give their details to Sue Clague. You will need to provide your name, school year, school and date of birth. More details here.
Please send details to Sue at clagues@sthelens.org.uk by the 31st of January.

Marathon Challenges
10 vets have entered the Snowdonia Marathon in October, entries are still open if others would like to join them. This is regularly voted one of the best, most scenic (and toughest) road marathons in the UK.
The club also has a runners racing in the Manchester, Blackpool, Liverpool and London marathons this year. One vet member has entered three of them, and another one who is doing two of them along with the Bolton Ironman!
There is now a keen and enthusiastic group of seniors, male and female, who train and travel to races together regularly. Why not join them in one of the groups regularly training on Tuesdays and Thursdays. Come along and get some support for those long miles you'll need to be running, it's much easier running with others!

Provisional Junior Fixtures for summer 2014
We have started to compile the fixture list for the summer. Please find click on the link to access it and check back for updates in the coming weeks.
As always, we encourage all Junior members to try competitions.

NW Sportshall League - Final Placings
Congratulations to the U15 Boys & U15 Girls teams who finished in 1st and 2nd places in the NW Sportshall League this season and qualify for the NW League Finals on 26th January. Unfortunately our U11 and U13 teams just missed out on qualification by 1 or 2 places, the final positions can be viewed here.
Thank you to all of the athletes who took part this season and to all of the parents for their support. Thanks also to Simon Neal who has been training most of the squad on Tuesday nights.
Hopefully we will have a few athletes who qualify for U13 and U15 County Honours on the back of some great performances.

Manchester League Cross Country Match Four, Boggart Hole Clough, Blakely, Manchester : Sunday 12th January
Sunday 12th January, 20 athletes competed at Boggart Hole Clough, Manchester for the fourth Manchester Area Cross Country League. The conditions were cold, extremely muddy and wet underfoot.

First off for the club was the under 11 girls, 1600m course. Ellie Doyle led the team home in 25th place in a time of 7.21, shortly followed by Abigail McHugh who finished in 36th position in 7.42. Another great race from Elizabeth Greenall meant that she finished in 41st place in 7.51, whilst Harriet King represented the club for the first time and completed the race in 49th place in 8.21. They finished 11th- well done!

The under 13 girls were next off alongside the under 11 boys, they competed over 2000m. Charlie Roberts finished strong, he finished in 11th in 7.40 and Michael Brussels ran well to finish in 21st in 8.10. Both boys did the club proud, well done!
For the under 13 girls; Kanyarat Avison finished in 47th place in 8.49, Imogen King ran strongly and finished 50th in a time of 8.53. Bethany Haughey finished in 57th in 9.23 and Lucy Price finished in 58th place in 9.28. The team finished 16th, well done!

Thirdly for the club was the under 13 boys and under 15 girls, they covered the distance of 3000m. For the under 13 boys Matthew Slevin finished in 26th in a superb time of 12.44- well done Matthew and thank-you for representing the club!

Next for the club was the under 15 boys and under 17 girls race. They covered the distance of 4000m. Rachel McGoldrick was the first one back for the club finishing in 16th place in 16.44 closely followed by twin sister Maria McGoldrick who finished 18th in 16.51.
Joseph Woods represented the under 15 boys and finished in 33rd place in 19.21, well done Joseph, everyone at the club appreciates your dedication!

Senior women; 7000m course- Gemma Connolly finished 10th in a time of 26.36, Julia Eccleston finished in 78th in 32.40. Well done ladies!

For the Senior men they covered the 10,000m course; Tom Griffiths finished the race in 40th place in 36.13, John Greenall finished in 51st place in a time of 36.39 and Barry Graney finished 71st in 37.39. Andy O'Connor finished the course in 153rd place in 41.27, whilst Ian Roberts completed the course in 190th in 43.52. Finally, Jonathon Ford completed the course in 195th in 43.57. The team finished in 17th- well done!


Hope the club has a better turn out for the last Manchester Area League at Wythenshawe Park.
Lets try to regain the team spirit!

Team manager: Helena Results
Princes Park run 11th January
Alan McNally ran in the Princes parkrun clocking 21:43 and finishing 46th.
Pennington Flash Park run 4th January
Mark Liptrot ran in the Pennington Flash parkrun clocking 22:19 and finishing 17th.
County Championships, Saturday 4th January 2014
Saturday 4th January 2014 saw the cross country county championships. There were 22 athletes representing the club across three counties, Merseyside, Lancashire and Cheshire.

For the Merseyside championships at Stadt Moers, Knowsley the weather was fine and the rain held off. The ground was soft and slippy making for heavy going so the youngsters particularly did well to cope with conditions.
The under 11 boys race of 1.5km included Charlie Roberts who finished 3rd overall in 6.05 whilst Michael Brussels finished 7th in 6.35. The boys ran very well!
The under 13 boys saw Joe Houghton in the 3km race. He finished strongly in 13.26!
The under 13 girls finished 5th as a team over the 3km course. Imogen led the girls home in 29th place in 16.11, Bethany Haughey completed the race in 33rd in 17.02 shortly followed by Lucy Price in 34th in 18.04. Sian Glynn completed the race in 36th in a time of 18.39. The team ran excellent.
Sam Thomson completed the under 15 boys 4km race in 22nd in 18.59, Curtis Adamson finished closely behind in 23rd place in 19.14. And Joseph Woods finished strong in a time of 21.12 in 25th place.
The under 17 ladies was represented by Maddie Williams who covered the 5km course in 8th place in 24.11- she ran superb!
Jamie White ran in the under 20 men's 8km course. He finished 6th in 31.43; well done!
For the senior ladies 8km race Julia Eccleston finished 24th in 41.01, she also finished 3rd in her age group overall (LV40).
The senior men saw John Greenall finish 40th in 45.42 covering the 10km course. He also achieved 3rd in his age category (MV50) . Barry Graney finished in 44th in 45.58 and Andrew Wilson came 49th in 46.53. Alan McNally completed the course in 55.58 finishing 104th whilst Gary Oldham finished the race in 105th place in 56.19.

At the Lancashire cross country championships held at Witton Park in Blackburn. The 10km course was very testing and the conditions were wet and muddy underfoot however Andrew O'Connor placed 5th MV50 and 88th overall in a time of 44. 8.

The Cheshire championships were held at Birchwood in Warrington. The course was also very muddy and wet. The under 17 women's race of 5km included Maria McGoldrick who finished 12th in 22.58- she ran strong! Rachel McGoldrick finished 13th in 23.35.
Gemma Connolly covered the distance of 8km in 5th place in 36.59. She finished 4th in her age category.

Well done to all competitors!

*Please remember Manchester Area Cross Country League is on Sunday 12th January at Boggart hole clough. The first race is at 12pm.
Cheshire Lancashire Merseyside
2014 Annual Subscriptions
The committee would like to remind all members that their annual subscriptions for 2014 should be paid for next year. If you haven't filled a membership form in recently why not update the club with your contact details and any relevant medical notes. Fees are listed on the membership form (or see link on left - Join Us). Don't forget nightly track fees are now £2 for non members so save yourself some money and join us.
Please return form with Cheque payable to St Helens Sutton AC to address on membership form or pay at the desk on the night.
Happy New Year!
Time to put those new year resolutions to the test and burn off a bit of the Christmas pudding.
Training resumes
as normal at the club on
Tuesdays and Thursdays
, starting this
Thursday 2nd Jan
.