Cheshire 10k, Arley, Sunday 30th
Luke Towers raced in this fast 10k coming first U20 in 34.15.
Helena Tipping 10k, Wrexham, Sunday 30th
Andy O'Connor 29th (4th V50) in season's best 39.38 at the Helena Tipping 10k road race at Wrexham on 30 March.
Pennington Flash parkrun, Leigh Saturday 29th March
The club had one runner in the latest park run.
Julia Eccelston came 5th female in 24:01.
Club Fell Running Championship
The club is pleased to announce details of its first Fell Running Championship. It's not as scary as you might think, take a look at the page linked below for more details.
Thanks to Greg Carns and Mark Liptrot for setting this up.
Club Fell Running Championship 2014
Llantysilio Fell Race
A great 6.2 mile race with 2100ft ascent over the Llantysilio mountains from Rhewl near Llangollen. Starting at the Sun Inn, there was a record turnout as the race was the first counter in the 2014 Cotswold Outdoor North Wales Series.
It was a glorious Spring day – sunny and breezy (attached photo shows the Llantysilio mountains). Quite a lot of climb for the distance but with a very nice, fast 1.5 mile run in to the finish.
Greg Carns finished in 1:03:52, 34th place out of 116 and enjoyed a nice pint of "recovery drink" before indulging in a big slab of Bara Brith at the presentation. A great day out for only a fiver.
Sportcity Indoor Meeting, Manchester
Six St Helens Sutton AC athletes were competing at Sports City, Manchester for the last of the indoor competitions. For the U15 girls, Caitlin Young managed two PB's she ran the 60m in 8.71 and Long Jumped 4.16m, Lauren Marshall won her heat of the 60m in 8.96 and Long Jumped 3.71, Jordan Pilkington also managed two PB's by running the 60m in 9.14 and a High Jump of 1.40, and Emily Smith also got PB in the 60m hurdles, winning her heat in a time of 10.04 and then jumped 1.45m in the High Jump, well done girls.
For the Under 20 men, Michael Causer ran the 60m in a time of 6.97, this was not only a PB but also broke the St Helens club U20 and Senior indoor records. Taylor Caton Hand also managed a PB in his heat of the 60m with a time of 7.58 and then Long Jumped 6.06m. Well done lads.
Blackpool Open Meeting and Stanley Park 5 mile, Sunday 23rd
Sunday 23rd March saw the open meeting held at Blackpool. The conditions were very windy and rather cold. The club had 11 athletes competing in the track and field.
Charlie Roberts competed in the under 13 boys 600m and finished in 1.56 and jumped 3.46m in the long jump, he also finished 4th in his 200m race.
Jacob Roberts ran the under 9 boys 600m and finished in 2.18, he also jumped 2.23m in the long jump. Ben Oldham represented the under 15 boys and finished his 200m in 28.2 whilst under 11 boy, Josh Oldham finished his 600m race in 2.05.00 and ran 12.8 in the 80m. Michael Brussels ran in the under 13 boys 1200m and finished 3rd. Dylan O'Brien competed in the under 11 boys 600m and 80m and the long jump: 3.47m, he performed very well. Elliot O'Brien, under 9 boy, competed for the first time in the 80m. Mike Hughes represented the senior men and threw the shot putt 8.16m and also the hammer 26.14m.
Hollie Brussels represented the under 9 girls in the 600m, she finished in 2.18.70. Ellie Mawdsley competed in the under 15 girls 800m. Rebecca Brown recorded at time of 12.6s in the 80m and jumped 2.92m in the U13 girls Long Jump. Elizabeth Greenall represented the club in the under 11 girls 600m and finished in 2.05.10 finishing 2nd overall (PB)! She also competed in the 80m and long jump, 2.84m.
Well done to everyone who represented the club!

Also at Stanley Park was the spring 5 miler. This saw Rachel and Maria McGoldrick competing over this distance for the first time. Rachel finished in 37th place (2nd under 20 female) in a time of 36.24 whilst Maria finished 56th (4th under 20 female) in 38.23. Helena McGoldrick finished the race in 78th place in a time of 41.54. The team finished 2nd.
Full Results can be found at -
Liverpool Half Marathon, Sunday 23rd
Four Sutton runners turned out for this local half, made really difficult by having to run the three mile stretch down the promenade from Otterspool head first into strong winds.
Calum Lockett ( 15th M, 1:17:50 ) ran a fantastic time to be well placed as our first runner home and first U20. He was followed by Kevin Cunningham ( 1289th M, 1:53:37 ),
Lynsey Wilson ( 58th FV40, 1:56:20 ) and Dorothy Fairhurst ( 1st FV70, 2:21:49 ) who also won her category.
Wilmslow Half Marathon, Sunday 23rd
Half a dozen of our veteran athletes ran in Sunday's race at Wlimslow. Maurice Collins ( 21st FV50, 1:32:37 ) was first in for the club followed by Pam Appleton ( 6th FV60, 1:58:48 ). Jane Ashcroft ( 65th FV45, 2:00:44 ) was just ahead of Linda White ( 38th FV50, 2:01:33 ) on chip time. Final two runners were Amanda Coogan ( 233rd FV40, 2:14:00 ) and Janice Lawson ( 32nd FV55, 2:20:33 ).

Results

Warrington parkrun, Warrington Saturday 22nd March
The club had six runners in the latest Warrington park run (position in category shown).

Gemma ADEN ( 39th , 28:48 )
Karen YOUNG ( 66th , 33:51 )
Antony YOUNG ( 126th , 33:53 )
Kay WILCOCK ( 83th , 38:36 )
Clare DAVIES ( 84th , 41:05 )
Victoria HEWITT ( 87th , 43:49 )
2014 Road Race Series - 12 Stage Relays
The third in this years races years road race series saw the men competing in the road relays. Updated tables below thanks to Karen Harrison.
There is still time to get involved as there are plenty of races to go at, best 5 to count see link below for details.
As the legs were two different lengths we took the average of the fastest three short and long legs which showed that a long leg was equivalent to 1.9 * a short leg.
The long legs were then adjust by this factor to give an equivalent short leg for long leg runners. The nearest distance to the short lap was 5k so this is the distance used in the Runners World Age Grading calculator to give adjusted race times. Shows what a great run John Greenall had to beat Luke's fantastic flat time.
Club Championship Results 12 Man Club Championship Race List
Club Championship Ladies Club Championship Men
The next race in the series will be at Warrington parkrun 5th April. Please ensure that you register and print your barcode, see you there at 9am.
Northern Athletics Twelve Stage Road Relays, Heaton Park, Manchester : Saturday 15th March
For the first time in a few years the club managed to successfully finish a team in the twelve man road relay event.
Always an exciting race and a great team building event - it's one of the highlights of the season to race or to watch.
Luke Towers ran a cracking first leg for the club bringing us in a qualifying place for the Nationals ( 24th 30:19 Long ), first short leg was by Wayne Joyce ( 57th 21:25 Short ) followed by another fast leg by Calum Lockett ( 49th 31:18 Long ).

Gary Oldham answered a late call up ( 56th 21:27 Short ) and was followed by John Greenall ( 40th 34:20 Long ) with another cracking run.


Alan McNally ( 55th 21:32 Short ) was followed by Andrew Wilson ( 45th 34:54 Long ) suffering from a hard weeks training! Anthony Doyle ( 56th 26:30 Short ) was another who got the club to the finish line by stepping in at the last minute to cover missing runners.
Barry Graney ( 51st 35:36 Long ) had a steady run coming back from a couple of weeks out, while Ian Costello ( 45th 18:38 Short ) made short work of the one lap with our fastest time of the day. Ian Roberts ( 57th 41:19 Long ) and Ian Hayburn ( 50th 19:54 Short ) completed the squad.
Thanks go to men's captain Ian Hayburn who spent a a long day organising the team, picking up the numbers, running the last leg and even managing to smile for the camera.

Results
British Masters Cross Country Championships, Glasgow : Saturday 15th March
The British Masters Cross Country Championships were held at Tollcross Park Glasgow. Conditions on the very hilly 4 lap course were windy but good underfoot. The quality and depth of the field was made even harder by the inclusion of the MV35 age group. Representing the Club Andy O'Connor ran 33:01 to finish 26th MV50 and 96th overall.
ESSA English Schools Cross Country, Castle Donnington : Saturday 15th March
Rachel and Maria McGoldrick raced at the English schools, coming 212th 18:49 and 250th 19:18 in this high quality field.
Trafford 10k, Trafford : Sunday 9th March
Luke Towers raced in this fast 10k, coming 10th Junior in 33:15.
Inter County Championships : Saturday 8th March
Luke Towers and Gemma Connelly represented the club in the inter counties, coming 70th in 28:11 and 54th in 31:00 respectively.
St Helens Sutton AC Athletes strike gold.
Two of St Helens Sutton AC athletes have been in major competitions this weekend. Michael Causer competed in the Welsh Athletics indoor International meeting representing England in this annual international competition against Wales, and took the gold medal with a personal best jump of 7.52 metres which was also a meeting record that has stood since 2008. This winning jump was only 8cm short of the qualifying standard for the World Junior Championships. It was the end of a very successful indoor season for Michael who will now be concentrating on getting ready for the start of the outdoor season in April/May and hopefully getting that qualification standard.
Christopher Lamb competed at the Northern Indoor Combined Events Championships which were held in Sheffield. This was the first major championships that Chris has competed in and he too took the gold medal in the U15 boys event. Chris managed to get five personal bests which is a fantastic achievement for him. He competed in 60m Hurdles - 9.82 secs, Long jump - 5.22m, High jump - 1.56m, Shot putt - 10.53m and 800m - 2.21.6 mins. The Championships is run in conjunction with the England Indoor Combined Events Championships in which Chris came 6th overall. Brilliant results from both of the boys, well done.

2014 Road Race Series - St Helens 10k
The second in this years races years road race series saw the runners competing in the St Helens 10k. Updated tables below thanks to Karen Harrison.
There is still time to get involved as there are plenty of races to go at, best 5 to count see link below for details.
Club Championship Results St Helens 10k Club Championship Race List
Club Championship Ladies Club Championship Men
St Helens 10k, St Helens : Sunday 9th March
A perfect day for the third running of this race saw 29 of Sutton's runners take on North road.
Provisional results :-
Calum Lockett ( 3rd , 33:34 ) John Greenall ( 14th , 36:24 ) Andrew Wilson ( 15th , 37:24 )
Dave Hampson ( 44th , 40:44 ) Ian Roberts ( 87th , 42:48 ) Sonya Monaghan ( 96th , 43:01 )
Carl Unsworth ( 168th , 45:11 ) Kevin Cunningham ( 222nd , 46:08 ) Julia Eccleston ( 228th , 46:13 )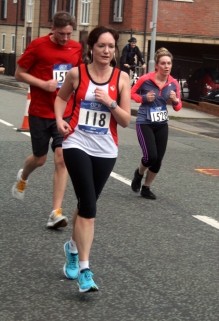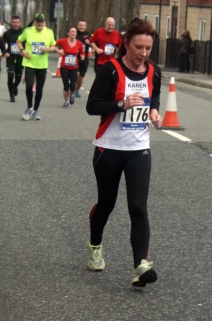 Chris Coatsworth ( 269th , 46:51 ) Chris Paton ( 506th , 51:17 ) Jane Ashcroft ( 714th , 54:08 )
Anthony Doyle ( 753rd , 54:38 ) Karen Harrison ( 756th , 54:39 ) Sharon Nunn ( 754th , 53:19 )
Clare Brown ( 768th , 54:54 ) Gemma Aden ( 816th , 55:28 ) Sarah O Donoghue ( 899th , 56:51 )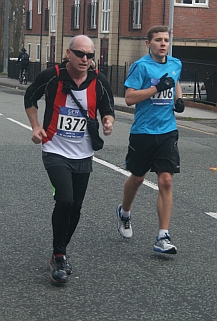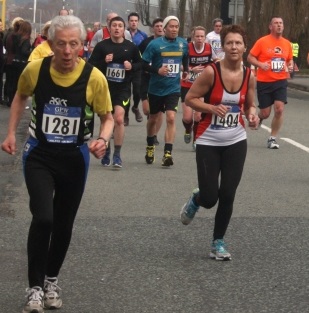 Rachel Wilcock ( 945th , 57:45 ) Dorothy Fairhurst ( 1081st , 1:00:29 ) Laura Anthony ( 1162nd , 1:02:45 )
Rachel Beesley ( 1164th , 1:02:46 ) Carolyn Joyce ( 1168th , 1:02:47 ) Holly Hilton ( 1169th , 1:02:48 )
Karen Young ( 1227th , 1:04:06 ) Elaine Ahern ( 1297th , 1:06:01 ) Pauline Picton (1256th . 1:06.47 )

Liam Doyle ( 1334th , 1.07.35) Camilla Cushion ( 1335th , 1.07.36)
St Helens 2K Fun Run, Sunday 9th March
A lot of Junior club members took part in the 2km Fun Run that preceded the 10km race. There were a lot of good runs and it was great to see so many club vests and familiar faces supporting the event.
Special mention should also be made to the adult members who took part and supported The Steve Prescott Foundation, Kay Wilcock, Vicky Hewitt, Andrea Beesley, Louise Hill and Wendy Anthony. The ladies are already discussing their training plan to step up to the full 10km next year. Well done and keep up the great progress!
Northern Veterans Cross Country Championships, Warrington
The Northern Veterans Cross Country Championships were held at a windy, soggy Victoria Park in Warrington. Representing the Club Andrew O'Connor won the Silver 2nd place MV50 award, clocking 43:45 for the 4 lap 10K Course and finishing 10th overall.
Warrington parkrun, Warrington Saturday 8th March
The club had one runner in the latest Warrington park run.
Ian Costello (13th in 19:52).
Fund Raising
Due to Council cut backs, the club has had little option but to invest in some equipment for Sutton ourselves. We have authorised the replacement of the right hand jump pit and also a High Jump bed. The bill has run to several thousand so we need to raise funds to cover this expense. Kath Seabrook has very kindly stepped up and is running a series of initiatives. Please give Kath your full support, dig deep and help her where you can.
Newsletters
There is lots going on at the moment including the start of the summer competition season. Please download the latest newsletter for more information.
Don't forget, there are lots of discussions that happen daily on the Facebook page: St Helens Sutton AC and Twitter @sthelenssutton
Juniors Newsletter Seniors Newsletter

Junior Competitions
The summer track season starts soon. For the latest Fixture List please see Junior Fixtures 2014
For those of you new to competing, we are holding an Internal Pentathlon on Sunday March 30th at Sutton Leisure. Here athletes will do 4 or 5 events including a sprint, middle distance, jump and throw scoring points for each. Entry is £2.00 with medals for all athletes and trophies for the winners. Athletes over 9 years old who have competed before can still participate for training / experience but can't win.
To enter please visit: www.st-helens-sutton.co.uk/events and click on the event at the top right. This new system is currently being tested so if you have any problems email: ayoung @ demuto.eu .
AAA National indoor Championships, Sheffield : Sunday 2nd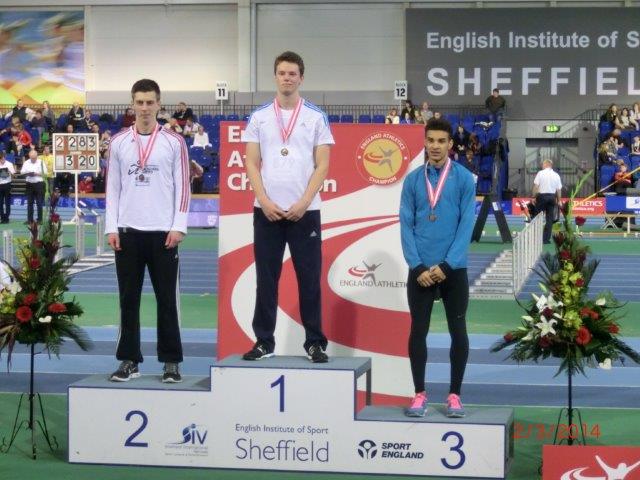 Michael Causer and Taylor Caton Hand have been representing the club at Sheffield again, this time at the AAA National indoor Championships on Sunday 2nd March.
Michael, although carrying a knee injury, was in first place with a jump of 7.34m right up to the last round when he was pushed into silver medal position. He has now been selected to represent England in the Celtic Cup, an international match against Wales, held in Cardiff next Sunday.
Taylor also jumped well in his first National Championships as an U20. He just missed out on the final with a jump of 6.49. Well done to both of them.

2014 Road Race Series - Pennington Flash Park Run, Saturday 1st March
This years road race series opened with a trip to Pennington Flash Park Run. Ten of the club's runners turned out with wins for Mark Liptrot and Sonya Monaghan. The next race in the series will be the St Helens 10k this Sunday 8th March. There is still time to get involved as there are plenty of races to go at, best 5 to count see link below for details.
Club Championship Results Pennington Flash Club Championship Race List
Club Championship Ladies Club Championship Men

St Helens 10K and parkrun
We are keen to maintain and improve the clubs profile in St Helens and as such are once again helping with the St Helens 10K/2K race on 9th March in support of The Steve Prescott Foundation. If you are able to spare some time that morning to help us between 8am and 10am please see contact Ant Young on 07767 310204.
We are also trying to get a parkrun event off the ground at Victoria Park. Discussions are going well and we hope to launch in May / June. If you are able to Volunteer as a Marshal for 1 or 2 events a month it would be greatly appreciated. The runs take place every Saturday at 9am, for more info: http://www.parkrun.org.uk/
Antony Young is coordinating so please contact him if you can put your name on the rota or offer any other support.
Even attending one event will give someone else a day off.
Get Involved
We are really short of Coaches for the Junior section in a number of areas but most obviously in Distance Running where Helena McGoldrick is bravely managing around 30 kids with the help of Peter Johnson.
If you feel that you can help or would like to take a group on please speak to Colin Spark. The club provide financial assistance for courses and it's extremely rewarding when you start to see the group improve or one of your athletes is recognised for County Honours.
Many of our Senior Members have decades of experience that they could share and help to keep the club's heritage alive for many years to come. Is that you?
No offers of help will be declined!
2014 Annual Subscriptions
The committee would like to remind all members that their annual subscriptions for 2014 are now overdue.
If they are not paid by 10th March then your weekly subs will rise back up to £2.00.
If you are in the beginners groups and have been attending for quite a while, please complete a membership ASAP so that we have your full contact details, medical history etc and can start to communicate more effectively with you, for example if the track is closed.
Fees are listed on the membership form (or see link on left - Join Us).
Please return form with Cheque payable to St Helens Sutton AC to address on membership form or pay at the desk on the night.