Upcoming events
The Cross country season is coming soon. The Manchester Area Cross Country League starts 11th October- Under 13 upwards=£5,Under 11's=£4, please speak to your coach or Helena. A great way to warm up for the season will be to join our local trail race - the Dream Trail which is only a couple of weeks away.

There are two races so you'll find something at your level and if you can't race please support the club by volunteering for a short (or long!) time on the day.
Speak to Antony Young, your coach or a member of the committee. Alternatively click on the link to the left to find out more and enter online.

Club Championship - Northern Road Relays, 20th September
Seven runners turned out for the 13th race in the series, the Northern Road Relays (see race report below).

Club Championship Results N RR Club Championship Race List
Try to support the club by running in the next event which is our own Dream Trail, October 12th.
Northern Road Relays, Birchwood, Warrington - Saturday 20th September
Saturday 20th September saw the Northern Road Relays which were held at Birchwood. There were 27 athletes representing the club. For the under 13 boys 3000m race; Matthew Slevin finished in 23rd place in 12:04. Then Michael Brussels finished the 2nd leg in 29th place in 12:52 and Liam Houghton finished in 21st place in 12:19. The team finished 21st. Also in this age group, Nathan Worrall finished in 31st in 12:37 and James Carberry finished in 33rd place in 14:10. The under 13 girls saw Ashlea Sprott set off on the 1st leg of the 3km course. She finished in 24th place in 12:49. Lucy Price finished in 24th place too in 14:25 and Alyx Bridge finished in 27th place in 14:05. The girls finished 27th overall.
Next off was the under 15 boys 3km race. Sam Thomson finished in 40th place in 11.46 whilst Jack Worrall finished in 41st place in 13:33. Anthony Walker finished in 37th place in 12:07. The boys team finished 37th. The under 15 girls covered the 3000m course too. Despite being caught up at the start Sam Price managed to finish 37th in 13:57. Kanyarat Avison finished in 35th place in 14:55 and Emily Ashton finished in 30th place in 14:04. The team finished in 20th place. Also, Ellie Mawdsley finished in 39th place in 15:42 whilst Piper Unsworth finished 36th in 14:45. The under 17 men had an incomplete team. Adam Woosey finished the 3.3km course in 29th place in 11:53 and Jonathan Causer finished 27th in 12:18.
The senior men saw Tom Griffiths on the 1st leg. He finished 54th in 20:50 whilst Ian Costello finished in 70th place in 22:38. Andy Wilson was on the 3rd leg, he finished in 72nd place in 22:55 and Barry Graney held 72nd place and finished in 23:09. On 5th leg, Dennis Wharton finished in 87th place in 26:31 and Ray Vose finished in 91st place in 28:01. Overall, the men finished in 91st position. Finally, the senior women had an incomplete team. Rachel McGoldrick was on the 1st leg and finished in 58th place in 26:41, Maria McGoldrick finished in 47th place in 27:59 and Julia Eccleston finished 48th in 28:44.

Well done to everyone who competed.

Team manager: Helena

Snowdonia 50 Ė The Ultra Tour of Snowdonia
The Snowdonia 50, advertised as 50 miles round Snowdonia with 10,000ft of ascent. Only it wasnít. I checked it the week before on memory map and it was actually 56 miles. The race organiser Henry, advised a few minor changes at the pre-race briefing and in the end it was actually 58.5 miles. Still, I suppose that was even better value for money in cost per mile! It did look a long way though, with Snowdon at the centre of a highlighted route on the map starting at Betws-Y-Coed, leading to check-points at Dolwyddelan, Blaenau Ffestiniog, Croesor, Beddgelert, Llanberis, Bethesda, Capel Curig and back to Betws-Y-Coed. We were advised that were over 240 markers out over the course so there was little chance of getting lost Ė thatís one less thing to worry about.

I met Mark Liptrot at Betws-Y-Coed and at the race briefing on Friday night it was apparent that is was going to be a very cosy affair Ė 7 of the 33 entries hadnít turned up and there only 26 runners. So on to the 6:30 start and we were off. It settled down to a lead group of 6 runners heading up to the beautiful Llyn Elsi, then back down to Dolwyddelan. A long forest track leads up to a path through some woods, then to some old quarries on the way to Blaenau. The group dropped to 5 and suddenly we were at the Llechwedd Quarry at Blaenau. I knew the next bit well, the Ras Y Moelwyn fell race route climbing through the eerie Cwmorthin and up to the old Rhosydd slate quarry. Fantastic scenery mixed with relics of a bygone industry. We lost another runner up the incline and now there was just Mark and I and two runners from the local Eryri Harriers on the descent into Cwm Croesor. Iíd checked the starting list before the race and noted that these two guys had finished second and twelfth at the Snowdonia marathon Ė we were in illustrious company! Some nice trails lead to the beautiful Aberglaslyn Pass, voted by National Trust members as the best view in Britain. By the Beddgelert check-point we had done 24 miles and Mark had opened up a 3 minute lead. I was starting to tire a bit and enjoyed the pampering of the friendly check-point helpers.




I had no choice but to drop back as the trails wound through Beddgelert forest and onto Llyn Y Gader at Rhyd-Ddu. And now for the climb to Bwlch Maesgwm, sitting between the peaks of Foel Goch and Moel Cynghorion. Ignoring the Rhyd-Ddu path to Snowdon and crossing the Snowdon Ranger path it was a lovely clear day to take in the stunning views of Snowdon and the surrounding peaks as the route passes another disused quarry before eventually hitting the highest point, then heading back down to Llanberis and check-point 5. 34 miles done and definitely starting to feel it! The spinach and feta pasty and chocolate raisins definitely hit the spot and I felt better leaving the checkpoint than I did on arrival. The next section contoured Llyn Padarn before climbing out of the quarry museum through woodland, leading to what seemed like miles of pathless tussocks and heather. Eventually a path and onto the sixth check-point at ZipWorld Bethesda. Itís the longest Zipwire in Europe and it looked fantastic with the participants screaming and smiling in equal measure. Now for the long climb up the Nant Ffrancon valley to Llyn Ogwen, looking longingly at the Glyder mountain range, with Pen-Yr-Ole-Wen towering above the valley on the opposite side. Past Ogwen cottage and the rocky Tryfan. Tryfan looks like a proper mountain - standing alone at the end of the Glyder ridge it bristles like a huge rock stegosaurus,

The track eventually leads to Capel Curig and the classic view of the magnificent Snowdon Horseshoe from Llynnau Mymbyr. The final checkpoint and less than 6 miles to go. It all looked downhill on the map but there are plenty of undulations as the path lead round rivers and woodland. It seem a long way up from the road when suddenly there is a steep downhill through woods, across the river, onto the road and back to the school. Across the finish line and Iím presented with a bottle of ZipWorld beer and a huge ďEryri 50Ē medal Ė 790g of Welsh slate from Blaenau! What a fantastic scenic journey itís been, over such wonderfully varied terrain. Iíd spent all day except the first 4 hours on my own and it hadnít dragged at all. Much more rewarding than any big city marathon! A big thank you has to go to the race organiser Henry and his team. I think he must have got his entire family and friends to help out and their friendly enthusiasm really shone through. They all helped give the event a really friendly, cosy feel and made it something very special to be part of.

Mark came 3rd in 10:33 and I was 6th in 12:08. Finishing times varied from the winner at 10:33 to the last two runners at 20:44 so there are a huge range of abilities taking part, all with different ambitions from winning to just getting round and enjoying it.




I would urge anyone scared of the distance to give an ultra-run a go. These races are run as much in the mind as in the legs and determination to get round is more important than fitness Ė if youíve run a marathon then youíre more than capable and on endurance events like this your ability doesnít decline as you get older. The Haworth Hobble next March is 32 miles and a great, good value introduction to ultra-running. Go on, you know you want to! Report by Greg Carns.

Cheshire Multi Events Championship - Sunday 14th September
Megan Lang finished another great T&F Season with 2nd Place in the Cheshire Multi Events Championships at Macclesfield. The highlight of the day was a new personal best in Shot Put with a throw of 9.21m demonstrating a significant improvement over the 7.5 metre throws that she was regularly recording earlier in the season. The improvement being testament to the hard work put in by Megan and Coach Damian Lamb in recent weeks.

Liverpool Throws & Jumps - Saturday 13th September
Christopher Lamb enjoyed double gold success at the final Throws & Jumps meeting of the season at Wavertree. He took Gold in the Pole Vault with a jump of 2.90 metres which was also a club record eclipsing the previous, long standing record of 2.50m by quite some way. He then went on to jump 5.25m in Long Jump to win the latest round of the season long, friendly battle with cousin Daniel Lamb who took Silver with a jump of 4.80m.

Club Championship - North West road Relays, 13th September
A good turn out saw eleven runners for the 12th race in the series, the North West Road Relays (see race report below).

Club Championship Results NW RR Club Championship Race List
Try to support the club by running in the next event which is the Northern road relays. Teams have to be entered soon, please see your coach or Helena to secure an entry as soon as possible.
North West Road Relays - Saturday 13th September
The North West Road relays were held at Woodbank Park, Stockport saw 32 athletes representing the club and also representing Merseyside or Cheshire. For the under 13 girls, Ashlea Sprott represented the club for the first time, she finished the 2600m course in 10:17. Alyx Bridge finished in 10.49 whilst Lucy Price brought the team home in 10:55. The girls finished 2nd for Merseyside. Next for the club was the under 13 boys. They covered the distance of 2600m also, Matthew Slevin finished his leg in 9:43 he handed over to Michael Brussels who managed to finish in 10:12 and Nathan Worrall brought the team home in 10:31. The team finished 2nd in Merseyside. James Carberry and Liam Houghton both competed for the first time, Liam finished in 9:55 and James completed the course in 12:22. The under 15 girls ran with the under 17 women. They covered the distance of 2600m. For the under 15 girls, Samantha Price led the team off to finish in 10:53. Next was Emily Ashton who finished in 11:19 and Kanyarat Avison who finished the race in 11:51. The girls finished 3rd within Merseyside. Ellie Mawdsley was on first leg too. She completed the course in 12:54 and Natalie Tait finished in 12:08. For the under 15 boys 2600m course, Anthony Walker led the team off and finished in 9:10. He then handed over to Jack Worrall who finished in 10:39 and Sam Thomson brought the boys home in 9.25. The boys just missed out on a medal finishing 4th for Merseyside.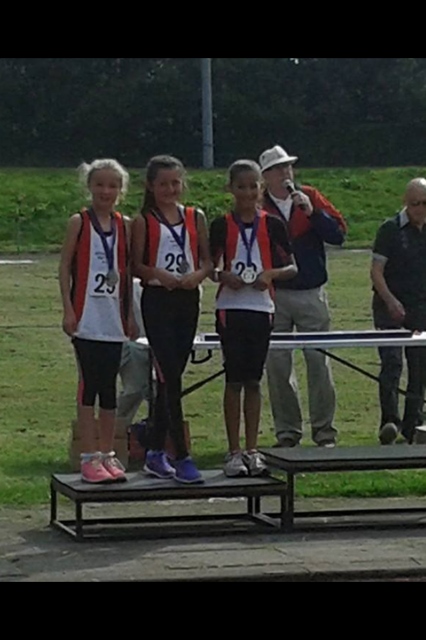 The penultimate race was the under 17 men and senior women who covered the distance of 3600m. For the under 17 men, Adam Woosey was on the first leg and brought the team back in 12:39. Sam Miley then finished in 14:31 and finally Jonathan Causer brought the team home in 13:49. The boys finished 3rd for Merseyside. The club had 2 teams within the senior women's race: 1 Merseyside team and 1 Cheshire team. Rachel McGoldrick was on first leg and finished in 15:26, Maria McGoldrick then finished in 16:48 and Helena McGoldrick brought the team home in 18:36. The McGoldrick's represented Cheshire and finished 3rd. Now, for the Merseyside ladies; Rachel Wilcock finished in 16:44 and Carolyn Joyce finished in 18:42. Rachel Beesley was on the last leg and finished in 18:32. The team finished 5th for Merseyside. The senior men saw Tom Griffiths finish in 11:41, Jamie White finished in 12:24, Ian Costello finished in 12:53 and John Greenall finished in 14:02. The team finished 6th for Merseyside. Also there was an incomplete team which consisted of Barry Graney 13:25, Wayne Joyce 15:03 and Ian Hayburn 15:08.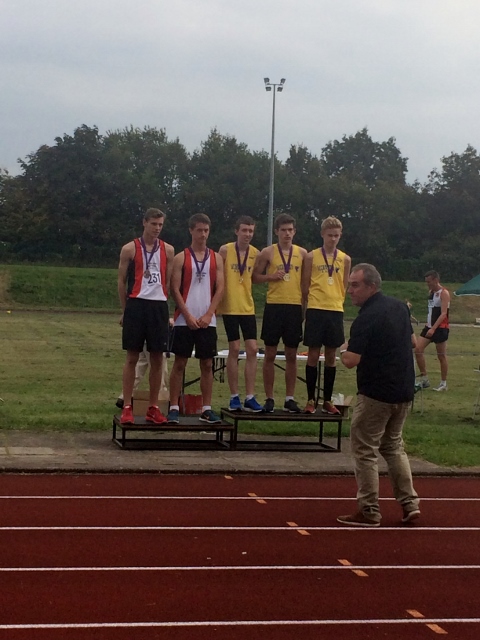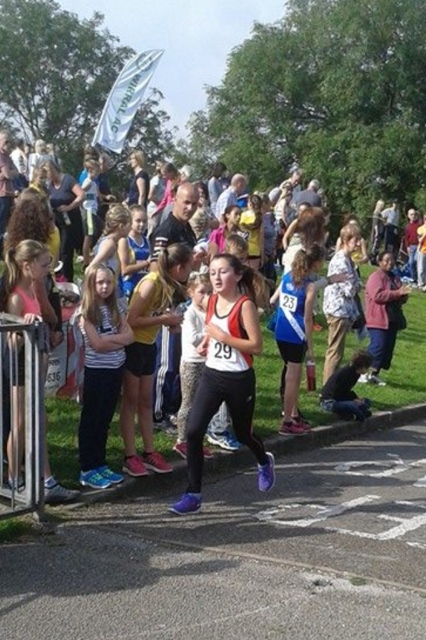 Well done to everyone who competed! Everyone ran excellent and there was a good team spirit! Hope to see you all at Birchwood, Warrington next week.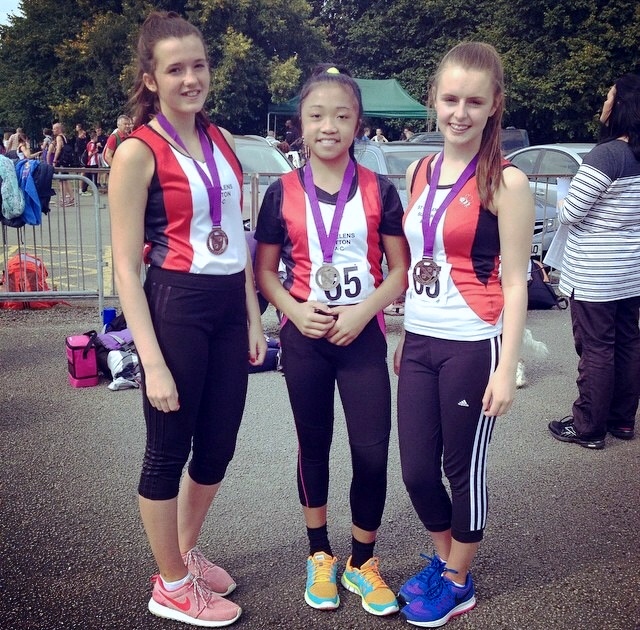 Team manager- Helena

Annual General Meeting of St Helens Sutton Athletic Club
The AGM will be held at the Bull and Dog, Marshallís Cross Road on Monday 29th September 2014 at 7.30pm

Please do your best to attend, the Committee needs the support of its members to conduct the business of the Club. Everyone has something to offer, no experience needed!

A notice is displayed in the clubhouse for the nomination of Committee members. Nominations can also be made via e-mail to the Secretary Ė Christine Dempsey dempsey90@blueyonder.co.uk and should be received 1 week prior to the AGM.

Great North Run, Newcastle : Sunday 7th September
Three Sutton athletes made the trip to Newcastle this weekend.
Dennis Wharton (2733rd, 1:40:16); Tami Garvey Jones (10428th, 1:57:38); Karen Harrison (20390th, 2:14:53)

Cheshire League Match 4 - Woodbank Park, Stockport : Sunday 7th September
Sunday 7th September saw the fourth Cheshire League meeting which was held at Woodbank Park, Stockport. There were 9 athletes competing for the club in excellent conditions.

For the under 11 boys there was Matthew Dodd who competed in the 75m to finish in a time of 14.4. He also competed in the long jump to achieve 2.21m. Matthew achieved a pb in his 600m race with a time of 2.29.7. Dylan O'Brien ran 11.9 in his 75m race and finished his 600m race with a pb of 2.01.2. Another pb was achieved for Dylan in the long jump; he jumped 3.57m. Ben Toole represented the under 11 boys too. He threw the soft javelin 9.87m which was a pb and he achieved another pb in the long jump with 2.65m. Ben got his 3rd pb of the day in his 600m race with a time of 2.06.9. Max Harrison threw the soft javelin 10.62m to achieve a pb in this event, he also jumped 2.92m in the long jump- achieving another pb. Elizabeth Greenall competed for the under 11 girls. She jumped 3.19m in the long jump and also ran 12.6 in the 75m. Elizabeth achieved a pb in the soft javelin; she threw 12.60m. Elizabeth ran 2.06.0 in her 600m race. The club had a mixed relay team for the under 11's. The relay team consisted of: Dylan O'Brien, Ben Toole, Max Harrison and Elizabeth Greenall. The team finished 3rd overall.

The under 13 boys category saw Charlie Roberts competing in the javelin. He threw 11.90m which was a pb. Charlie got another pb in his 1500m race with a time of 5.24.6. He also jumped 3.50m in the long jump. Nathan Harrison competed in the 100m to achieve a time of 15.6 and also participated in the javelin: 10.23m which was a pb! He jumped 3.34m in his long jump too.

For the under 15 boys; Christopher Lamb competed in the 100m to achieve a time of 12.5, he threw the shot 10.59m and also jumped 1.63m in the high jump.

Caitlin Young represented the under 15 girls. She competed in the 200m and finished in a time of 28.6. She also jumped 4.20m in the long jump.

A big thank you to the volunteers especially Barry Greenall, Ian Roberts, Maria McGoldrick and Rachel McGoldrick. Thanks to all of the athletes for representing the club! Well done to everybody who competed in the last league meeting of the season.

Team manager: Helena.
Hades Hill fell race, Whitworth. : Thursday 4th September
46 years this race has been going: thatís absolutely brilliant. The race is started by the Mayor of Whitworth: thatís brilliant too. Also brilliant is that you pay £4 for the race and they hand you a Double Decker at registration. Itís only a little thing but they donít need to do it and itís such a refreshing change to being charged four and five times as much with the justification ďWell itís for charity.Ē

Me and Greg arrived with about ten minutes to spare. As we were walking to the start line Gary passed us rushing to registration. Heíd left a high powered executive conflab at work straight to the race. An exemplar of full-on commitment is Gary. He only had £3 on him but they let him enter anyway. They even offered him a Double Decker but he gallantly refused.

90 runners ranging from under 18 to over 75 set off on the 5 mile course: 2 and a half miles out over 3 hills, and then the same 2 and a half miles back over the same hills.
Not particularly long and not particularly big hills for a fell race Ė but like they say, itís not the course that makes it hard, itís how you race it. It doesnít have to be excruciating, you could just as well do it as a bracing training run, or even a leisurely sight-seeing stroll. Running in the places fell-running takes you can do nothing but good: for your legs, your lungs and your soul.
How did I run it? Well, my nemesis Chris Davies ex-MEP turned up on the start line: ďIím a V60 now so you donít have to race me any more,Ē he said. Oh I do, Chris. I do. So it was 400 metres intensity for 5 miles. I thought I had him half a mile out, but a failure of courage let him get in front again and he beat me by eight seconds. We came 14th and 15th - not bad for a pair of geezers with a combined age of over 110.

Greg was disturbingly close behind having won his own tussle with his personal nemesis. Not that we are viciously competitive or anything. Itís just that we really are that competitive. Greg is getting better and better. Gary was in the top half of the field Ė brilliant considering heís only done a handful of fell races. Looking forward to the Saddleworth Edges.

Another brilliant course in a brilliant area, but if you never venture beyond Tesco at the weekend youíll never know, will you?
Report by Mark Liptrot.