Wine Tasting Social, West Park Rugby Club : Friday 16th November

We are holding a wine tasting with a difference on Friday 16th November,7.30pm at West Park RUFC on Prescot Rd.

The objective is to try 3 mystery red wines and 3 mystery white wines, match them to their tasting notes and then put them in order of price from
cheapest to most expensive.

The event is open to parents, friends and family (strictly over 18's) but numbers are limited so get your tickets soon to avoid disappointment!
Tickets are priced at £9.50 which represents great value for a minimum of 6 glasses of wine each.

The bar will be open post event for those who prefer a different tipple before heading home. 
AGM, Bull and Dog, 24 September
The club had a good turn out to the AGM where the committee were able to report and reflect on a successful year. The current committee was praised for its work over the year and was returned largely unchanged.
Minutes are available on request from the secretary and are displayed at the clubhouse.
Alsdorf Half Marathon
Germany based Steve Tipping was second O55 at the Alsdorf Half-Marathon recently, recording 1.32.08. Steve's run was part of his preparation for the Bilbao Marathon in October.
Northern Road Relays, Leigh : Saturday 22nd September
On another glorious day at Leigh Sports Village we fielded eight young athletes teams over three age groups in the Northern Road Relay Championships.
The Under 13 boys had our best placing of the day thanks to Joe Ford 11.33 James Mackell 11.33 and Ben Oldham 12.28 who finished a very creditable 15th team. They were supported by Connor Whalley who showed great team spirit by competing despite an injured ankle in 12.52, with Anthony Walker 12.47 and Peter Davis 16.50 completing the team.
The Under 13 girls' trio of Susan Shirling 12.21 Alex Bottomley 13.20 and Abbie Roberts 13.41 were 18th, while Ellie Mawdsley 14.54 Freya Roberts 14.18 and Chloe Orrick, who was thought to have set a course record only to find a marshal had sent her the wrong way.
The Under 15 boys were led off by James Lee who again posted our fastest time of the day at 10.46, followed by Adam Woosey 10.53 and Joe Hill 12.22 for 22nd place. Last of the junior section over this course were the Under 15 girls trio of LucyGriffiths 12.29 Olivia Harwood Moss 13.02 and Maddie Williams 12.38. They were supported by Emily Roberts 14.18 Lauren Wilcock 16.19 and the unfortunate Alex Glynn who was also sent the wrong way by a marshal.
Over a longer course the under 17 women consisted of Rachel McGoldrick 13.49, Maria McGoldrick 14.35 and our debut girl Emma Danher 15.16 running a fine anchor leg to bring the team home in 22nd place.
The seniors contested the men's and women's races, the ladies quartet of Katie Bowers-Folan 15.07 Julia Eccleston 16.41 Sonya Greenhalgh 16.03 and Cherryl Orrick 17.58 finished 43rd from a field that started with 64 teams. The men were unable to complete a full team due to sickness on the day but enjoyed competing in a big race with 111 teams starting. Jake Healy 24.33, nursed his knee round, Andy O'Connor 24.01, went above and beyond nursing his cold, Barry Graney 22.25 and Ian Pass 23.09 had solid runs and Stan Erlam 29.54 was our last runner, putting in a typically strong effort.
Many thanks to all our supporters for making it a really great atmosphere among the team, we seem to be going in the right direction with all the hard training. Now for the cross country season, good luck to you all.
John Woodward - Team Manager
Dream Trail Race, Sutton Manor : Sunday 16th September
On 16th September the club held its 2nd Dream Trail Race with record numbers taking part.
Mini Trail Race – 61 Challenge Trail Race – 36 Trail Race – 94
Many thanks to all parents, officials and volunteers for their support. Thank you also to Barry Graney for all of his hard work in putting together a superb race website. As last year, the race wouldn't have happened if it wasn't for all the hard work of race organiser Anthony Young, congratulations on organising another successful event.
Record numbers of runners participated in this year's Helena Partnerships Dream Trail Races in support of The Steve Prescott Foundation. Thankfully the heavy rain that was forecast didn't materialise and 191 runners including 61 Primary School Children took part in 3 races organised by St Helens Sutton AC, around the Dream statue at Sutton Manor.
One of St Helens up and coming Juniors Charlie Roberts won the 1.2km Mini Trail in a time of just 5 minutes with other club athletes Joe Houghton and Jamie Ford finishing in 2nd and 3rd. In the Junior Girls Race Anna Pennington took the honours in 5 minutes 46 seconds followed by Esme Waters and Natasha Wood.
The 4.2km Challenge Race was opened up to adults for the first time. Despite this the Juniors still led the way with Samuel Evans from Warrington, Adam Woosey from St Helens Sutton and Chris Larkin from Halton & Frodsham taking the honours for the boys and Rachel McGoldrick (St Helens Sutton), Kiera Grady from Halton and Frodsham and Maria McGoldrick, St Helens Sutton winning the Girls race. For the adults Ben Wittenberg won the mens race before then taking part in the longer 8.5km race. He was followed by Chris Taylor and Tony Doyle.
Local athlete Karen Young led the ladies home in a time of 30minutes followed by Sue Clague, also from St Helens Sutton and Julie Kinsella close behind.
94 runners then took part in the main event, an 8.5km Trail Race across some challenging terrain. Following his success in the GPW Recruitment 10km race earlier in the year John Ashcroft made it a double success leading the field home in a very fast 30 minutes 33 seconds. Liverpool Harrier Luke Towers was 2nd (31.36) and Greg Williams from St Helens Sutton AC 3rd (31.50). Mark Glynn won the vets prize.
For the ladies Charlotte Ward running in the GPW team won in 44.12 followed by St Helens Stride Ruth Besford (45.20) and Jess Hunt (49.21) also from GPW. Elizabeth Mole from Atherton Running Club took the vets prize.
Race winners won Trophies, Up & Running Vouchers and Land Rover Experience Days.
Congratulations to the club members that won prizes.
Results are now online: Trail Race Results
Great North Run, Newcastle : Sunday 16th September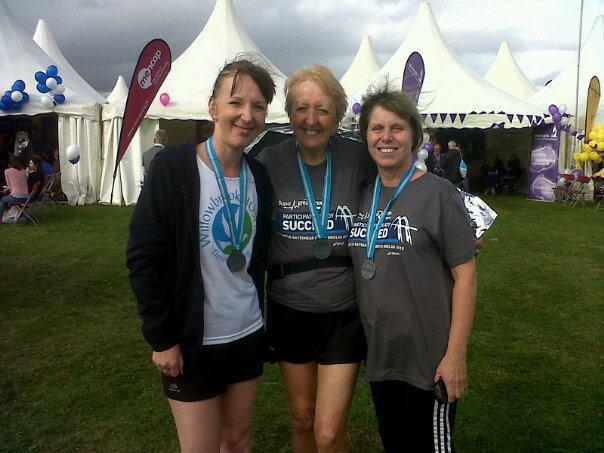 Ten of our athletes (at least) joined almost 40,000 runners on a damp day in Newcastle that looked great for running.

Dennis Wharton (1336 in 01:32:53) was first back for the club followed by Gemma Lancaster (7291 in 01:48:44) our first lady back.
Craig Orrick (10489 in 01:54:06) and Cherryl Orrick (11011 in 01:54:51) finished together with Joanne Keogh (14879 in 02:00:13)
and Pete Mcaleny (17019 in 02:03:43) not far behind. Dorothy Fairhurst (23000 in 02:13:18) had another great run to come 2nd Female Vet.
Janice Lawson (26204 in 2:18:60), Karen Harrison (26455 in 02:19:31) and Elaine Ahearn (34494 in 02:41:05) completed the runners we know about.
If you ran the race and we missed you from our report, have some photos or would like to write a report of the race please email us at info@st-helens-sutton.co.uk (thanks to Karen Harrison for the photo).
Liverpool Throws and Jumps competition, Wavertree : Saturday 15th September
On Saturday 15th, five of our athletes competed in the Liverpool Throws & Jumps competition at Wavertree.
Mike Hughes threw 8.15 in the shot for third place, and then threw 24.63 in the discus. Sophie Rigby won the U20 ladies Long Jump with 5.12. Michael Causer won the U20 mens Long Jump with a leap of 7.25. We also had two first places from Taylor Caton Hand in the Triple jump with 12.48 and then in the Long jump with 6.22.
Jonathan Causer threw 9.32 in the U15 boys shot putt for fifth place. Well done to them all for a great finish to their outdoor season.
North West road Relays, Northwich : Saturday 15th September
On a fine day in Northwich the club contested the U13 and U15 age groups and came away with four Merseyside team medals, three silvers and one bronze.
The U13 girls' trio of Alex Bottomley 11.39, Susan Shirling 10.53 and Abbie Roberts 12.08, collected the bronze medals and were supported by the B team of Freya Roberts 12.52, Ellie Mawdsley 13.28 and Caitlin Young 12.45. The U13 boys' team took the silver medals thanks to James Mackell 10.21, Joe Ford 10.22 and Ben Oldham 11.35. They were backed by Connor Whalley 11.04, Anthony Walker 11.44 and Peter Davis 14.30.
The U15 girls' outfit of Olivia Harwood-Moss 11.27 Lucy Griffiths 11.03 and Maddie Williams 11.12, collected silver medals and were supported by Emily Roberts 12.51, Lauren Wilcock 13.39 and Alex Glynn 13.04. The U15 trio were superbly led off by James Lee with the quickest time of the day 9.23 followed by Adam Woosey 9.34 and debutant Joe Hill 10.38.
Our mixed counties team of Rachel McGoldrick 11.10, Maria McGoldrick 11.21 and Megan Cunliffe 12.31, also deserve to be mentioned. Many thanks to our supporters who were too numerous to mention.
John Woodward (Team Manager)
Seniors.
Despite the clash with the Great North Run the senior ladies' team of Katie Bowers-Folan 23.48, Julia Eccleston 25.00 and Louise Hayes 31.18 finished fifth in the Merseyside contest and beat both teams fielded by Lytham St Annes. Congratulations to all three for making sure we finished a complete team.
The senior men were only one short of fielding two teams with the leading quartet of Jamie White 18.27, Jake Healy 22.06, Andy O'Connor 21.21 and Ian White 21.22 taking sixth place in the Merseyside event.
The B team trio of Maurice Collins 21:06, Ian Hayburn 20:46 and Stan Erlam 27:13 ran well and were ahead of ten teams at the end of the third leg. Well done chaps.
Junior Waiting List Reinstated
NEW JUNIOR MEMBERS:
Unfortunately, due to the significant increase in new members over the last few weeks we are having to implement a waiting list for new athletes under the age of 11 UNLESS they are the sibling of an existing MEMBER.
If you would like to add a name to the waiting list please email info@st-helens-sutton.co,uk or call in at the club to do it by hand.
We will open up spaces as soon as they become available or new Coaches are recruited.
Junior Athletes Drop Off and Collection
IMPORTANT REMINDER:
Please remember that athletes MUST be dropped off and picked up from trackside NOT the Cafe, NOT the Car Park and certainly don't leave them to walk home!!! On Tuesday we had 2 injured athletes whose parents we needed to speak to and they had been told to walk home. As the nights close in you are exposing your children to unacceptable risk regardless of their age / gender. Thanks for your cooperation.
Winter Fixture Lists
A full list of fixtures and training slots is now available for the Juniors. Please download and complete the attached documents so that we know which groups you will be joining on which nights from 2nd October.
Cross Country Invite Sportshall Invite Winter Fixtures 2012
Cheshire County Multi-Events Championship – Macclesfield, Sunday 9th September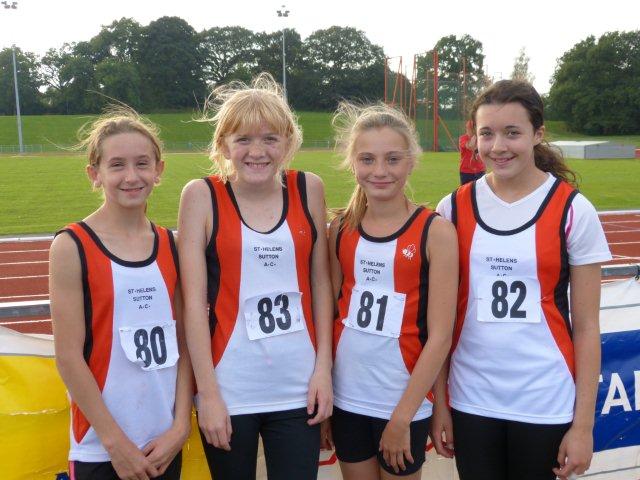 On Sunday 9th September four club athletes attended the Cheshire Multi Events Championship as open competitors.
Megan Lang and Emily Smith shared 3rd place overall with exactly the same points and received nice shiny trophies as reward for a superb end to their Track & Field season. They were joined by Hannah Seabrook and Caitlin Young who also did extremely well, Hannah winning the High Jump competition with a PB of 1.47m and Caitlin running a PB of 15.3 in the 100m.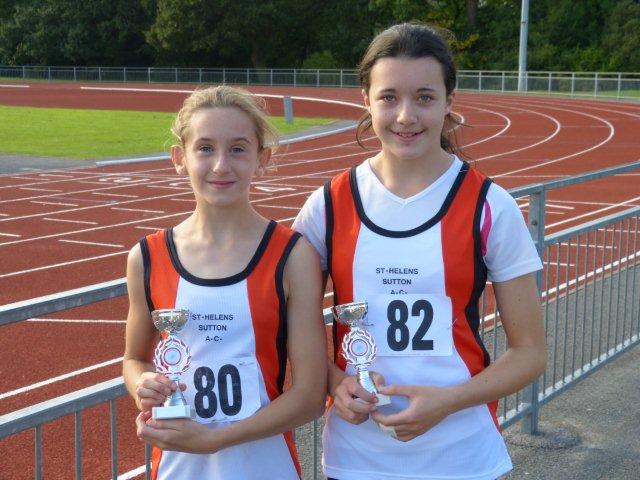 Congratulations and well done girls!
FULL RESULTS
Shot: - Megan 7.03m (2nd), Caitlin 4.82m, Hannah 4.15m
HJ:- Hannah 1.47m(PB, 1st), Emily 1.38m(2nd)
100m:- Caitlin 15.3(PB)
70mH:- Megan 12.7(PB), Emily 12.8(PB), Hannah 14.3
LJ:- Megan 4.18m(2nd), Caitlin 3.31m
Javelin:- Emily 18.75m(3rd)
Please do your best to attend, the Committee needs the support of its members to conduct the business of the Club. Everyone has something to offer, no experience needed!
A notice is displayed for the nomination of Committee members. Nominations can also be made via e-mail to the Secretary – Christine Dempsey and should be received 1 week prior to the AGM.
Entries are still available for the club's Dream Trail Races. Last year we had a great turnout from the club and this year we have more members so we hope we'll have more entries. Enter now so you don't miss out. Details can be found on www.dreamtrailrace.org.uk use the link on the left hand side of this page.
This is a major fundraiser for our club so please do your best to support it. If you are not having a go at running it then please let one of the committee or your coach know if you can help out on the day.