Northern Athletics 12 Stage Road Relays, Sefton Park : Saturday 31 March
The senior men rose to the challenge of this classic event in the racing calendar and recorded some great performances amongst the daffodils of Sefton Park.
The weather was great for running, if a little cold for watching compared to the recent spring weather. Greg Williams led the team out and was reminded just how quickly the leading athletes go coming home in 25:59 for the first long (4.9 mile) lap. Ian Costello took out the first short (2.8 mile) lap, recording our fastest short leg time of 13:23.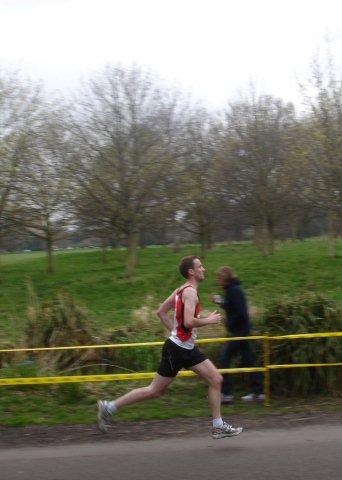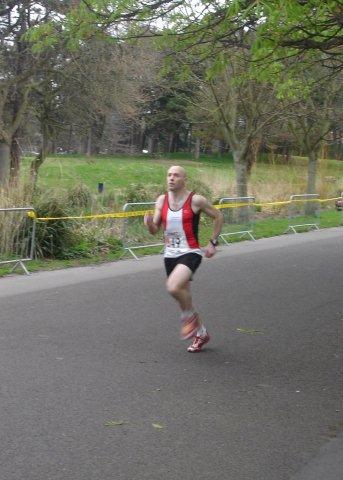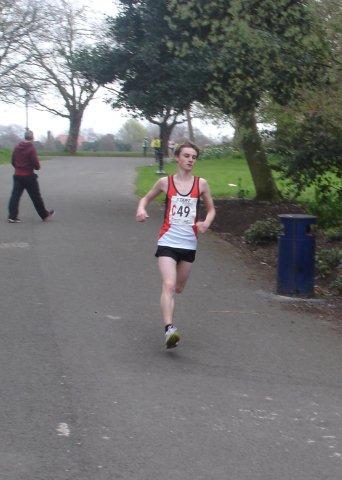 Jamie White moved the team nicely along, just shading Greg for the fastest long lap in 25:53. Andy O'Connor enjoyed the team spirit and atmosphere taking on a short leg in 14:53. Barry Graney took out the third long leg with a good run in 27:30 and handed over to Maurice Collins recovered from last weeks injury and recording 14:21, another good time. Pete Johnson took the next long lap with a spring in his step in 29:19..


It was all change in the running order after that as illness got the better of Mark Liptrot (who went above and beyond to almost made it) and Robbie Marsh. Stan Erlam plugged the gap in style recording 18:40 and handing over to Matt Crehan 26:26 before Ian Hayburn became our final runner in 15:05.


Thanks to our supporters Ray Vose, Sue Crehan and marshalls Sue Clague, Chris Causer and Chris Dempsey. Full Results Official Photos
International Honours
Congratulations to Michael Causer who has been selected to represent the Great Britain team for the International Catholic School Games (FISEC) to be held in Malta from 5th - 11th July. The Great Britain team will be competing against nine other European countries in 12 different individual and team sports. We wish Michael every success for his trip to Malta.
Merseyside Country Track and Field Championships, Wavertree
Merseyside County Track and Field Championships take place on Saturday, 12th May 2012 at Wavertree Athletics Centre. Entry fee is £4 per event and the closing date is 1st May. Online entries will continue to be accepted up to 8th May but will be charged at £5 per event after the closing date of 1st May.
The prospectus and full list of events can be found on the Club notice board or via this link
Make your own entry according to the prospectus or hand your entry fee in at the desk together with details of your name, event(s), personal best performance and whether you qualify by birth or residence status. If you are unsure which event to enter, consult your coach. (info from Chris Dempsey)

Pentathlon Challenge, Sutton : March 25
On Sunday 25th March, 33 Junior Athletes took part in the Pentathlon Challenge, an internal competition aimed at giving newer members a taste of competition and experienced members a warm up before the season starts.
The event was a tremendous success, we enjoyed great weather, a fantastic atmosphere and most importantly some really competitive events.
Thank You to the following officials, without whom the day would not have been possible: Colin Spark, Dave Morley, Helena McGoldrick, John Irwin, Julia Hayes, Janet Holmes, Chris Dempsey, Stuart Woolland, Amanda De Grey Birch, Julie Woosey, Kay Wilcock, Karen Young, Chris and Michael Causer, Rachel and Maria McGoldrick.


Medals were awarded to all participants, Certificates were awarded to the top 3 in each event and a trophy to the overall Pentathlon Winner. Congratulations to every athlete for some great performances. The complete score sheets are on display at the club.
Pentathlon Winners
| | | |
| --- | --- | --- |
| | Under 11 Boys | Under 11 Girls |
| 1 | Joe Houghton | Megan Parr |
| 2 | Jack Lowrie | Imogen Harwood Moss |
| 3 | Charlie Roberts | Olivia Milow |
| | | |
| --- | --- | --- |
| | Under 13 Boys | Under 13 Girls |
| 1 | Joe Ford | Emily Smith |
| 2 | Joseph Woods | Alex Bottomley |
| 3 | Jake Radcliffe | Eleanor Mawdsley |
| | | |
| --- | --- | --- |
| | Under 15 Boys | Under 15 Girls |
| 1 | Finlay Radcliffe | Olivia Harwood Moss |
| 2 | | Lauren Wilcock |
| 3 | | Elizabeth Dingsdale |
Wilmslow Half Marathon 25 March
Nine ladies took part in the Wilmslow race today, which incorporated the English Half Marathon Championships. On a very hot today they all did well to finish.
Gemma Connolly ran 1.20.13, looking good for the London marathon, (5th cat). Catherine Roberts debuted with 1.47.19, a great run well
done (74th senior lady). Cherryl Orrick discovered too many caffeine gels is a quick way to meet the St John's Ambulance staff but managed to record 1.58. 19 (V35-107)
Pam Appleton was eighth V55 in 1.58.39 (V55 8th cat position), Jo Keogh was (V35 - 164), despite having a pulled hamstring, recording 2.06.33.
Dot Fairhurst, warming up for London, was first V70 in 2.09.15. She won an O65 cash prize which should be enough to pay her transport expenses. Dot you are an inspiration to us all.
Karen "Tiger" Harrison finished in 2.15.28 ( V40 206) and Janice Lawson in 2.19.45 (V55 20th). Maurice Collins pulled out owing to injury - hope you're back soon Maurice.
Congratulations to all who took part. The next road race is the Runcorn Bridge 5 mile event. Report From Cherryl Orrick.
. Results

Sports Relief Mile Thursday 23rd March


On Thursday 23rd March our Juniors and some of the braver parents completed a mile around the track for Sports Relief in PYJAMAS. We know that a good amount has been raised but will announce the final total when itís know.




Well done to everyone involved and thanks to Chris Causer for the suggestion.

Track and Field Podcast
Sutton athlete Matt Crehan has just launched OnTrackAndField a new weekly podcast bringing news about all things track and field from the UK and around the world.
His show plans to feature interviews with guests ranging from world class athletes, to coaches and sports scientists.
The first show features an interview with a special guest GB international cross country and 1500m runner, our own Dave Forrester.

Wirral Distance Track Races 21 March.Bebington Oval.
Wirral are staging a series of distance track runs on a monthly basis throughout the Spring and Summer.. Julia Eccleston contested the opening contest, finishing first lady in 21.22.
Details of the full series, which cost a bargain £1 on the night can be found here.
Junior training times
From 3rd April we are piloting some changes to the Juniors' Training Times. Please read the letter below explaining them and contact the club if you have any issues or concerns.
Important Changes to Junior Training Schedules March 2012

Dear Athletes and Parents,

We are constantly looking for ways to improve the club and performance of our junior athletes. In 2011 we introduced Athletics365 as a way of reviewing and improving the technique of some of our younger athletes. However, we still didnít feel that we had the opportunity to work with each athlete closely enough to make a significant improvement. This was largely due to the size of the groups and wide variances in attendance from session to session.

From 3rd April when all junior groups go back outdoors we are going to trial a new structure on Tuesdays and Thursdays.

1. From 6.15pm to 7.00pm Ė New and Young Athletes in an Open Session Ė probably 3 groups
2. From 7.00pm onwards Ė Developing and Competing Athletes by invitation only Ė at least 4 groups

The new structure will reduce group sizes and allows us to resolve the issues mentioned previously. It is also more in keeping with the guidelines for Long Term Athlete Development (LTAD) used by UK Athletics and other Governing Bodies in sport.

For the earlier groups the emphasis will be on fun and on developing a broad range of athletic skills and fitness needed to progress in sport.
The later session will be more technical and challenging and will prepare athletes to develop the skills and fitness needed to achieve high performance in each discipline. Invites to these training groups will be made by coaches in March based on each athleteís current capabilities and their ability and willingness to continue developing as an athlete.

If you donít receive a letter, email or call from a coach please attend the 6.15pm sessions. If you feel that you are in the wrong group please donít panic or get upset, speak to us and we will review the situation regularly.

We appreciate that changing the schedules will impact different families in different ways and we will try our best to keep siblings in the same time slots. However, this may not always be possible and our priority is the development of athletes. If you have any major concerns about the changes please do not hesitate to speak to your coach or myself. We will continue to monitor the pilot closely and make changes where needed. Thank you for your patience and cooperation whilst the changes bed in over the coming weeks.

Wishing you an enjoyable and successful summer season.
Antony Young
Juniors Coaching Coordinator
Tel: 07767 310204
Northern Team Manager.
Ann Griffiths was called up to serve as Northern Team Manager for the Northern U20 ladies team which competed at Rouken Glen in Edinburgh. Ann, an experienced international athlete herself, was able to provide valuable experience to the team members who took third place in the team event competing against full international teams from the Home Countries.
Liverpool Half Marathon: 18 March
A large turnout of 7500 runners enjoyed perfect weather for this local race. The race improves each year and this year included UKA accreditation and starting on time!

Barry Graney ( 7th V40 , 1:23:15 ) lead the club home after a comfortable 10 miles in the company of Rob Marsh ( 8th V40 , 1:23:48 ) running well in his preparation for London and finishing right on schedule.
Alan McNally ( 31st V45, 1:32:54 ) was another testing his race routine before London, followed by Dave Hampson ( 16th V50 , 1:34:38 ) and Stuart Woolland ( 397th Male, 1:39:05 ) who completed the men's turn out.

Lynsey Wilson ( 38th V40 , 1:53:40 ) was first home for the ladies, set a new personal best by ten minutes. Amanda Coogan ( 103 V40, 1:56:12) had a good debut, breaking the two hour mark, JeanneWalker ( 255th V40, 2:23:38 ). In addition, Kimmie Taylor, who joined the club after she had entered the event, recorded 2.14.22.
Blackpool Open track meeting: 11 March
Three of the club's throws specialists took part in this open meeting this weekend.
In the Shot Putt, Gary Ireland came first with 11.44, Mike Jackson fourth with 10.44 and Mike Hughes ninth with 8.20.
For the Discus, Gary Ireland came third with 31.54, Mike Jackson seventh with 23.92 and Mike Hughes eighth with 21.63.
Finally in the Hammer, Gary Ireland came third with 36.30 and Mike Hughes sixth with 29.34. (Thanks to Phil Robinson for results)
Blackpool Marathon: 11 March
A trio of club athletes contested the above race, Chris Burrows finishing tenth in 2.55.06, Peter Johnson twenty fifth in 3.05.16 (an impressive pb by 15 minutes) and Louise Hogg in 4.06.26 (253).
St Helens 10k Reports: 11 March
GPW St Helens 10K - 2KM Juniors Race

The club helped to organise the 2K Juniors Race on Sunday 11th March from The Langtree Park Stadium. A total of 46 runners took part with St Helens
Sutton AC athletes featuring prominently and taking 3 of the 4 junior prizes.
 

Congratulations and well done to Joseph Woods, Xander Storey, Jared Orrick, Daniel Day and Tyler Duberry who all did very well.
In the places were Joe Houghton (1st Boy), Caitlin Young (1st Girl) and Chloe Orrick (2nd Girl).

 

Huge thanks to Colin Spark, Mike Dooling, Helena McGoldrick, Rachel McGoldrick, Maria McGoldrick, Kay Wilcock, Lauren Wilcock, Sue Clague and Karen Young for helping with the registration and marshalling. 

Senior Women
An eventful morning with an early start. Fourteen ladies from Sutton ran this local race which was started from pens, each one setting off a minute apart. First Sutton lady home was Sonya Greenhalgh, a new addition to the club who is showing great talent, in a personal best 43.30 which earned third lady 0/40. Close behind was Julia Eccleston (43.54) and Catherine Roberts (45.23) both showing good form and consistency and taking third and fifth place respectively in the senior lady category. Julie Pennington, who expects to return to training when the hockey season ends, recorded 47.16. The experienced Rosie O'Hagan 47.29 securing 3rd v50 was followed by another newcomer, Tammy Garvey, (50.14) in her 10k debut. Joanne Keogh with a pb 50.39 ( more speed work and a sub 50 next time I am sure), Amanda Coogan 51.32 (unoffical time), Sharon Nunn, 52.00, Laura Thurling 52.31 (pb), Karen Harrison 56.01 (pb), Dothory Fairhurst, who turned 70 today, 57.30 (unofficial time). Happy Birthday Dot, hope I can run that fast when I am 70. Jayne Ascroft 57.49, Karen Mawdsley 60.08, and Elaine Ahearn 66.54 also completed the course. Well done ladies. Report by Cherryl Orrick.
Senior Men
Five senior men raced the second St Helens 10k, which was really well organised and given a sense of occasion starting and finishing in the new Saints stadium. Barry Graney improved one place from last year coming 7th and 3rd V40 in 36:49, Andrew O'Connor followed him in with a cracking return to form taking 1st V50, 8th in 37:28. Dennis Wharton took the limelight on the opening 400 and came home 54th, 4th V50 in 41:24. Carl Unsworth (68th, 31st Male in 41:59) and Peter Code (380th, 87th V40 in 50:01) completed the turnout for the men.

Results

Inter-Counties XC Championships 10 March
Gemma Connolly recorded 31.06 (83), Jamie White 28.47 (118) and Adam Woosey 12.01 (211) in the championships which were held this year in Birmingham. We are still trying to locate the team results for the counties.
Weekend Round up 3/4 March
Julia Eccleston competed in the Manchester Alexandra Park Women's 5k series coming 2nd in a time of 21.51. Ian Costello 17.53 (7th) and Phil Robinson 21.01 (15th) ran in the Halewood 5k. Phil reckons that if you want to get your pb over 5k (measured course, recognised by power of 10 ) then this is the course to do it on. Apart from a short bit at the start it's a straight out and back route with smooth paths and shelter from the wind. Free, Every Sat at 1pm, see Liverpool Running Bugs website.

A few athletes travelled to Sports City in Manchester for the last of the indoor meets. Taylor Caton Hand( LJ 6.14 - 1 & 1.60 HJ 2), Michael Causer (6.67 U20.1), Chloe Rigby (1.60 HJ 1) and Phil Robinson all competed, not forgetting Roger McCall who was officiating. Phil's 600m time remains a closely guarded secret but was a personal best and has been entered as a senior indoor record until we are able to find a faster performance.
News From America
Dave Forrester became the club's first sub-four minute miler when he recorded 3.59.13 finishing third at the Alex Wilson Invitational Meeting held at South Bend, Indiana on 3 March.
Social Events Newsletter
Please see this link to our Newsletter containing details of the various social events that we are arranging for the next few weeks and months. These have been arranged as a direct result of your feedback at the Presentation Evening so please do your best to support them and also enjoy a more social side to athletics.
Junior Fixtures 2012
We have started to pull together the Juniors Fixture List for the 2012 season. Here is what we have so far. It is subject to change but at least you can start to plan your diary.
The London Olympics offer a superb opportunity to really motivate and inspire our young athletes. It would be great to see some more new faces competing this year and who knows, one or two of them may find that they want to be on the big stage themselves one day. Please speak to your coach about the competitions and find the right one to try. They arenít all about winning, our primary aim is participation and we will support the athletes as much as possible on the day.
..