AGM Notice
The Annual General Meeting of St Helens Sutton Athletic Club will be held at the Bull and Dog, Marshall's Cross Road, on Monday 24th September 2012 at 7.30pm.
Please do your best to attend, the Committee needs the support of its members to conduct the business of the Club. Everyone has something to offer, no experience needed!
A notice is displayed for the nomination of Committee members. Nominations can also be made via e-mail to the Secretary – Christine Dempsey and should be received 1 week prior to the AGM.
Dream Trail Races
Entries have been coming in for the club's Dream Trail Races. Last year we had a great turnout from the club and this year we have more members so we hope we'll have more entries. Enter now so you don't miss out. Details can be found on www.dreamtrailrace.org.uk use the link on the left hand side of this page.
This is a major fundraiser for our club so please do your best to support it. If you are not having a go at running it then please let one of the committee or your coach know if you can help out on the day.
Winter Fixtures & Newsletter – Juniors
Most of the winter fixtures are now confirmed so please start to book your diaries using the attached list. As always, fixtures are subject to change so please check the website and Facebook and talk to your coaches for latest news.
New members – In winter focus switches to Road Relays, Cross Country, Sportshall and for older Juniors Indoor Track & Field. It would be great to see you come along and try one or all of these so please speak to the Team Manager who will tell you how it works and what you will need to take.
You'll find a copy of the latest newsletter here.
Great North Run study
We have been contacted by Stephanie Pattinson, a Masters student from Northumbria University who is asking for help from runners in the Great North run. If you are running this event and are interested in helping please read more at the link here
Stretford Meeting 27 July.
Jamie White produced a personal best (2.02.64) in the 800 and a season's best 4.16.71 over 1500m. Gemma Connolly also set a season's best time when she recorded 10.23.37 for the 3000m.
Warrington 5k
Andy O'Connor posted a season's best of 18.20 to finish 1st MV50 at the Warrington 5K.
Northern U20, U17 Championships - Hull - 14/15 July 2012
Michael Causer added the Northern U20 long jump championship to his list of achievements winning with a leap of 6.82m.
The McGoldrick twins reached their respective finals, Maria recording 2.36.5 (800) and Rachel 5.16.53 (1500).
Northern Junior League - Preston 13th July
On a fine sunny day the U20 team put in another good team performance with club junior records from Michael Causer (100 – 10.9) and Sophie Rigby (LJ 5.30). Rachel McGoldrick won the 1500m and there were excellent performances from Tricia Spark (SP,HT & DT), Bethany Baxter (SP,100 and 400), Rachel Woosey (400), Chloe Rigby (HJ) and Katie Bowers-Folan (800). Adam Brunt equaled his best in the 400m and set a new pb in the 200m.
The athletes were backed up by a team of officials (short only of a timekeeper) including Dave Morley on the track. The club was asked to deal with four field events instead of the usual two and thanks to Nathan Dunn, Julie Woosey, Helena McGoldrick and George Mullineux did so brilliantly. Steve Rigby was willing to give up his cup of tea to help but fortunately it wasn't necessarily. Thanks to all those who provided transport too. Full results will be posted when they are available. Apologies to any one who may have been overlooked.
Stretford Meeting 10 July.
Jamie White set a personal best 2.04.05 at Stretford, while Gemma Connolly recorded 4.54.59 (1500).
Cheshire League Sunday 8th July
On Sunday 8th July, 28 athletes competed in the third match of the Cheshire league. There were two new comers- Megan Crawford and Alex Virton who are both under 13's. There were 28 personal bests achieved, 4 seasons bests and the club finished 3rd overall.
Also there were 3 Under 11 boys, 5 Under 13 boys, 1 Under 15 boy, 2 Senior men, 3 Under 15 girls, 6 Senior ladies and the largest turn out was the Under 13 girls (with 11 athletes) well done girls!

A special well done to Jacob Roberts who stepped up to the mark to help out the under 11's relay, Thank you Jacob!!
also thanks to Ingrid, George, Chris, Julie and Mick (the officials)

Hope to see more under 11 girls and more boys to attend the next meeting on 2nd September. Results

Helena McGoldrick.
Weekend Roundup
Michael Causer won the long jump at the FISEC in Malta with 7.24m. He also took second place in his heat of the 100m in 11.05. He ran even quicker in the final finishing second in 11.05.
Julia Eccleston recorded 46.40 at the Catford 10k.
Inter County Success
4 athletes from the club were selected to represent Merseyside in the Year 7 Inter County fixture against Cheshire at Stanney Oaks on Monday 2nd July.
Hannah Seabrook won the High Jump competition with a jump of 1.41m
Emily Smith won the Long Jump competition with a jump of 4.12m
Joe Ford came 6th in the 1500m final with a time of 5.21.9 after a hectic couple of weeks of competitions.
Alex Bottomley came 5th in the girls javelin, throwing 17m 91cm and adding 4m to her PB.
Well done to all of you for your selection and performance on a wet and miserable evening in Ellesmere Port.
ESAA Championships at Gateshead 6 July
Both the club's athletes were in action on day one of the championships, Chloe Rigby finishing eighth in the high jump (1.59) and Taylor Caton-Hand thirteenth in the triple jump (12.72). Congratulations to both, the experience will have be invaluable.
Helena Partnerships - A Dream Sponsor For 2012 Trail Race
St Helens Sutton Athletic Club and The Steve Prescott Foundation are all set for this years' Dream Trail Race after securing sponsorship backing from Helena Partnerships.
The housing association has pledged to support the Dream Trail 2012 which last year saw 160 St Helens residents of all ages walk, jog and sprint their way to the finish line to raise money for local good causes.
Rob Young, Chief Executive at Helena Partnerships said: "We are proud to be the sponsors of such a fantastic and worthwhile event – as we are currently celebrating our 10th year in business it's a very fitting way for us to mark a decade in encouraging wellbeing and healthy lifestyles for all our tenants throughout St Helens."
The Dream Trail Race will take place from 10am on Sunday, September 16, starting at the home of the Dream in Sutton Manor. There will be three races taking place catering for all ages and abilities, including a Mini Dream Trail for young children, a 4k challenge and an 8.5k for elite runners.
All of the money raised will be divided between St Helens Sutton Athletic Club and The Steve Prescott Foundation. This will be used to purchase new sports equipment for young people and donated to The Christie Cancer Hospital in Manchester and the Try Assist Fund which supports rugby players whose lives are affected by serious injuries.
If you would like to show your support and take part in one of the races, you can enter by visiting www.dreamtrailrace.org.uk Further information on the event can also be found on Facebook www.facebook.com/DreamTrail and Twitter www.twitter.com/sthdreamtrail
Forest Park Ladies 5k – Warrington 4 July
On Wednesday 4th July, nine club members (including 5 from the recently formed Running Mummies Group) competed in the Birchwood Forest Park Ladies' race with enough to finish three complete teams.
Julia Eccleston headed the club home, just 24 hours after competing in the Wavertree Mystery Race alongside Stan Erlam. Julia was sixteenth. The two remaining members of the A team were Louise Ford 30.14 and Dorothy Fairhurst 30.55. Pauline Picton 32.35, Karen Young 33.56 and coach Sue Clague recorded 35.12 for the B team. The C team was Janet Holmes 35.50, Kay Wilcock 39.34 and Julie Woosey 41.00. The team teams were ninth, twelfth and fourteenth respectively.
Running their 1st race for the club were: Louise Ford (63rd in 30.14), Karen Young (85th in 33.56), Kay Wilcock (111th in 39.34) and Julie Woosey (116th in 41.00), well done ladies you should all be really proud of the improvement that you have made since starting running just a few weeks ago.
Regular runners Julia Eccleston (16th in 22.50), Dot Fairhurst (69th in 30.55), Pauline Picton (80th in 32.35) and Group Coach, Sue Clague (93rd in 35.12) were all really supportive and I know that the newer members appreciated their help and support over recent weeks.
Conditions on the evening were extremely tough but they all did fantastically well and as you can see everyone enjoyed the event.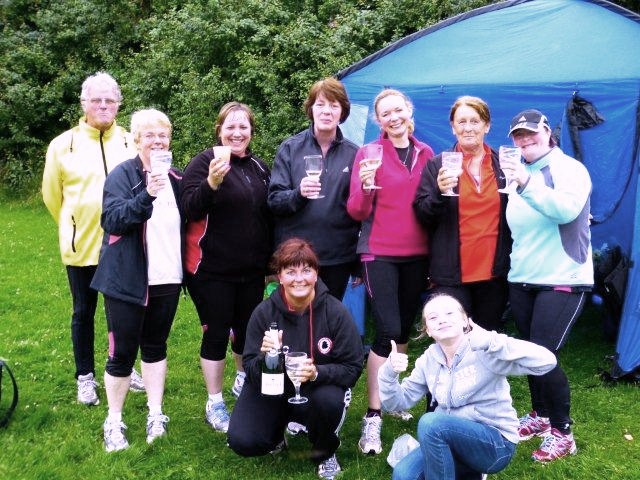 Congratulations to everyone who took part who are now looking forward to the winter Park Runs and the Olympics (2016 of course). Well done.

Northern Inter-Counties U17/U15 Championships

Congratulations to Josh Neal, Josh Rawlinson and Bethany Baxter who represented Merseyside in the Northern Inter-Counties U17/U15 Championships at Wigan on Saturday 30 June. Results available on the Northern website results page. Results

Northern League – 2W – Ellesmere Port – 1st July.

They say there's seven wonders of the world but on Sunday at Stanney we were privileged to find an eighth when the club, down to the bare minimum owing to injuries and absences, finished second, not simply avoiding relegation but almost certainly qualifying for the division one promotion match for the first time. It was achieved, as all our club successes are achieved, by everyone working together for the team. This included the athletes, officials, parents, car drivers and two team managers who ensured we were competitive throughout.

There were winners -

Sophie Rigby (LJ), Gary Ireland (DT), Greg Williams (S/Chase, 110H, 400H), Steve Clague (S/Chase), Gemma Connolly (3000), Taylor Caton-Hand (LJ), Phil Robinson (TJ). There were 'volunteers' – "I'm doing what?" and surprises, particularly high jumpdebuts from Thaddeus Anim-Somuah and Katie Bowers Folan. Ste Winn made his debut in the shot, while Tricia Spark, Lucy Croft and Julia Eccleston covered all the ladies' throws. The McGoldrick twins (Maria and Rachel) continue to contribute to the development of the team in a range of events which they are raising the club's standards while Rachel Woosey added the long jump to her one lap and relay skills. Shelby Jack continued her impressive senior racing over 100, adding the 200 in addition to her relay running.

Ian Costello

put his injury concerns behind him to compete in the 800 and 1500 alongside Jamie White who was excellent in both races and relays while adding points in the long jump. Nathan Orr consolidated his position as a discus regular with third place. Barry Graney and Jake Healy ran the 5000 despite neither being at the level of fitness they would like and their contributions were appreciated. Michael Hughes maintained his thirty metres standard in the hammer. A deeper analysis for record purposes will be carried out later.

Many thanks to the team managers –

Sue Clague and Peter 'Teflon' Johnson – officials (Dave Morley (T), Janet Holmes & Pam Appleton (T/K) Roger McCall, John Irwin, George Mullineux, Chris Dempsey and occasional helper, Steve Rigby), for making sure we got maximum points.

The scores on the day were:- League Standings

West Cheshire 387 West Cheshire 17
St Helens-Sutton 341 St Helens-Sutton 15
LPS 325 Liverpool Harriers 10
Wirral 324 Blackpool & Fylde 8
Liverpool 307 LPS 7 (848.5)
Blackpool & Fylde 255 Wirral 7 (832)

The final match is at

Bebington Oval on Sunday 5 August. It is important we continue our good run of form to the end of the season. I'm sure the eagle-eyed amongst will have noticed that had we been able to cover all events with two athletes we would have won the match. The play-off match to see who can be promoted to division one will take place on Saturday 8 September at Leigh. We will not know who the opposition will be until after the August match but it is likely to include some big city clubs. It is essential we compete, even if we don't win, so we can see the standard of competition required at the next level and put in the training required.

We were promoted to division 2W at the start of the 2007 season. This is our sixth straight season at this level (whereas prior to 2007 we frequently moved between divisions 2 & 3). Well done to all.