Social Events Newsletter
Please see this link to our Newsletter containing details of the various social events that we are arranging for the next few weeks and months. These have been arranged as a direct result of your feedback at the Presentation Evening so please do your best to support them and also enjoy a more social side to athletics.
Round Up:
Thaddeus Anim-Somuah recorded 50.69 over 400 at the British Universities Championships in Sheffield on 25 February. Thaddeus reached the semifinals and hopes to go one better at the National event in May.
At Eastlands the previous week Michael Causer set a pb 6.87 winning the the long jump, Chloe Rigby cleared 1.61m in the high jump while Taylor Caton-Hand long jumped 6.11 and putt the shot 8.86 for first place.
Chris Burrows was tenth in the Great North Run Half Marathon at Blackpool (77.47), Peter Johnson 86.17 (70) and Alan McNally 90.15 (128).
Terry Nortley 10 Mile Race, Radcliffe, Sunday 26 Feb
Three of the club's runners ran in this 10 Mile Multi Terrain Race at Radcliffe on Sunday 26th Feb. Jamie White was first home, coming in just outside the hour mark to finish 14th (1:02:00) a good effort on an off road course. John Appleton came home 6th Vet (85th, 6th M55 1:14:15) and Pam Appleton recorded the club's highest finish coming in 2nd Vet (206th, 2nd F55 1:33:47).
Sporthall County Finals, Wigan, Sunday 26 Feb
On Sunday 26th February the club had 11 athletes representing Merseyside at the Aviva Sportshall County Finals at Wigan.

Their attitude and commitment on the day was first class. Well done Hannah Seabrook, Megan Park, Caitlin Young, Finlay Radcliffe,
James Tennant, David Barrow, Lauren Wilcock, Jennifer Lea-Worth, Megan Cunliffe, Bethany Baxter and Joshua Neal.

Bethany Baxter was the only winner of a medal with a Bronze in the Under 15's Shot, but all other athletes should be proud of their selection for the
squad and effort on the day. Their achievement stands us in good stead for next year with quite a few Under 11's becoming eligible for consideration in 2013.

Halewood 5k, Saturday 25th Feb
The Halewood 5k on Saturday 25th Feb, Andrew O'Connor ran 19.41 1st MV50. Andy recommends this course to other Club members. The Halewood 5k is every Saturday at 1pm from the ranger hut at Halewood Triangle Country Park and gives an ideal chance to get in a fast 5k before the St.Helens 10k.
Park Runs, Saturday 25th Feb
Four of our athletes competed at parkrun events at the weekend, the Liverpool event saw athlete of the year Ian Costello finish 4th in 18:02, first timer Maurice Collins was 14th in 19:23 and Julia Eccleston improved her time to 22:00. Phil Robinson took part in the south Manchester race after hearing from Andy O'Connor how flat the course was, finishing 34th in 21:08 which is encouraging for his aim to break 21 minutes
2012 Memberships
Final reminder that this year's memberships were due in January. Most members have paid but there are still some who have not got around to it yet. Those who have not renewed will unfortunately have to pay the visitors fee on training nights until their membership fees are up to date. If you are one of the few and could send in a cheque or pay on the desk on a club night, it would be much appreciated..
L&D Cross Country Championship, Clarkes Gardens, 19 Feb.
Five runners made the short trip to represent the club at this popular and long standing championship race, first run in 1891. The course and day were perfect for running, so much so a couple of the runners continued their marathon training with a forty five minute "warm down" after the race.
Greg Williams continued his fine form and, although suffering a little from his recent high mileage, finished inside the top twenty (19th 37:09)
Barry Graney was second home (34th, 38:58) with a steady run, followed by Ian Costello (58, 41:33) returning to cross country..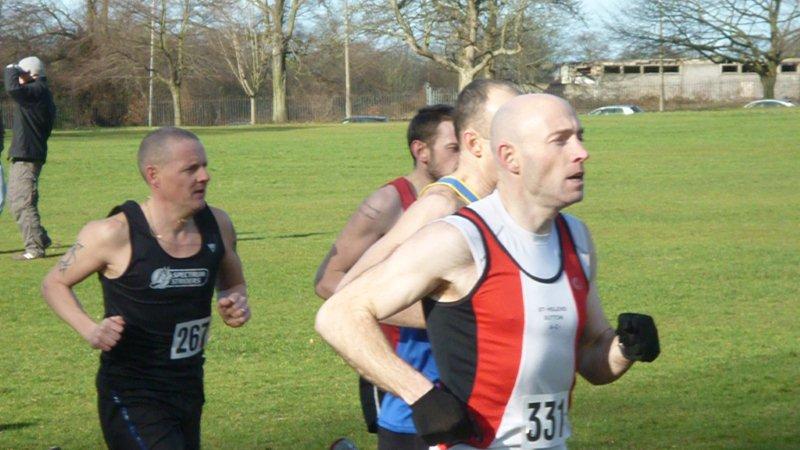 The final two runners were Pete Johnson (82nd, 43:42) whose mind wasn't on it and Louise Hogg whose was (111th, 48:52) and she earned her place just outside the top ten ladies. Support on course from Ray Vose, Jim and Matt Crehan was appreciated. Unfortunately for the first year in at least the last twelve, the club did not finish a team.
Results Pictures courtesy of Frank Davies (more pictures)
Parkruns - Leigh & South Manchester 18 February.
Two of the club's runners raced at the Pennington Flash park run where Julia Eccleston was first lady (13th) in 23.31 and Phil Robinson was 7th in 22.27. Andy O'Connor competed in the South Manchester event recording 20.22 in 21st place.
Miscellaneous:
On 11 February, Dave Forrester recorded a club record indoor 3000m time of 7.57.93 at the SPIRE Collegiate Invitational, Cleveland, Ohio., knocking three seconds off the previous time.
The same day Matt Crehan won the Leeds Park run in 17.23, while a week earlier Ian Costello (18.30) and Julia Eccleston (22.41) were third and thirty second respectively in the Princes Park run in Liverpool. These standard 5k races are free to enter and a good way of keeping fit and preparing for the road relays.
Mad Dog Southport 10k - Southport, Sunday 12 Feb
Four athletes competed in the Mad Dog Southport 10k on a very cold morning with the sight of your breath in the air.  A very well organised race with 1200 entries. 
Christopher Burrows finished  8th place with a time of 34.57.  Catherine Roberts 16th lady in 45.13, an excellent first 10k for Catherine
Cherryl Orrick  was 46th female (V35- 24 th) 48.49.  Shot putter Craig Orrick finished in a time of 53.48.  
An excellent race, thank you for the support from Joanne Keogh and Ellis. (report from Cherryl Orrick).  Results
North West Regional Finals - Robin Park, Wigan Sunday 12th Feb
On Sunday, four Under 15 athletes represented the club at the North West Regional Finals at Robin Park in Wigan. 
Lauren Wilcock, Jennifer Lea Worth, Megan Cunliffe and Joshua Neal all did extremely well in their events and had an enjoyable afternoon. 
Special congratulations to Megan and Josh who won Gold in Vertical Jump and a Bronze in the 4lap race respectively.

Thanks to all of the parents for their support and well done to all four athletes.
Manchester League Cross Country, Match 5 - Clayton Vale, Manchester, 11 February.
On Saturday, ten young girls travelled to Clayton Vale to compete in the last Manchester Area Cross Country. The courses were changed at the last minute due to icy conditions. The Under 11 girls were first off; Rosie Dwyer came 30th- 7:15. Well Done!!

The Under 13 girls turned out in force once again! Olivia Harwood-Moss 13th-9mins. Alex Bottomley 24th- 9:31. Elizabeth Dingsdale 31st- 10:48. (6th team) Alex Glynn 32nd- 10:50. Emily Roberts 34th- 11:11. Freya Roberts 35th- 11:21. Ellie Mawdsley 36th- 11:21. (8th team) The team came 4th overall. Well Done girls!!

The Under 15 girls saw Rachel & Maria McGoldrick run over the icy course; Rachel 12th- 11:22. Maria 17th 12:01. The team finished 5th overall. Well Done girls!!

I would like to thank all parents who attended the Cross Country's. We wouldn't have complete teams if you didn't bring the athletes to the races. Hope to see you all at the next cross country.

Team Manager: Helena McGoldrick
Three Seniors competed.. First home for the Senior Men was Robbie Marsh, supported by Maurice Collins. Gemma Connelly was the lone Senior Woman, winning the individual League title.
Merseyside Schools Cross Country Championship- Sefton Park Liverpool, Saturday 4th Feb
On Saturday we had 13 athletes running for St Helens Schools .
Year 5/6 girls 1.5km Rosie Dwyer 29th 6.24 mins..
Year 5/6 boys 1.5km Peter Davis 33rd 5.54 mins Jake Radcliffe 37th 6.01mins
Year 7 girls 2km Alex Bottomley ran a superb! race to take 3rd place 6.19mins, Abbie Roberts 15th 7.01, Ellie Mawdsley 25th 7.28mins.
Year 8/9 boys 4km Adam Woosey 13th 14.03, Joseph Walker 35th 15.33 mins.
Year 8/9 girls3km Lucy 18th 11.51 mins, Shannon 22nd 12.19 mins, Elizebeth 27th 13.49 mins, Team 3rd well done.
Year 10/11 girls 3.5km Rachel 6th 14.18mins Maria 9th 14.44 mins .
Well done to all on a freezing saturday morning . Team manager HelenaMcGoldrick

Results Boys Results Girls

Club Welcome and Information Pack
We have been working on a welcome pack to publish on the web to give out some information to prospective and current members. The welcome pack is linked on the 'Join Us' club membership page and in the link below.

Club Welcome and Information Pack
We have also produced a cut down version for handing out at the club and selected events. We'd welcome any feedback on these and any suggested changes. Let your coach know, email us from the link on the left or just let on of the committee know. Thanks to all involved and especially Anthony Young in particular who has put a lot of effort into this.

Junior Fixtures 2012
We have started to pull together the Juniors Fixture List for the 2012 season. Here is what we have so far. It is subject to change but at least you can start to plan your diary.
The London Olympics offer a superb opportunity to really motivate and inspire our young athletes. It would be great to see some more new faces competing this year and who knows, one or two of them may find that they want to be on the big stage themselves one day. Please speak to your coach about the competitions and find the right one to try. They arenít all about winning, our primary aim is participation and we will support the athletes as much as possible on the day.
..