County Honours.
The following eight athletes have been selected for the Inter-Counties cross country championships next month. Cheshire - Gemma Connolly: Merseyside - Rosie Johnson, Danielle Webb, John Ashcroft, Jamie White, Jamie Webb, Matthew Shirling and Adam Woosey. Congratulations to all.
Indoor Flourish Sunday 27 February
Two of our long jumpers competed in the National Age Group Championships at Birmingham. Taylor Caton-Hand finished fourth with 5.35 in the U15 age group and Michael Causer sixth in the U17 contest with 6.22m.
Bethany Baxter competed in the Aviva Sportshall 2011 North West Championships at Wigan. Bethany, the only representative from St. Helens, produced great results in the Standing Long Jump (2.10m 5th) and the Shot (7.93m 6th) and gained a bronze medal in the two lap sprint.

The previous week (20 February) a number of athletes competed in the Open Meeting at SportCity. Heather Drillingcourt recorded 8.32 (60m), Taylor Caton-Hand (8.08) for the same distance. Michael Causer was second in the long jump (6.24m), Heather (4.86) while Taylor had problems with his run up but hit back with a 1.50m high jump for second place while Sophie Rigby eased into competition with 1.45m.
Earlier in the month David Forrester won the 3000m at Seattle in 8.00.06 on 12 February, while a week earlier Ian Costello finished third in the Northern Veterans Indoors at SportCity with 2.11.2 (800).

National Cross Country Championships, Alton Towers : Saturday 19th Feb
A real cross country at last. The highlight of the cross country calendar and a race anyone with an interest in running should want to be part of. This year will be one to remember, the muddy conditions causing problems for spectator and runner alike. The course was set out to be testing on it's own and with the conditions proved to be too much of a challenge for some. Injuries, delays, changes in course length and a test of strength out on the course. Lots of good moaning opportunities at the time, but it all adds to the occasion, the challenge and your experience. The mud is eventually washed away but the memories will stay a lot longer. Well done to those who ran, supported, put the tent up, took it down, and helped in any way. What a great day.
Seniors
A solo run from our Senior Women saw Gemma Connelly continue her well deserved good form. Gemma worked hard to come in 54th (27:21) in a large field of 550+.

A good team effort saw the Senior Men turn out eight runners in a very large field (1400+) coming 43rd team.. First back was Tom Griffiths (379, 45:32) gliding over the mud, followed in by Barry Graney (409, 45:55) who almost wished they hadn't shortened it to10k. Ian Costello (549, 48:16) held on after a quick start, with a good effort on return from illness. Ian White (652, 49:48) made his comeback complete with a solid run after being woken up on the last lap by a charging Mark Davies (680, 50:08) . Ian Hayburn (708, 50:41) enjoyed the run, as did the returning Ian Pass (826, 52:55). Bringing home the team was Peter Johnson (1030, 57:47). Ray Vose and Adrian Webb were our travelling reserves, and were both very hard to find when the time came to get changed.....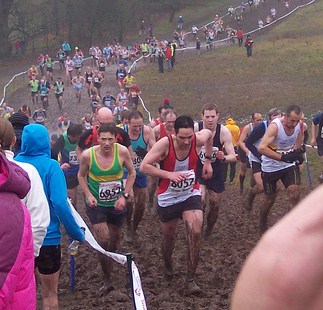 Junior Men
John Ashcroft found the conditions hard going but still managed to finish 68th (31:52). Ste Clague followed him home in 173rd (38:24) but Jake Healey found the conditions too demanding given his recent injury, and not wanting to aggravate it sensibly pulled up.
Juniors
On Saturday, seven young athletes competed in the National Cross Country Championships., the conditions were cold, wet and extremely muddy (a mud bath).
First off for the Club was the Under 13 Girls 3k;
Danielle Webb ran hard and completed the course in 193rd place and in a time of 16:59. Lucy Griffiths also ran very well and finished in 259th place and 17:51. WELL DONE GIRLS!!!

Under 17 Mens 6k;
Jamie White had an outstanding run and came 135th in 27:34. Jamie Webb also ran hard and came 189th in a time of 28:51, shortly followed by Nathan Brown who finished in 213th in 29:37. WELL DONE BOYS!!!

Under 15 Girls 4k;
There was 25 minute delay due to officials reassessing the course; for safety reasons, Rachel and Vickie finally set off on their championship race. Rachel McGoldrick came home in 196th place in a time of 18:31. Vickie Lamb completed the course in 260th place in a time of 19:39. WELL DONE GIRLS!!!

Under 13 Boys
Due to the dangerous conditions, Adam Woosey's course was cut short. He ran hard and finished in 245th in a time of 15:52. WELL DONE!!!


Unfortunately we did not finish a complete team in any of the younger age groups due to illness, injury and lack of competitors!!! But on a whole for the Cross Country Season the young athletes did the club proud in all events!!! Looking forward to next year's Cross Country Season...
WELL DONE EVERYONE (PARENTS INCLUDED AS WELL AS ATHLETES)!!! Team Manager: Helena McGoldrick
(Anyone got any more good pics for the web?)
Results Video (Other Videos) Pictures
Terry Arnold
We regret to report the death of Terry Arnold who passed away recently. Terry, who was in his early sixties, joined the club from the former Pilkingtons A C and was very active in the development of the Sports Hall Leagues. To drum up support for the annual St Helens primary schools event he personally visited every school in the Borough. According to the Merseyside Sports Hall League correspondent, Dave Hitchen, "Sports Hall Athletics is Terry's legacy." Terry also acted as the club starter and coached young athletes, many of whom joined the club. In later years was on the reception desk until his illness prevented him from attending. The funeral will take place at Holy Cross Church next Tuesday 22 February at 10.30.a.m. The club sends its deepest condolences to Terry's wife, Lillian, and his two sons.
Steve Prescot Foundation St Helens Sutton 10k - Training Assistance
As part of St Helens Sutton AC's partnership with the Steve Prescott foundation and the St Helens 10k we will be offering training tips to athletes running in the race on the 20th March 2011. Please email us at training-tips@st-helens-sutton.co.uk to get some free, friendly help and motivation. In addition to this we would love to see you on one of our training nights. Members of the public are always welcome to come along and see what we do or join in, but we are also putting on special coached sessions specifically for the10k in the run up to the race. These will be held on Tuesdays between 6-30 and 8-00. Places on these sessions are limited so please let us know in advance if you'd like to come along to one of these sessions; email us as above anytime before midday on the day of the session to reserve a place.
Parbold Hill Race, 12 Feb.
With most Seniors busy elsewhere it was left to Tony Smith to fly the flag in this popular local fell race. 6 miles up and down the surrounds of Parbold Hill, with stiles, energy sapping muddy fields and a nice little river to cross at the end. Tony did the club proud coming in 7th and 3rd Vet 40 (43:19). This event has been growing in popularity and the race limit (500) was almost reached this year. Results
This race was one of the two main selection races for the County Fell running team the other being the Rivington Pike fell run on April 23rd, this race incorporates the County Fell Championships. Entries for this are on the day at the pub and you must also enter the County Championship at the same time. More details nearer the time.
Manchester Area League - Match 5, Clayton Vale 12 Feb.
On Saturday, a dry and sunny day, 12 young athletes travelled to the last of the Manchester Area League at Clayton Vale, a true cross-country course!
First off were the Under 13 Girls running 2614m. The team were led in by Rosie in 9th place, 10:43. Closely followed by Danielle, in 11th place, 10:46. Lucy finished in 26th, 11:40. Then Shannon came in 37th place, 12:52. Lauren completed the course in 40th place, 14:03. The Under 13 Girls team came 4th. Final positions in the Manchester Area League series had the team in 5th!

Next off were the Under 15 Girls racing 2924m. Once again they were led in by Rachel in 13th, 13:16. Closely followed by Vickie in 14th, 13:20. Completing the team was Maria in 17th, 13:31. On the day the Girls were 4th. Consistently, the Under 15 Girls came 4th overall!

The Champ of the League was Matt, who once again came home first covering 4705m in 16:10!

The last age group running was the Under 17 Boys running 6040m. The team were led in by Jamie Webb in 3rd place, 27:17. Nathan, who pushed hard, came 4th in 23:21. To complete the team, Jamie White finished in 7th, 24:12. On the day the Boys came 1st!

A big Well Done to all athletes who competed in the last of the Manchester Area League and those who completed 4/5 M.A.L races! Well Done especially to Matt who came first in every one of his races, and also the Under 15 Girls were consistent and finished the M.A.L cross countries in 4th place!

Lets keep up the good work and use it for the track season. Once again Well Done and Thank you to everyone involved (Athletes/ Coaches/ Parents!)
Team manager: Helena McGoldrick
Seniors
A handful of senior athletes took part in the final series Cross Country race at the new venue of Clayton Vale in Manchester, on Saturday 12th February. With an unusually high number of club seniors London Marathon training (running 20 miles on Sunday), illness, injury and the start of Half Term only 5 senior men competed. First home John Ashcroft (U20) (1) 33.56, 2nd Ian Hayburn (V40) (15) 40.45, 3rd Ian White (V45) (15) 41.03, 4th Mark Davies (SM) 42.25 and 5th Denis Wharton V50 (4) 43.30.

Congratulations to John Ashcroft finishing 1st U20 in the series scoring 8 points an excellent result and Gemma Connolly 2nd Senior Female scoring 10 points a terrific result, both competing in a highly competitive league with many talented athletes.

The club seniors and veterans qualified in the series having competed in 4 of the 5 series races with full teams. (ST)

Two senior ladies competed at Clayton Vale. Gemma Connolly finishing second on the day in 30.38 and claiming second position in the aggregate competition behind Olivia Walwyn. Judi Drummond was our second competitor finishing in 103rd place in a time of 53.46 (15th L35) rounding off a solid cross country season. Well done to all the ladies who have taken part in the Manchester League races throughout the season.(GC)

Senior Men Series All Others Series Photos
Junior Fixtures / Young Athletes
Following the recent letter regarding competitions, the link below gives a list of the forthcoming fixtures that we intend to participate in.
Whilst there is a competitive element to the events we want to try and build a team spirit throughout 2011 so that the young athlete's enjoy the experience and want to attend again.
Please discuss the events with your Coach and then make your interest known to the nominated Team Manager so that they can arrange to meet your athlete on the day and show them how it all works.
Fixture List and Letter to Parents
L&D Championship
A fantastic turnout of nineteen runners helped the club to sixth place in the L&D Championships. On an unusually warm day the course held up remarkably well considering the downpours recently, not easy going but it could have been a lot worse.
The team ran wearing black ribbons in memory of Mark Barrow. First home was Barry Graney (29th 38.04) just ahead of Ian Costello (34th 38.22) fresh from a 2:10 indoor 800. Ste Clague (58th 40.32), Alan McNally (59th 40.36) and comeback kid Ian White (60th 40.44) all grouped well. Ian Hayburn (64th 41.13) used his speed to just hold off Mark Liptrot (66th 41.15) on the line to make the counting six.
Cestrian Mark Davies (75th 42.05), Paul Kay (81st 42.29) and Dennis Wharton (82nd 42.49)\ completed the top ten. Pete Johnson (102nd 44.35) was followed by party goer Chris Levy (109th 45.31) and, carrying a couple of niggles, Ray Vose (111th 45.4).
The ladies managed a full half dozen, with Julie Pennington (133rd 47.49) and Julia Eccleston (135th 47.54) finishing closely. Next in Cheryl Orrick (148th 51.06) followed by Sharon Nunn (159th 54.35) with Chris Dempsey (164th 57.37) and Jo Keogh (166th 58.59) completing the team. Sue Clague acted as team manager (and wardrobe assistant - thanks for the formula one style vest change!). Support on the course included Louise Hogg.
Results
Open Indoor Meeting - Leeds 6 February
Taylor Caton- Hand set a pb 7.80 secs to grab second spot in the 60m, equalled his personal best (1.60) in winning the high jump and won the long jump with 5.44m.
Swimathon Fundraiser - Sunday 13th February
Any good at swimming? Think you can swim the most lengths in the hour? Just fancy a cross training session with your club mates?
The club will be hosting a Swimathon fundraiser at Sutton Leisure Centre on the 13th February. Please join us by either swimming or supporting, and be part of what is sure to be a great event.
Whether you fancy swimming the furthest you ever swam, setting your pb for a 100m, or just going at your own pace for as long or short as you like, come along. Why not team up with a couple of your friends or family and try to swim a mile or even a 3k? It's the cheapest you'll get to go for a swim in the pool too!
Entry fee only £1, pay at desk - all proceeds will be going to club funds Support your club by coming along. Swimmers should arrive at 2.15- 2.30pm and the Swimathon competition itself will start at 3pm and finish at 4pm. Volunteers to help with the lap counting or general running of the event will be most welcome!
Steve Prescot Foundation and St Helens Sutton AC Partnership
St Helens Sutton AC is pleased to announce a new partnership with the Steve Prescott foundation and the St Helens 10k to be held on the 20th March 2011. This is going to be an annual event and we intend to organise a second event later on in the year.
This is a great opportunity for the club to promote itself and also recruit new members. The event will have a lot of publicity in the local press and we intend to be part of its success.
The event on the day will be a fun run and also a quality race for all ages, so I am encouraging you all to enter, and promote the club as much as possible.
The club will offer training advice, promotional material, open evening and have many other benefits to those entering the event.
This is a great cause, the foundation raises many thousands of pounds each year for worthy causes and does a great job at getting local people interested in sport. We are confident that the St Helens 10k will introduce a lot of people to running and they will then continue to enjoy the sport through our club network.
Please support us by entering the event or helping to promote the club on the day. The website can be found here.
If you would like to help us in anyway please email us at your earliest convenience. We are looking to set up a working party as soon as possible.
Press release below -
St Helens Sutton Athletic Club is pleased to announce a partnership with the Steve Prescott Foundation. In the weeks prior to the inaugural St Helens 10KM Run, the club will be offering training tips and sessions to participants and will assist the organisers with promoting the event to other clubs in the region.
On the day of the event, members of the club will be on hand as race marshals and they will have a stand at the staging area to encourage participants to continue running.
Adrian Webb, Chairman of St Helens Sutton AC said "We're really excited by this partnership. The Steve Prescott Foundation raises many thousands of pounds for worthy causes each year and does a superb job of getting local people interested in sport. We're hoping that the St Helens 10KM introduces lots of new people to running and that they continue to enjoy the sport by becoming a member of our club."
The Athletic Club currently has around 150 Junior & Senior Members of all ages and abilities. This year they are hoping for a record level of participation in events throughout the region. They are also hoping that this Partnership will open the door for more events in the St Helens area later in 2011.
If you would like advice from some of the Clubs qualified coaches email your details and requirements to: training-tips@st-helens-sutton.co.uk
For more information about St Helens Sutton AC, please visit www.st-helens-sutton.co.uk or call Adrian on 07780 993877.