St Helens Sutton Athletic Club
September 2011
Ken Williams (Updated)
Ken Williams collapsed during the throws meeting at Wrexham today (25 September). He received excellent First Aid from St John's Ambulance on site and additional paramedic assistance from the NHS Ambulance service. He is now in Wrexham Maelor hospital where he is receiving round the clock care. The thoughts of club members will be with Ken and his immediate family. We will keep you posted when we receive further information.
Wednesday: Ken is still under intensive care ward U5 at Wrexham Maelor hospital but breathing without artificial assistance. He is showing signs of a slight improvement but remains seriously ill. It's been confirmed that he has had a heart attack. His parents are grateful for club members' interest in his welfare.
Saturday: 1st October.
Ken has been moved to the neurological unit (ITU) at Walton and is breathing without artificial assistance. He's still sedated while the medical staff work out how much damage has been caused by the heart attack. In typical fashion when they lowered the medication Ken tried to pull the tubes out of his mouth!! He remains seriously ill but medical staff have been working in consultation with Ken's GP so they are aware of his medical background. All we can do is wait and hope. Thanks to everyone who have been asking. If goodwill alone could restore good health Ken would be back throwing already.
Wrexham Throws Meeting 25 September:
Owing to Ken Williams's collapse (see the item above) the club's athletes were understandably reluctant to celebrate their club and personal bests. Ken himself had already thrown the javelin 22.92 before he became ill, an event in which Nathan Orr threw 21.91 and Taylor Caton-Hand 32.83. Nathan set a new club record 29.04m in the discus, Taylor setting new club figures in his age group (30.95) and Mike 23.82. Tricia Spark set a pb 25.46 in the discus and Mike Hughes a pb 22.96 in the javelin. Tricia putt the shot 8.20, Mike 8.80 and Taylor 10.32. Mike threw the javelin 22.92 and the hammer 29.43, Taylor completing the day with a 38m hammer throw. Results at - Results
Great Langdale Half Marathon, Lake district 24 September:
Mark Liptrot, Pete Johnson and Louise Hogg ran the Great Langdale Half Marathon.
It was Mark's third time round this fantastic course and he had a good run in perfect conditions - cool and calm with constant drizzle. Mark came in 1:32:29 in 17th. Perhaps he'll break 1:30 as a V50 next year!
Pete was saving himself for his upcoming marathon and did 2:04, while Louise, getting back into shape after maternity, did 2:37.

Northern Road Relays, Birchwood Warrington Saturday, 24 September
Well done to all our runners in this weekend's relay.
15 young athletes made the short journey to Birchwood, to compete n the Northern Road Relays.
The Under 13 Boys came 18th...
Adam Woosey: 11:49
Joseph Walker: 11:48
Anthony Walker: 13:36
The Under 13 Girls came 18th...
Paige Misund: 11:42
Alex Glynn: 13:36
Olivia Harwood-Moss: 13:13
The Under 15 Boys came 26th...
Lee Dobson: 10:01
Jonathon Causer: 12:01
Adam Brunt: 11:15
The Under 15 Girls came 28th(A)...
Rachel McGoldrick: 12:17
Maria McGoldrick: 12:54
Shannon Partington: 12:34
The Under 15 Girls came 32nd(B)...
Lucy Griffiths: 13:00
Lauren Wilcock: 15:39
Rachael Woosey: 13:56

A special Well Done to Adam Brunt and Olivia Harwood Moss who competed in the Road Relays for the first time. Many thanks to Rachael Woosey who made up the Under 15 Girls 'B' team! Team Manager: Helena McGoldrick.
Senior Women
The Senior women enjoyed their afternoon with Cherryl Orrick 22:57, Lynsey Wilson 23:52, Joanne Keogh 23:55 and Chris Dempsey 24:39 happy to have got a good team together to finish 47th team from 65 starters.
Senior Men
The Senior men once again managed to put out twelve runners for the road relays, fielding two teams of six.

Leading out the senior men John Ashcroft 19:00 once again recorded the fastest time for the club. Mark Davies 21:38 was next to take up the baton, feeling it was a long 6k! Nathan Brown 20:57 passed on to Jamie White 21:10 with Ian Costello 21:49 and Connor Murphy 22:31 completing the squad, finishing in 51st place.
Ian Pass 22:28 led by example for the second team with their fastest time, with Maurice Collins 22:29 running him close with a good time. Ian Hayburn 23:13 handed over to Ray Vose 25:07
with
Stan Erlam 29:08
showing his usual commitment before
Phil Robinson 27:11
completed the team
,
which finished in
88th place.

Full Results Pictures
Senior Women U17 Women U15 Girls U13 Girls
Senior Men U17 Men U15 Boys U13 Boys
Northern Road Relays, Birchwood Warrington Saturday, 24
Good luck to all those running the relays for us this weekend. Start times & directions below, please see your team manager/coach for more details.
Start times will be as follows:

Young Athletes – Registration for YA event will open at 10am.
11.30 Under 13 Boys 3 x 3000 metres - aged 11-12 & under 13 on 1st September 2011
11.35 Under 13 Girls 3 x 3000 metres - aged 11-12 & under 13 on 1st September 2011
12.15 Under 15 Boys 3 x 3000 metres - aged 13-14 & under 15 on 1st September 2011
12.20 Under 15 Girls 3 x 3000 metres - aged 13-14 & under 15 on 1st September 2011
13.00 Under 17 Men 3 x 3300 metres - aged 15-16 & under 17 on 1st September 2011
13.05 Under 17 Women 3 x 3300 metres - aged 15-16 & under 17 on 1st September 2011

Registration - Men's 6 Stage & Women's 4 Stage will open at 1.00pm.
14.00 Men's 6 Stage Relay 6 x 6k
14.05 Women's 4 Stage Relay 4 x 4.9k
Birchwood Road Relays Course Map 2011
Pennington Flash Park Run
Jim Crehan finished 44th in a time of 29.35. These Park Runs are excellent for athletes testing themselves over 5k and are as competitive as you wish (or do not wish) them to be. Matt Crehan missed this one but is learning the ropes of race promotion by organising Park Runs held in Leeds. Details from: http://www.parkrun.org.uk/
Great North Run, Newcastle Sunday 18 September

Dennis Wharton (1:37:22) was the sole male representative for the club, making his regular trip to Newcastle and having a solid run.

Seven ladies made the trip, led home by Julia Eccleston (1:43:15) with a fantastic time. Joanne Keogh (1:55:12) ran a great pb to finally break the two hour barrier. Dot Fairhurst (2:14:54) had a good run although we missed her from the original results as she strangely appears as running for a welsh club. Karen Harrison (2:22:51) set her mark in her first half marathon and is already planning to beat it, great progress since joining the club in Feb (thanks to Dot for the extra sessions & support!). Next home was Janice Lawson (2:28:41) followed by Elaine Ahearn (2:58:42) finishing well inside the 3 hour mark and Judy Drummond (3:08:10) completed the squad. Information from Cherryl Orrick

Results

English Half Marathon, Warrington Sunday 18 September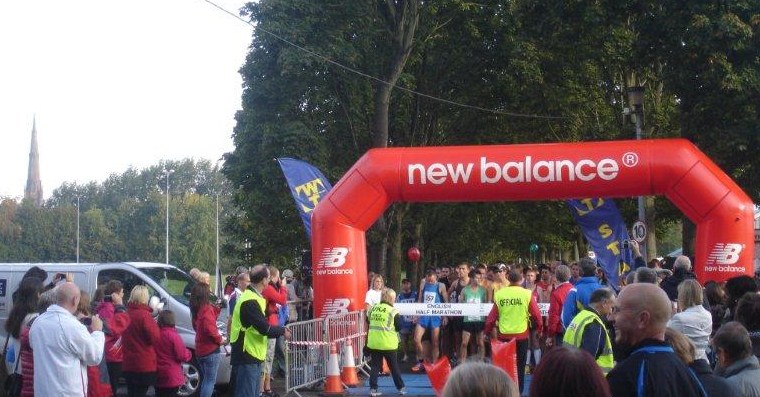 At least three of the club's runners competed in this local half marathon starting in Victoria Park. Ian Pass had a great run coming home in 1:24:46 and 3rd V40 followed by Pete Johnson a few minutes behind, comfortably inside 1:30. Lynsey Wilson had a super run for a 1:56:11 pb, finally breaking the 2hr target.
Pennington Flash 5k Park Run 17 September.
Matthew Crehan won this race in 17:39, thus making it two wins out of two races for the the year. As Matthew was born in Greater Manchester (Billinge Hospital) he was ineligible for the North West Road Relays but can compete in the Northern Road Relays at Birchwood on Saturday 24 September.
Liverpool Throws & Jumps Meeting 17 September
There were great performances from club members who competed in atrocious weather conditions at Wavertree. Taylor Caton-Hand broke the U15 long and triple jump records with 6.27 and 12.45 respectively. He also threw the hammer 33.10. Michael Causer's appearance in the long jump coincided with a downpour and he jumped superbly to achieve 6.53. Sophie Rigby and Heather Drillingcourt competed in the long jump (4.81 and 4.66) with Heather contesting the triple jump in 9.92. Tricia Spark threw the hammer (35.18) and putt the shot (7.88), while Nathan Orr threw the discus (26.17). Michael Jackson got the better of Mike Hughes in the shot (10.02 to 8.51) and the discus (26.08 to 20.95), Mike (Hughes) responding with 29.23 in the hammer. Their rivalry will be renewed at the early season meeting in April when, availability permitting, they will be joined by Steve Wilson, Phil Robinson and Gary Ireland in the competition for places. Congratulations to all. Report from Colin Spark. Results

North West Counties Road Relays Sefton Park, Liverpool - Saturday, 17 September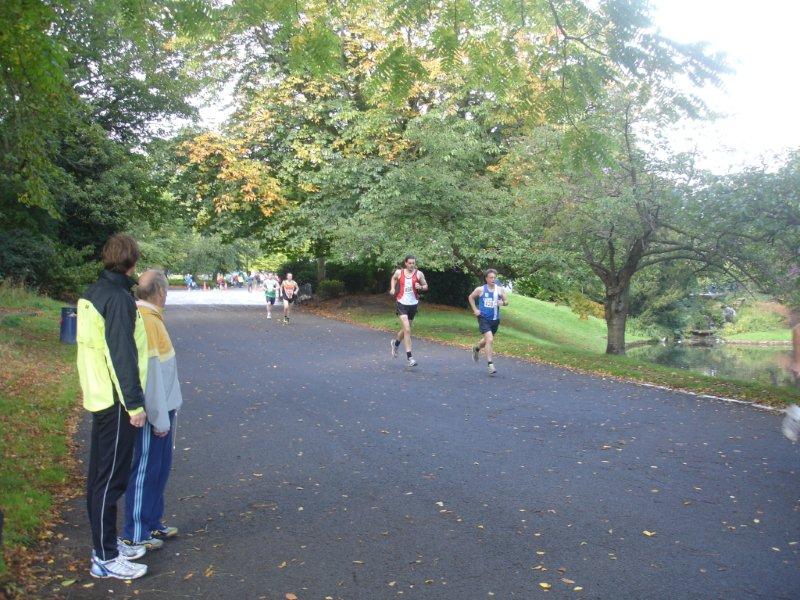 Well done to all those who competed for us at the relays.
At the North West Road Relays we had a 1st place from Matty and 2nd from the Under 13 Boys and third by the Under 13 Girls. Well Done to them all!A special thanks goes to Anthony Walker and Emily Roberts who made up teams from Wirral and Bury.
The Under 15 Girls ran very well; Danielle, Shannon, Lucy and Rachel, Lauren, Maria, as so did the Under 15 Boys; Aaron and Jonathon. Well Done to everyone who competed for the club!!!
U13 G Paige Masund ( 8, 13.13); Ellie Maudsley ( 23, 17.42); Alex Glynn ( 23, 16.3);
U13 G Beth Rigby ( 25, 15.22); Chesley Fell ( 26, 18.2); Emily Roberts ( 25, 16.41)
U15 G Danielle Webb ( 13, 13.16); Shannon Partington ( 15, 14.22); Lucy Griffiths ( 21, 15.47);
U15 G Rachel McGoldrick ( 18, 13.47);Lauren Wilcock ( 29, 17.19); Maria McGoldrick ( 26, 14.37)
U13 B Adam Woosey ( 13, 12.43); Joe Ford ( 10, 13.46); Joseph Walker ( 11, 13.53)
U15 B Arron Pearson ( 19, 13.06); Jonathon Causer ( 19, 13.38)
U17M Matt Shirling ( 1st, 17.36)
SW Julie Pennington ( 23, 23.33); Jayne Ashcroft ( 29, 29.42); Cherryl Orrick ( 28, 26.36). The trio had an epic battle with Lytham St Annes and Wallasey before coming home 28th.
The Senior Men managed to field three teams, two Merseyside and one Cheshire team. As far as is known this the first time the club has fielded a team in the Cheshire contest. The team came home as 5th Cheshire team. Nathan Brown ( 34, 19.08) had a solid first leg handing on to Mark Davies ( 33, 19.45). Ian Costello ( 28, 19.58), who realised 5k hurts more than 800m, passed over to Ian Pass ( 38, 22.54) who "volunteered" to make up the team despite running the Warrington half marathon tomorrow.
John Ashcroft (14th, 17.34) led the first team out with Jamie Webb ( 17, 19.04) holding position nicely. Barry Graney ( 19, 19.49) and Mark Liptrot ( 25, 20.34) completed the team which came in as 6th Merseyside team. The Mersyside B team was an all vets squad with Phil Robinson ( 61, 24.36) deciding he needed to show them how it was done by taking the first leg before passing over to Ian Hayburn ( 53, 21.16) who was happy to have let him do it. Returning from injury Ray Vose ( 50, 23.06) seemed to want to end it after one lap, giving Stan Erlam ( 51, 26.35) a bit of a fright as he wasn't quite ready!

Sutton Runners Results Full Results

Grisdale Horseshoe Fell Race 3 September

Mark Liptrot and Greg Carns ran in the Grisedale Horseshoe fell race on 3rd September. A 10 mile route with 5000ft ascent from Glenridding over the peaks of Catstycam, Helvellyn and St Sunday Crag. A combination of rain, wind and hill fog made for challenging conditions! Greg's self-admitted lack of route knowledge and poor navigation skills meant he opted to follow whoever he could just about see in front. Fortunately he didn't follow one of the many who "Did Not Finish" as a result of visiting various unintended locations. Mark finished 39th in 2:32:26 while Greg took 60th place in 2:41:11. Information from Greg Carns
Manchester Area Cross Country League

Pete Johnson is collecting entry fees for the Seniors for this league, same as last year, £5 entry for the series (£1 per race if you do them all, now that's got to be good value!). Don't forget we'll be hosting one of the matches so there's no excuse not to turn out. We've got 16 seniors entered so far so should be well supported again this year. Other age groups please see the notice board in the clubhouse or speak to your coaches/team managers.
North West Counties Road Relays Sefton Park, Liverpool - Saturday, 17 September

Good luck to all those running the road relays this weekend. This is a quality race incorporating the Cheshire, Greater Manchester, Lancashire and Merseyside Championships. Please see your team manager/coach for exact details of arrangements on the day. There may be some course changes from the usual route so it will be worth getting there in plenty of time to check on the course.
11.00 U13 Girls 3 x 2.65K
11.30 U13 Boys 3 x 2.65K
12.00 U15 Girls 3 x 3.5K
12.00 U17 Women 3 x 3.5K
12.30 U15 Boys 3 x 3.5K
13.00 U17 Men 3 x 5.3K
13.00 Senior Women 3 x 5.3K
14.15 Senior Men 4 x 5.3K
St Helens Windows Dream Trail Race 11 September
The early course setters were treated to a calm sunny morning while setting out our club's first trail event, a spectacular race over the parkland surrounding Dream. The course was as challenging as it looked but at least the conditions underfoot were dry, if not always flat!
There was a good turn out for the club in all the races, and the club's athletes performed well on the day. More details once results published.
The runners were in good spirits out on the course and the marshals did their bit to encourage runners on the hard bits. The good spirits continued in the Smithy Manor pub after the race as many stayed on to celebrate their achievement and hope their number came up for a spot prize!
Thanks very much to our sponsors, volunteers but most of all those who took part in the run, with special thanks to those who raised donations for the charities involved. It was not an easy course but that just makes the achievement all the more impressive. We'd love to hear any feedback (good or bad) please email us.
A final big thank you to Anthony Young and family for all the hard work that made this great event possible.

Results will appear on that link as soon as available, hopefully later today.
Official Photos will also be linked here, they should start appearing from tomorrow onwards.
Runners snaps here (send us yours to the email above!)
The links will also appear on the Latest News section on the Dream Trail Race page, where you can see some post race comments from our race organiser Anthony Young..
We do of course hope you enjoyed the day and if you feel you'd like to keep your involvement in running, training, or racing you will be more than welcome at the club. We train on Tuesdays and Thursdays, non members can attend the club at the normal training rate £1 (£2 families) for two weeks while they settle in and see how friendly the club is. After this they can join or continue to attend at a visitors rate of £2 (£4 families). There is no pressure to join, however memberships have the advantage of being cheaper and allowing reduced cost entry to many races (EA number).
Juniors Winter Fixtures
The fixture list for the Juniors is now on display at the club, you can download your own copy here: Juniors Winter Fixtures 2011/12
Pennington Flash Parkrun Results - Late Update.
The Parkruns are free 5k timed events staged throughout the U.K. and Europe.
Jim Crehan competed on 2 August (34th 28.34) and 10 September (29th: 27.29) while Matt Crehan won the event on 8 August in a time of 17.23. Full details of all events can be found at http://www.parkrun.org.uk/
Late Flash: Two medals for Phil Robinson.
News has just reached us that Phil Robinson competed in the North West and Merseyside Multi-Events Championships held at Sportcity at the end of August. Phil retained his Master's title and finished second in the Merseyside event. His marks were 13.46 (100), 4.99 (LJ), 9.20 (SP), 1.50 (HJ), 62.31 (400), 24.23 (100H), DT (30.12), 3.05 (PV), 36.28(JT) and 5.33.04 (1500). His final score was 4364 points. Hopefully, he'll be back to training after a good rest.
Trafford Grand Prix 6 September
Jack Gannon put his injury-wrecked season behind him running at Stretford where he ran the 100 and 200 in 12 dead and 24.13 respectively.
London Marathon Places
Those members who entered the London Marathon will hopefully be receiving their acceptance magazines shortly. If you are unlucky enough to receive a rejection, you can apply to enter the ballot for one of the club places. For the first call, as well as having a rejection from the ballot, applicants must currently be members of the club and have been so for one year. Please let your captain or the secretary know as soon as possible (with proof of rejection) if you want to apply. As usual if there are any places not filled from this first call a further ballot of members wishing to be considered will be held, again let the secretary/captains know if you wish to be considered in any second ballot. In order to maximise training time the entries to the ballots will close at the end of next month.
Young Athletes League N2 West
The final League positions for N2 WEST are available on the YAL website.
The full tables can be found here
St Helens Windows Dream Trail Race - this Sunday 11th Sept
Time is running out to enter our club's first trail event, a spectacular race over the parkland surrounding Dream. Remember the club also need volunteers on the day (car parking assistants, marshals etc.) so even if you can't manage the run please come along to the Smithy Manor (see maps on Dream Trail Race page) for 9.30 to help out.
Entries close in the next few days so the time to enter is right now - its simple to enter online just click here Junior Race Entry Link or here Adult Race Entry Link . There's more information on the Dream Trail Race pages, linked from the left hand side bar or by clicking here Dream Trail Race. Don't forget this will be a friendly, family event and there is also the mini trail for 6 to 11 years old, this can be entered on the day.
The list of sponsors who are taking part is growing week by week and our latest signing is Up and Running. They have kindly offered to donate prizes for the race. Each runner will receive discount vouchers for their facilities, this is in addition to prizes already announced.
We have calculated that each runner will receive a goody bag that is worth at least 200% of their entry fee. Donations so far include....
· Winners prizes – Donated by our Premier Sponsor, St Helens Windows and Co-Operative Membership
· Harrods champagne & truffle hamper – Donated by Taylor Wimpey Homes
Fitness Bootcamp sessions – Donated by PBFit
Day passes for all gym and pool facilities at DW Sports – Donated by DW Sports
Golf club hire & range balls – Donated by Drivetime Warrington
Vouchers for holistic treatments / sports massages – Donated by Premier Physio Runcorn
Free driving lessons – Donated by Dave's School of Motoring, St Helens
Pizzas and Garlic Breads – Donated by Domino's Pizza
Marks & Spencer voucher – Donated by the charity committee at Marks & Spencer, Gemini Retail Park
Junior Prizes donated by OSAS Royal Mail will include Family Tickets to local attractions plus Cineworld Tickets.
We would like to offer a huge Thank You to all of our sponsors, your support is truly appreciated.
Cheshire League 4th Round, Salford : 6th September

On Sunday, 22 athletes travelled the short distance to Salford to compete in the last Cheshire League meeting. There were several pb's achieved by the youngsters. A special well done goes to the Under 15 girls who competed in all of the meetings and covering the majority of their events. Well done girls.
There was a good team spirit from all. Thanks for all of the officials. We look forward to next year. Team manager: Helena McGoldrick.
Cross Country Dates 2011/12 season
Dates for the diary for the local cross country leagues are listed below.
Manchester Area League
Match 1 22nd October 2011 - Heaton Park
Match 2 13th November 2011 - Sherdley Park
Match 3 3rd December 2011 - Wythenshawe Park
Match 4 15th January 2012 - Woodbank Park
Match 5 11th February 2012 - Clayton Vale
The Senior men will also be looking at the L&D series again this year - although no specific Womens or Junior races are held, both are welcome to join in the Mens race.
L&D League
Match 1 29 October 2011 TBC 2pm start
Match 2 26 November 2011 Sefton Park
Match 3 10 December 2011 Stadt Moers 2pm start
Championships 19 February 2012 Clarkes Garden 11am Start
Due to popular demand (no, really!) we are also looking at a club trip to one of the many fell races in the area. Mark Liptrot is looking for a suitable race, favourite candidate so far is Shepherds Skyline, 5th November. According to Mark, "it's not too long or too serious but with all the ingredients of a proper fell race - very steep climbs, banzai descents, some bog and it's in a fell running heartland with great views, not too far away and it doesn't clash with the cross country."
Don't forget you can find these events on the club Fixtures calendar. Any other events you'd like to be added please let us know.
Message From The Chairman
Over the coming months I will be working hard with the new Committee to create a unified approach to training, coaching and competition for all ages and all sections of the club. As Chairman I will listen to the views of members, ask advice when required and make sure Committee policies are made known to the membership. I look forward to a successful year in all our activities.

Colin Spark
Results Round Up:
David Forrester was fourth in the Covered Bridge Invitational at Boone, North Carolina, on 2 September, recording 25.47.6, helping Florida State into second team place.
At the Schools' Games held in Sheffield, Michael Causer finished sixth in the long jump and Matt Shirling fifth in the 1500m.