St Helens Sutton Athletic Club
June 2011
Sports Centre Thursday 30 June
Please note:
The Sports Centre staff are not involved in the industrial action which will close schools on Thursday. Therefore training will take place as normal between 6.30.p.m. and 8.30.pm.
Quadathon - Sportscity, Manchester 25
On the 25th June we entered a team of youngsters in the excellent Quadathon Competition at Manchester's Sportcity, hosted by Dash Athletics. Katy and Megan Parr, Sian Glynn, Jamie Ford, Jake Radcliffe and Josh Oldham all competed for the 1st time in club colours with Caitlin Young, Finlay Radcliffe and Peter Davies providing the experience in the squad.
Everyone did really well and can be proud of their achievements. They now have PB's to aim for in 4 events and can work on this in future comps. Results are now available online: Download Results Here
Special mentions should also be made for Ben Oldham and Joe Ford who volunteered as officials on the day and received event clothing and goody bags as a gesture of thanks from the organisers. Well done guys!
Thank you to all the parents who supported the event. It was a great day and I'm sure we will be putting it the calendar as a must for next year.
Warrington Road Runners 10k
Maurice Collins and Julia Eccleston competed in this event. Maurice finished 27th (10th O/40) in 38.07 while Julia was third O/35 lady in 44.20.
Young Athletes League : 19 June
On Sunday 19th June 30 athletes competed in the final Young Athletes League. We achieved 2nd place overall, Well done to everyone who has competed in any of the four rounds. A special well done goes to the following athletes: Charlie, Harry, Louise and Robert who helped the club gain 2nd place.
Once again thanks to all of the officials: Pam (timekeeper), Colin (starter and track referee), Sue, Julie, Chris, Chris, John and Nathan (field officials). Thank you!!! Many of the young athletes gained PB'S or were close to them and several athletes achieved Grades (4 and upwards).
Thank you for competing and we hope to gain even more points and places next year!!! "Well done to everyone!!!"
Team manager: Helena. Results Tables

Next weekend (Sunday 26th June) is the Cheshire League at Crewe and Nantwich. If anyone is interested please see Helena on Thursday.

Northern Senior and Under 20 Championships 18/19 June.

Initial results show some good performances from our athletes -
John Ashcroft won the U20 1500, Dave Forrester was second in the Senior 1500, Sophie Rigby was seventh in the Long Jump
and
Thaddeus Anim-Somuah
contested two very competitive sprints over
100
and
200
.
If you are aware of any other performances please let us know.
Bob Graham Round 17/18 June.
Congratulations to Mark Liptrot on his successful completion of this challenging event. The event takes in 42 lakeland peaks and has to be completed in under 24 hours. Mark finished well inside the 24 hour cut off in 23:25, helped down the final leg by Pete Johnson.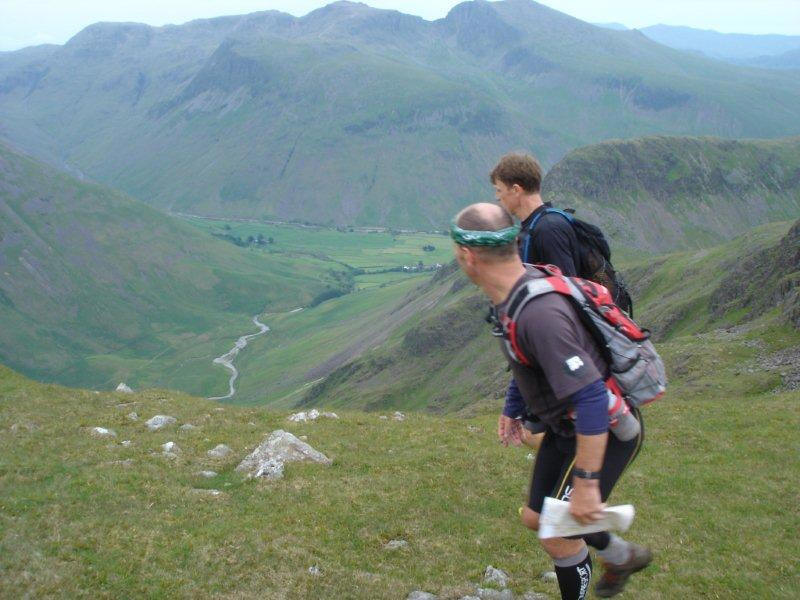 Ray Vose and Barry Graney also made an attempt but the pair were timed out (and tired out) starting the penultimate leg, having completed 30 peaks. Their support was provided by Adrian Webb, Rob Kennedy, Ian Hayburn, Tony Smith and Ian Pass. They send thanks to all involved on this typical summer's day (cold and wet!).
Merseyside Schools Championships : Bebington Oval, 12
Report to follow...
Young Athletes League - 5 June.
Today we had 28 young athletes competing in the third round of the Young Athletes League. Several youngsters gained PB's and Grade 4's and above. Special well done goes to Jessica Leonard who gained Grade 1 in the 150m and also a Grade 2 in the 75m. Three youngsters competed for the club, for the first time: Alex Glynn, Joseph Woods and Aaron Pearson. They did the club very proud! These results will give the club and athletes a chance to move closer to winning. WE need everybody to compete in the final round which is on the 19th June at Leigh Sports Village! Thanks for all athletes and officials for making a good day of athletics.
Team manager: Helena McGoldrick.
Northern Track and Field League - Warrington 4 June.
Despite absences owing to exams, work and other commitments, the club finished third in today's match to consolidate our place in the League. There were three club records (Michael Causer in the long jump - U17 and Senior) and Gary Ireland in the shot putt (10.24). Full details of all performances from the team managers shortly. The team scores on the day were (1) West Cheshire 413; (2) LPS 368; (3) St Helens-Sutton 341.5 (4) SouthportWaterloo 3.26.5; (5) Trafford 222; (6) Altrincham 182. The League positions are - (1) West Cheshire 12; (2) LPS 9; (3) St Helens-Sutton 7 (672.5); (4) Trafford 7 (608); (5) SouthportWaterloo 5; (6) Altrincham 2.
Some excellent performances along with team spirit by our ladies in the second Senior League match. It was good to see Heather Drillingcourt back after injury. Heather ran a strong 100m (A) in a time of 13.6. Her partner in the B race, Sophie Rigby had a very strong run, finishing in a time of 13.5.
Natalie Bannister finished 6th (A) in a strong field of 200m runners with a time of 29.6. Rachel Wilcock made her debut in the Senior League. She ran in the B 200m and achieved a personal best of 30.2. Natalie Bannister was our sole competitor in both of the hurdles events. She finished 4th in both events. Well done Natalie.
Once again it was a very gruelling day for the two 'senior' ladies, Gemma Connolly and Julia Eccleston. They both competed in the 400m, 800m, 1500m and the 3000m. Both ran steadily in the 400m earning some valuable points. Gemma then went on to win the 800m (A) and 1500m (A) followed by Julia finishing 2nd (B) runner in both. Excellent results considering one hour earlier they had both run the 3000m where Gemma finished 2nd (A) as did Julia, in the (B) race.
In the field events Lucy Croft and Patricia Spark both partnered up to throw the hammer, discus and shot. Both girls throwing well on the day. Lucy finished 2nd (B) in the hammer, 3rd (A) in the discus and 4th (B) in the shot. Patricia also finished 2nd in the (A) hammer, 2nd in the (B) discus and 4th (A) in the shot. Lucy also competed in the javelin alongside her team mate Julia Eccleston, both ladies earning the team more valuable points.
Heather once again made it look easy, competing in both the long jump (B) and triple jump (A). She finished 2nd in both. Sophie Rigby joined Heather in the long jump and jumped superbly to also finish 2nd in the (A) competition. We had no competitors in the pole vault but we did have two young ladies in the high jump. Sophie Rigby finished 4th (A) and Natalie Bannister, who stepped in on the day, finished 2nd in the (B) equivalent.
The ladies finished the day with two excellent performances in the relays. In the 4 x 100m Sophie, Heather, Jenny Lamb and Patricia finished 4th with an overall time of 54.8 and in the 4 x 400m Sophie, Rachel, Jenny and Natalie all ran strong legs to also finish 4th in a time of 5.02.1.
The next fixture will be at Trafford on Sunday 3 July, the day after the ESAA Championships in Gateshead so some absences are likely and a maximum turnout from all available athletes is essential to maintaining our position in division two. Hopefully, exams will have been completed. A note of thanks to the club's officials Roger McCall, Colin Spark, Jake Healy, George Mullineux, Janet Holmes, Pam Appleton, Jane Ashcroft, Nathan Orr, Dave Morley, Mrs Woosey, Rachel Woosey, Adam Woosey, Chris Dempsey who did the organising and Linda White for helping to provide the sandwiches. Results
Report by Sue Clague, Ladies Team Manager.
Other News
Congratulations to Matty Shirling who has been short listed for the U18 team at the World Youth Champs in Lille and the European Youth Olympic Festival in Turkey. Both a little later in the season. Fingers crossed !
Club Fixture Calendar
Just a reminder that anyone who would like a fixture to be added to the Club's fixture calendar, please email
Chris
or
Barry
and the event will be added as soon as possible. Please send the date, meeting and any link to details on the web.
.:
---