St Helens Sutton Athletic Club




November 2011

McCains Cross Challenge (inc L&D series match 2), Sefton Park - 26th November:

On Saturday 13 youngsters travelled the short distance to Sefton Park to compete in the McCains Cross Challenge, where we had perfect conditions for cross country running. We had just one under11 girl running 1.9km Anna Pennington coming home in 35th place with 9mins 18 sec well done .Next off were the under13 girls 3km race with Paige Misund leading home the club in 48th with a time of 13mins 28sec, Alex Bottomley 58th 14mins11sec, Alex Glynn 65th 14mins56sec, Elizabeth Dingsdale 72nd 16mins10 sec, Ellie Mawdsley73rd 16mins 16sec. well done .The under 13 boys 3km were once again led home by Adam Woosey in 43rd 12mims 02sec, Joe Ford 61st 12mins 28sec, Ben Oldham 78th 13mins 03 great team effect . The under 15 girls 3km had a solid performance led home by Rachel 71st 13mins02sec, Maria 13mins40 sec, Shannon 13mins 57 sec. The only under 17 boy running 5.5km was Simon Anim-Somouah running in his second race for the club, he had a very solid performance keep up the good work well done .

Look forward to see you all at the Manchester League match next week 3rd Dec See notice board in club for details.

Team Manager - Helena McGoldrick.

Seniors

With the ladies concentrating on the road race in Salford it was left to the men to represent the club in this quality local fixture, which is used as one of the matches in the L&D league. Continuing his good form first back for the club was Ian Costello(192, 36:57) followed by Greg Williams( 215, 37:52) returning to racing for the club and Ian Hayburn ( 270, 39:22). Chris Levy( 336, 41:40) just edged Ian White( 343, 41:52) with Alan McNally( 345, 41:59) not far off the pace. The final pair back for the club were the fell running rookies Dave Hampson ( 397, 44:04) and Phil Robinson( 404, 44:17). Jamie White( 104, 25:21) had a good run as the clubs only U20. Earlier in the day Phil Robinson recorded 21.51 at the Pennington Flash 5k, finishing seventh
L&D Results

Weekly Round Up:

Five ladies braved the windy weather to contest the City of Salford Ladies' 5.25m race at Swinton on 27 November. The club's representatives were Julia Eccleston (15 - 38.46), Catherine Roberts (17 - 39.02), Cherryl Orrick (30 - 42.02) Amanda Coogan (49 - 44.36) and Joanne Keogh 50 - 44.38). Catherine and Amanda each produced splendid debut performances revealing excellent potential for future competitions. The team was fourth overall. Results Report - Cherryl Orrick.

The previous day John Appleton was 95th (6th 0/55) at the Wesham 10k, held at Salwick between Preston and Kirkham, in 41.41.

Last Monday (21st) David Forrester finished sixteenth in the NCCAA Division One match at Terra Haute, Indiana, recording 29.40.6 for the 10K cross country course.

North West Sportshall League Round 2, Widnes - Sunday 20th November

On Sunday 20th November 16 athletes took part in the North West Sportshall League Round 2 at Widnes. The 11 athletes that had competed in the league before achieved 15 Personal Best's between them. Huge well done to:
Sian Glynn, Liz Griffiths, Lizzie Tracey, Rosie Dyer, Grace Terry, Hannah Seabrook, Caitlin Young, Megan Park, Lauren Wilcock, James Tennant and Finlay Radcliffe.

We also had 5 athletes compete in club colours for the 1st time. Well done to:
Jessica Durrance, Olivia Millow, Nadia Anim-Somuah, Jennifer Lea-Worth and Megan Cunliffe.

Thanks also to Team Manager Rachel Wilcock, Deputy Assistant Kay Wilcock and Sutty the Bear for providing the entertainment.
We continue to have the nosiest crowd and best supporting parents in the league – Thanks!

The next meeting is on Sunday 11th December at Widnes again. 11.15am meet. We need a huge push to qualify teams for the final so PLEASE do your best to attend.

Preston 10 Mile Road Race - Preston 20th November

Two club members took part in this 10 mile road race. Maurice Collins (67th, 64.28) and Julia Eccleston (199th, 75.43).

Tour of Pendle Fell Race - Pendle 19th November

Mark Liptrot took part in a rare sunny running of the Tour of Pendle, a 16.8mile criss-crossing trip up and down Pendle Hill.

XMAS FUN RUN – Sunday 18th December, meet at 10.15am, start at 10.30 prompt

The Christmas Handicap will take place at Sherdley Park and is free of charge to all members and their families.
There will be prizes for all Junior Runners and also for the best Fancy Dress Costume.

It doesn't matter if you are a sprinter, thrower or road warrior, please try and attend this annual get together.
It's a short run around the park with a staggered start so that we have a big sprint finish.

For further details please see Ant Young, Chris Dempsey, Colin Spark or Pete Johnson.

North of England Indoor Meeting - Sheffield 20 November

Taylor Caton-Hand opened his winter season with third place in the triple jump 12.59m.

Princes Park ParkRun 5k - Liverpool, 20th November


The Young clan turned out in force at the weekend at the Princes park 5km run in Liverpool (sat 19th) Caitlin leading the way in 97th place ( 29.38 ) followed in by Karen in 113th place ( 35.00 ) supported by Anthony in 114th place (35.01) and worthy of mention is Caitlins age graded score of (56%) which compared to Antony's 22 mins score last week of (58%) now only 2% in it, watch your back dad! Also running ( with ipod ) was Phil Robinson 25th place (21.03)

NCAA Division l - 10k cross country 12 November Tuscaloosa, Alabama.

Dave Forrester won the above event in a time of 30.43.3 leading Florida State to victory in the team event with 40pts and an average time of 31.10.8. Not to be outdone the Florida State Women's team also won the 6k individual and team race with 34pts and an average time of 20.43.2.

Princes Park ParkRun 5k - Liverpool, 13th November

Anthony Young (45th, 22:54) made a rare appearance on the racing circuit, running the Princes Park 5km road race, before returning to help the club marshal the Manchester League fixture.

Manchester League Cross Country, Match 2 - Sherdley Park, 13th November.

The Committee would like to say a massive CONGRATULATIONS AND THANK YOU to everyone who helped at Sherdley Park on Sunday 13th November. There was great team spirit and everyone pulled together to host a successful Cross Country meeting. From the course setters early in the morning – John Irwin, Janet Holmes, Colin Spark, Ian Hayburn (who also booked the park and did all the paperwork and liaison), Antony Young, Ray Vose – to the caterers – Peter Johnson, Ellie Hogg and her Grandad, Colton and Chris Dempsey – and the marshals – Kay and Rachel Wilcock, Julie and Adam Woosey, Linda White, Sue Clague, Mick McGoldrick and Ian Wilcock who assisted with dismantling the course. Hopefully all volunteers have been mentioned.

Can we do it again for the Merseyside Cross Country Champs on 7th Jan please??

Young Athletes

Under 11 Girls Anna Pennington: 22nd - 10:18 / Chloe Orrick: 31st - 10:48 / Rosie Dwyer: 38th - 11:54 / Elizabeth Tracey: 39th - 12:02
Well done girls!

Under 11 Boys:
A good first race from Nathan and Matthew; hope to see you compete in more races.
Steven Walker: 22nd - 9:53 / Matthew Slevin: 26th - 10:18 / Nathan Harrison: 32nd - 12:30
The team came 6th,Well Done!

Under 13 Girls:
Olivia Harwood-Moss: 30th - 9:41 / Paige Misund: 31st - 9:42 / Alex Bottomley: 32nd - 9:47 / Alex Glynn: 44th - 10:38
Ellie Mawdsley: 48th - 11:29 / Emily Roberts: 49th - 11:32 / Elizabeth Dingsdale: 50th - 11:47 /
Freya Roberts: 51st - 12:13
The (A) team came 10th, Well Done! The (B) team came 12th, Well Done! Well done girls for having two teams.

Under 13 Boys:

A superb team result with second place. Excellent, Well Done!
Adam Woosey: 6th - 12:20 / Joe Ford: 12th - 12:44 / Joseph Walker: 15th - 12:56 / Ben Oldham: 24th - 14:24

Under 15 Girls:

Rachel McGoldrick: 22nd - 14:09 / Lucy Griffiths: 32nd - 15:12 / Maria McGoldrick: 33rd - 15:17 /
Lauren Wilcock: 34th - 17:20. The team came 7th, Well Done!

The only Under 17 Boy ran for the first time and made the club extremely proud!
Hope its the start of many more races to come! Simon Anim-Somouah 21st - 28:24

The next big race for the club is on the 26th November-the McCain Cross Challenge; all entries close on Friday. See Helena on Tuesday for entry forms. (Under 11's, Under 13's, Under 15's, Under 17's, Seniors). There will be a club photograph on Tuesday for all cross country participants before training.

A big thank you goes to all of the officials and the helpers for all of their hard work and effort.

Team Manager: Helena McGoldrick

Senior Women

Seven of our Senior Ladies turned out on our home course and managed to finish two vets teams as reward. First home was Gemma Connolly (5) still running well but waiting for the winter weather to start. Julia Eccleston (52) was next home followed by Cheryl Orrick ( 85) and Joanne Keogh (105) to complete the open team that finished 13th. This also completed our first vets team which finished in 14th. Pam Appleton (115) and Chris Dempsey (117) had a close finish, while Pauline Picton (141) completed the second vets team posting 21st place.


Senior Men & U20

The Senior Men also had a great turn out with a bakers' dozen finishing as two full teams in both the open race and the vets. First back for the club was Anthony Smith (44th) not too far behind Jamie White (55, 8th U20) had a great run and Ian Costello (68 ) set off for a quick start and managed to hold on. Barry Graney (101) wasn't too far ahead of Rob Marsh (119) who just missed out on his sprint finish. Next home was Ian Hayburn (134) followed by Mark Liptrot (144) and Maurice Collins (158). Chris Levy (172) didn't let the Rainhill beer festival stop him and was followed by Alan McNally (183). Good to see Ian White ( 200) coming back to competition and two of our fell running veterans Greg Carns ( 207) and Phil Robinson (224) completed the squad.

The team improved a couple of places on last time to finish 13th and managed to post a B team in 28th. The vets team saw a vast improvement jumping up to 5th and again managed to post a B team in 15th.

Results

Shepherds Skyline Fell Race, Todmorden - 5th November.
This category 'BM' fell race (or medium to the lay man) with a 1150 feet ascent over six and a quarter miles saw Four Sutton athletes take to the start line, Mark Liptrot, Greg Carns, with rookie fell runners Dave Hampson, and Phil Robinson.

The race begins with a steady climb to the top , this is mostly done in single file due to the narrow trail, you then head towards the monument were you are then faced with a "monumental" descent ( the suicidal speed at which you see runners coming down here defies belief) you hopefully reach the bottom in one piece, at this point your thigh muscles are in agony, then a short section of pathway before looking left at what you are about to climb, a couple of swear words later and you then try your best to run up it, but only the superhuman can do this, mortals have to resort to walking, when you do eventually reach the top, you then head back to the finish along the same trail that you ran on earlier.

(Out of a field of 357) Mark Liptrot finished 90th in 55.32 Greg Carns was 124th in 58.51
Dave Hampson was 208th in 64.34 Phil Robinson was 315th in 76.14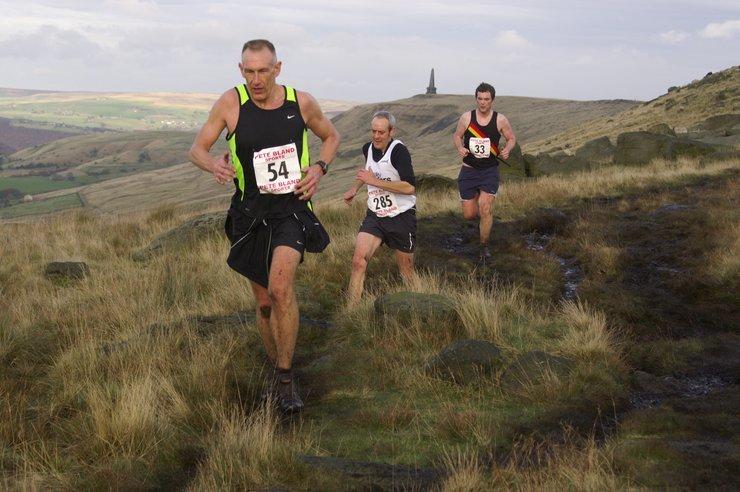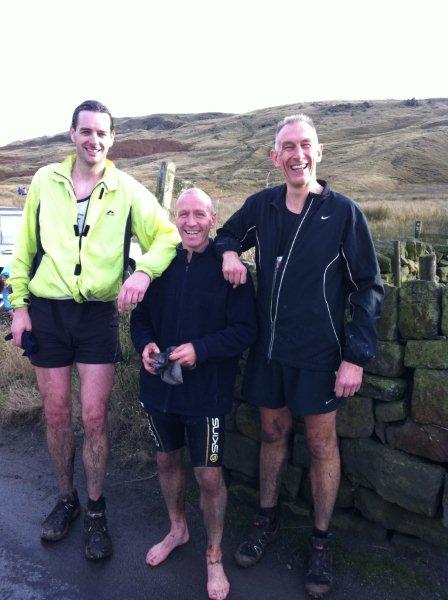 Everybody needs to run at least one fell race, if nothing else you will then appreciate John Macadam's fine invention. If you think you are fit, you are not as fit as a fell runner! You will have a new found respect for this event, not only the lung bursting physical effort involved, but nearly as exhausting are the concentration levels required to negotiate the streams, mud, rocks, stones, and rutted ground. That said, if Mark Liptrot asks Dave and Phil to do another, they will tell him exactly what they think!
Thanks to Todmorden AC for permission to use their photographs and Phil Robinson for the report.
Ken Williams.
Several Club members attended St Nicholas Church on Friday 4th November to remember Ken Williams. Ken was taken ill at an athletics meeting at Wrexham, sadly he never regained consciousness and passed away at Walton Hospital. The Church was full with family and friends and accompaniment was provided by a local brass band, another of Ken's interests. Ken's parents expressed their thanks to The Walton Centre who provided excellent medical care and asked that donations should be sent there.
If any members would like to make a donation in memory of Ken, Chris Dempsey will co-ordinate and forward to the undertakers, Fisher and Dixon. Please pass your donations to Chris Causer at the desk or Chris Dempsey at training by Thursday 10th November.
Lancaster Half Marathon, Lancaster 6th November.
On a perfect day for running Pete Johnson (1:27.19, 50th) and Alan McNally (1:37.03, 143rd) competed in the Lancaster Half marathon. Results
National Cross Country Relays, Mansfield 5th November.
On Saturday six young athletes travelled to Mansfield for the National cross country relays, in conditions reminiscent of last years National (a very muddy Alton Towers).
The under 13 boys were off first for us with Adam Woosey (7mins52, 46th) Joe Ford (8min 23, 52nd) and Joe Walker (8min47, 58th) the team came 58th, well done boys
The under 15 girls were led off by Rachel McGoldrick (9min 01, 93rd), followed by Shannon Partington (9min18, 92nd). As Shannon passed over to Maria McGoldrick (9min52, 85th) the heavens opened and she did very well to finish the course the team came 85th .

That was what you call cross country hard, cold and muddy. Well done, you all did the club proud.

Team manager Helena McGoldrick.