St Helens Sutton Athletic Club
May 2008
Miscellaneous Races: May
Gemma Connolly 18.36 - 3rd Lady and Stan Erlam 21.45 - 138th overall competed in the first round of the Cheshire Road Race Grand Prix at Dunham Massey, Chris Dempsey recorded 39.14 (39th) at Delamere while Julia Eccleston (5thV - 34.40) and Rob Stiffin (36.15 - 100th) contested the Walton Park 5. Club captains Ian Hayburn and Julia Eccleston are hoping seniors will coordinate their racing activities to provide a greater club presence at local races.
Open Meeting Warrington 26 May
Club members enjoyed a bright and breezy day at Warrington with a range of ages turning out. Lauren Rigby competed in the U9 girls collecting gold in the long jump (2.19) and Cricket Ball (11.30). In the U11's there was gold for Rosie Johnson 75m - 11.3 and a silver (600 - 1.56.5). Others competing included Lauren Wilcok, Dannielle Webb, Lucy Griffiths and Katie McGifford who threw the cricket ball (18.38) for bronze.
Another cricket ball medallist was U11 Boy Jamie Dinnarr (35.72) who won gold, while Daniel Elston was third in the 75 (11.5) and first in the 600 (2.00). Adam Woosey wasn't that far behind in the latter (2.05.2) and long jumped 3.38m.
The U13 girls were also in winning mood, Chelsea Jarvis winning the 1500m (5.08), Chloe Rigby 21.6 (silver in the 150) while Shelby Jack was second in the 75m (10.6) and third in the 150 (22.0), just ahead of Rachel Woosey (23.2). Vicky Lamb contested the 800 (2.56).
Chris Garrity turned to the 1500 (5.36.9) for victory, Matthew Atherton collected silvers in the 100 and 200 (14.1) and (29.3) and added a long jump bronze (3.59). T T Caton-Hand also contested the sprints and long jump although not all results are to hand.
Becky O'Brien practiced the long jump for the YAL match (3.24), Tricia Spark won the gold in the hammer (25.84) and discus (20.03). Rachel Wilcock showed a good turn of speed in the 100 before collecting 800m bronze with 2.49.4, just ahead of Jenny Lamb (2.50.7).
Sophie Rigby continued her good form with victory in the high jump (1.55) and third place in the hurdles (13.2) and 100 (13.9). Danni McGifford won the silver in the hurdles (13.1) while Amanda Paton was the bronze medallist in the long jump (3.68).
There were silver medal performances from Daniel Topping in the U15 Boys' javelin (20.48), Heather Drillingcourt (300m - 46.3) while David T Griffiths took gold in the 800 (2.24.7) and javelin (23.96) leaving Jake Healy to mop up the 1500m with a win in 4.37.5. Information from Colin Sparks. Pics

Trafford Open Meeting 26 May
Two athletes braved high winds at Trafford and both came away with a medal. Louise Hayes completed the 100m in 14.7 PB, got a bronze medal in the 800m 2:58.4 and threw the Javelin 13.00m PB. Liane Bibby took gold in the Javelin with a throw of 28.58m, threw the Discus 18.92m and completed the 100m in a time of 14.00. Information from Carl Bibby.
National Junior League - Bebington - 25 May
Although this event clashed with the Northern U17 Championships it turned out to be one of the most enjoyable competitions of the season, despite the blustery conditions which made good times difficult. Completely relaxed and with few in number the club put in an excellent performance to take fifth, less than twenty points behind the numerically stronger third and fourth placed teams.
Two club records were set, both by second claim members Amyrose Talbot (4.52.4 in the 1500m) after a great race with SouthportWaterloo's Rhea Ellis and Oliver Roberts who achieved 10.24 in the shot. Amyrose also contested the discus and javelin, setting season's best in each, while Oliver won the B string 400m in 55.9 and combined with Steve Clague, Thaddeus Anim-Somuah and Adam Fahey to record the fastest junior 4x100m of the season.
Thaddeus was completely relaxed in winning the 100m (11.4) into a headwind and followed it by a brilliant 150m (unfortunately it was a 400m race) and Thaddeus managed to record 54.8 while raising the art of treading water to new heights). Despite this he insisted on running the 200m and 4x100m in the true club spirit of togetherness.
Ryan Fahey is feeling his way in this age group as an under 17 and produced an excellent performance to grab second place (24.9) in the 200m, edging closer the magical ten metres mark in the triple jump. Steve Clague was at his irrepressible best setting a personal best 2.22.5 in the 800m while Natalie Garrity's 2.37 in taking second place in the 800 was as good a demonstration of determined running as anything seen this season.
Heather Drillingcourt found the conditions and the strength of the opposition tough in the 400 but followed it with an excellent 200m in which she fought to the line, grabbing fourth spot by passing her LPS rival on the line in 29.8.
In the final individual event Matt Jackson narrowly failed to beat his previous best steeplechase time, despite the blustery wind and a stumble over the water jump. Matt, Amyrose and Oliver are a credit to their first claim club, Warrington AC, who also provided Neville "Peter Pan" Jones as a timekeeper. We had no track judge today but Sue Clague, Steve Clague and Phil Thomas were on hand to provide officials for the field as and when required.
Sue Clague acted as team manager, combining her duties with field event judging (the things some people will do for free refreshments) and tired feet. Many thanks to all the athletes who competed today.
The final scores were 1 North Wales Composite 447; 2 Cheshire Tigers Composite 370; 3 Wirral 209; 4 LPS 208; 5 St Helens-Sutton 190; 6 SouthportWaterloo 36.
The League table currently reads 1 Cheshire Tigers Composite 13; 2 North Wales Composite 12; 3 LPS 10; 4 Wirral 7; 5 St Helens-Sutton 6 (342); 6 SouthportWaterloo 6( 210).
The next match is at the end of June when we should have a full turn out which may provide a surprise for the rest of the teams in the division. Results
Northern U15 and U17 Championships - Wigan 24/25 May
There are three targets of equal importance for everyone competing at major championships: to win a medal; to achieve a personal best and to contest the finals. Achieving all three is often not possible but achieving any one of the three is a measure of success to be added to experience for future events. The three club members who competed on the first day of the championships at Wigan each achieved one of their objectives. Samantha Fraser won a medal in the U17 shot putt recording 9.39, Liane Bibby set a personal best (and club record) of 29.43 in the javelin to finish fifth while Tom Green recorded 12.18, easing up, having reached the final of the 100m. The club's congratulations go to all three of them on their own personal and club achievements.
The second day of the championship saw debuts for John Ashcroft, Jamie White and Gemma Shaw (Jamie Webb withdrew with injury) while old hand Jake Healy contested the 1500m, although not yet back to fitness. John reached the final of the 1500m with 4.22.81 taking sixth place, Jake was also sixth in his heat (4.32.81) as was Jemma in the 800m (2.25.35), one of Merseyside's fastest. In the U15 final Jamie White recorded 4.40.58 to grab eighth spot. Again, congratulations to each one on their performances achieved in blustery conditions. Matthew Crehan who trains with Ray Vose's group took second place in the U17 1500m. Results
Great Manchester Run: Manchester 18 May
Dennis Wharton competed in this race, finishing as the first v50 home breaking 38 minutes for the first time this century. His time of 37mins 50secs was good enough for in a 138th overall. Not having seen the coverage, we can't confirm whether he was up with the leaders over the first 800 again. Joanne Keogh made her debut for the club recording 58.31, a little lower down the field.
Young Athletes League: Halifax 18 May
The wind blew down the Calder Valley in the latest Young Athletes League match at Halifax. Mind you, given my school failures in geography, it could have been somewhere else and, as quite a few people took the scenic route, it was good to know that most people who were supposed to get to West Yorkshire managed to do so. We hope the missing foursome were unavailable and are not still roaming the moors looking for Heathcliffe.
Those that did arrive provided a treat for the club which took third place behind Horwich and Halifax, though not necessarily in that order, with victories for A & B is throwing events from Lucy Croft, Kathryn Sumner, Patricia Spark, Chelsea Jukes, Chloe Rigby, Louise Hayes and Liane Bibby (Liane breaking the club javelin record for the third time this season). John Ashcroft threw the opposition out of sight in the hammer and David T Griffiths lapped the opposition in the 3000.
Without access to a full set of results it would be invidious to highlight individuals although those who were there witnessed a splendid hurdles debut from Lauren Pike, a super 800m battle between Heather Drillingcourt and Lauren Bradshaw, three pb's from Michael Causer, splendid front running from 800m runners Jamie White and Bethany Baxter with Jamie Webb following the club tradition of insisting on making up the relay team despite injury.
I shall provide full details of the performances of all 28 athletes once the full results are received so no one will be left out, including the dependable Lamb sisters, Matthew Atherton, T T Caton-Hand, Luke McDonald, double jumps winner Sophie Rigby, who was part of a splendid 4x100m team win, Chris Garrity, Joanna Bebbington, Rachel Woosey, Rachel Wilcock, Kieron Fahey and Danny Hughes.
A particular "thank you" to the officials for the day, first and foremost, Kay Wilcock and Jane Ashcroft who were outstanding in their support of Julia Hayes on the track stand (ringing that lap bell is so addictive) and Mr Atherton, who relieved them for the last part of the meeting. The time keepers were John Irwin and Pam Appleton while field judges were Susan Clague, Steve Clague, Michael Hughes, Steve Rigby, Colin Sparks with Andy Drillingcourt. A full complement of officials adds 25 points to the athletes' track and field score, so assistance on the day is appreciated.
Finally - and certainly not least - thanks to the team manager, Carl Bibby, who was consulting with selector Phil Thomas as late as ten the previous night following late withdrawals, to those parents who provided lifts, especially those who brought other people's children even at inconvenience to themselves and to all supporters. Report finished 00.57 Monday morning Results.
Congratulations:
To Ray Vose and his partner Julie Ann on the birth of their first child, William, by caesarean section, on Saturday 11 May, weighing in at 7 lbs 15 ounces. Mother and baby are settling into a lifetime routine of mutual interdependence which remains a mystery to all but those directly involved.
Loughborough International 18 May
David Forrester set a new personal best and club junior record 3.46.23 representing Great Britain in the Junior International match at Loughborough. David is aiming for the World Junior Championships this season.
Southport Schools' Miles Races 14 May - Southport
Rosie Johnson won the Year 5 race in 6.29.
Liverpool Women's 10k 11 May - Sefton Park
The only two members whose results could be found are Linda White (247: 56.16) & Jane Ashcroft (1134 : 71.52). If anyone else competed please let me know.
Merseyside Championships - 10 May - Wavertree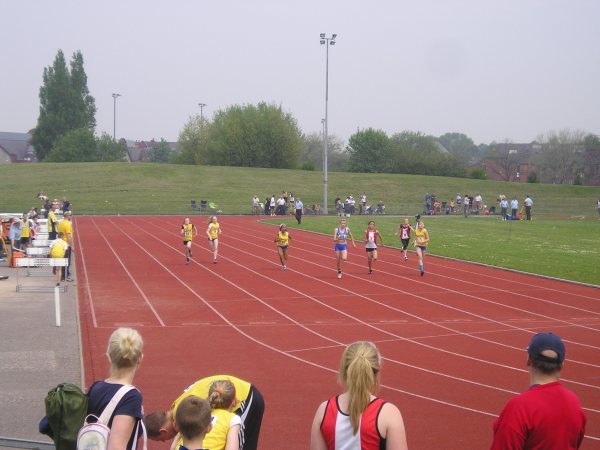 Although Merseyside County AA have yet to issue a full and accurate set of results we know the club claimed 15 individual county titles and collected twice as many medals as titles. Collected is not quite the right word as we learned that Phil Robinson, Lauren Bradshaw and Danny Griffiths won medals which they were not presented with and which will be collected later.
Matthew Atherton (LJ & 200m) won two titles despite being unwell. Sophie Rigby jumped her way to success in the long and high jumps, setting a p.b. in the latter), Lucy Croft took the hammer and discus titles while Chelsea Jarvis won the long jump after taking Linda Hannaby's 1984 championship best performance in the 800m with 2.20.2. Thanks for keeping the record with Sutton Chelsea.
There were individual victories for Tricia Spark (shot), Liane Bibby (javelin), Steve Clague (400m Hurdles), Jamie White (1500), Michael Causer (shot), Phil Robinson (shot) and Thaddeus Anim-Somuah (100).
There might have been more but Dave Forrester pulled out of the 1500 with a leg strain while Tom Green appears to have damaged an adductor muscle. Dave competes at the Loughborough International next weekend, while Tom will miss the Young Athletes League match to make sure he is right for the Northern the following week.
Full details of all the above performances and the twenty odd other finalists and competitors will be written up shortly. Pics
Cheshire Championships - 10/11 May: Ellesmere Port
Three athletes contested the Cheshire championships at Ellesmere Port on 10 May and came away with four medals. Samantha Fraser took silver in the long jump (4.91) and hurdles (12.5), Ian Costello collected silver in the 1500 (4.25.5) while Shelby Jack marked her county debut with a bronze in the 80 (11.2). Shelby also competed in the long jump (3.28). On day two Samantha won the high jump (1.60) and the shot putt (9.84). Ian finished second in the 800m in 2.06.4 while Craig Knight put his recent injury behind him with 11.3 to grab fourth spot.
International Track Vest:
David Forrester has been chosen to represent Great Britain in the Junior International held at Loughborough on Sunday 18 May. The fixture will form a key part of Dave's preparations culminating with the World Junior Championships in Bydgoszcz, Poland, on 8-13 July which is Dave's main aim for the track season..
May Day Running
Julia Eccleston recorded 20.44 to finish third lady over 45 while Cecilia Schroeder showed great staying power to complete the Waterloo 15k multi terrain event at Crsoby.
Trafford Open Meeting: 5 May
Five athletes took part in Bank Holiday Meeting at Trafford. Liane Bibby broke her own U15 Javelin record by 20 cm throwing 27.77m (1st) threw the Discus 18.98m (2nd) and ran 100m in 13.9

Shelby Jack competed in the U13 Girls age group with solid erformances in all three of her events 75m 10.9, 150m 22.7 and long jump 3.34

In the U11 age group Jamie Dinnarr won two golds and a silver: Shot 5.18 (2nd) Discus 12.66 (1st) and Javelin 16.53 (1st) all of which were pb's, as were Daniel Elston's 150m 23.4, 600m 1:53.8 and long jump 3.66.

Rosie Johnson completed the line up for the U11's recording a personal best time of 1:55.6 (2nd) for her 600m running 150m in 23.6 and long jumping 2.84. Report from Carl Bibby Results
Connahs Quay: Deeside 4 May Young Athletes League NW1
The youngsters showed that they too could match the seniors for club spirit when they contested the opening Young Athletes League match at Connahs Quay. Although there was some initial confusion it appears that the club was second ahead of Trafford and Deeside.. Although we beat Deeside (on a wet day at Warrington) last season we have never beaten Trafford before so it was an excellent result by a depleted squad. In fact, given the extensive road works taking place at the end of the M53 and the diversions which appeared to confuse those who were relying on Sat Nav we did remarkably well to get anyone there in the first place.
The U17 girls team consisted of Lauren Bradshaw, Samantha Fraser and Elizabeth Mousdale, the latter having to go home after hurting her hip following completion of her 800m. Lauren was second in the 1500, Samantha the javelin. As there is no clash with the Northern League next time we should have a much stronger team contesting the second match at Halifax.
The U15 Girls were hampered when Joanna Bebbington finished the 800m limping and had to pull out of the hurdles but Sophie Rigby achieved personal bests in the long jump (4.67) and high jump (1.51). There were wins for Natalie Bannister (hurdles), Patricia Spark (Shot), Liane Bibby (discus and javelin), while Rachel Wilcock added the shot putt to her repertoire after contesting the 800. Louise Hayes made her debut as a javelin thrower. No praise is too high for their individual and collective efforts.
In the U13's Chelsea Jarvis set a League record 2.19.9 (800) and won the long jump with a pb 4.62. Elisha Kane made an impressive, if sudden, debut as a hurdler, joining Chelsea Jukes for two seconds in the shot putt. Rachel Woosey and Sally Ashton contested the 1200m. Bethany Baxter was second in the B 800, Chloe Rigby won the 75. In addition, Chloe won the B string long jump with 4.15 but was missed off the results. When added this took us past Trafford. This was a splendid effort by all concerned and the club's first ever league record, removing Jenny Meadows' name from the 800m record book..
Ryan Fahey pulled off a superb double in the sprints, John Ashcroft and Danny Hughes scored maximum points in the 800m, Adam Fackey contested the javelin (before injury) and all four combined for a 4x400m at the end. Josh Costello marked his debut with two B string victories. The quality from everyone involved was outstanding.
For the U15's Jamie White reduced his pb in the 1500m, winning the 200m beforehand, Jamie Webb set a pb in the 800m while Kieran Fahey was excellent in the sprints and long jump. The improvement in times across the board was remarkable on a day with far from favourable conditions for record breaking.
The U13's trio of T T Caton-Hand, Matthew Atherton and Michael Griffiths collected bonus points in the sprints and shot putt (having learned the latter just before the event thanks to Colin Sparks). That all lads were making their debuts in League competition underlines just how good their performances were.
East Cheshire (who covered virtually every event) were easy winners but Trafford 239, St Helens-Sutton 235 and Deeside 233, meant we had our second straight win over Deeside in two seasons. We were boosted by scoring the maximum officials' points thanks to John Irwin, Sue Clague, Julia Hayes, Kay Wilcock, Billy Mousdale, Colin Sparks, George Mullineux, Michael Hughes, Mr Fahey, Mr Rigby, Susan Clague and Adrian Webb all of whom acted as officials to earn the club an additional 25 points in support of the athletes.
Thanks, too, to Adrian Webb, Lyn Webb and Dave Morley who turned up to watch athletes they train compete and to the many parents (including Mrs Fackey who was cold but supportive), including those who attended for the first time. Their presence was appreciated. We hope you can all get to the next match.
Carl Bibby, in his first year as team manager, did a splendid job, finding out first hand why the previous team manager, Phil Thomas, has no hair. Results:
Robin Park: Wigan 3 May - Northern League 2WC
A brilliant team performance saw the club finish fourth, missing third by half a point and second by six points. Although it was disappointing not to grab second or third this was outweighed by the contributions made by everyone who took part so that the team, though weakened by absences, was competitive throughout.
Sue Clague learned how to putt the shot, throw the hammer and discus and compete within the space of an hour and finished it off by running the last leg of the 4x400m. Track captain Sue Lowrie who hasn't trained for 18 months (being a mother with young children keeps you fit) contested the 100, 200, triple jump, long jump, 4x100m relay and won the B string high jump! Ian Costello, who has a club orientated philosophy of "I'll run anything" stepped in for the injured Craig Knight in 4x100 in which the team was third.
Dave Forrester, who had already won the 800 and 1500, was willing to contest the 4x100 had Ian not been available then ran a superb 4x400 in which the team was third. Ray Vose had a go at the pole vault while Steve Clague and Ryan Fahey, are going to have a go learning the event. Endurance captain Julia Eccleston contested the 200m immediately after finishing fourth in the 3000m.
The youngsters were impressive. Samantha Fraser set new records, soaring over 1.65 in the high jump, 5.08 in the long jump for an under 17 record and won the shot putt for a senior record. Heather Drillingcourt was second in the B 100 and offered to run the 4x400 to the relief of Sue Lowrie who was close to needing an oxygen tent after her sixth event. Jemma Shaw's senior debut was a momentous success winning the B 800, Josie Barrow set a new u17 record in the pole vault, clearing 2.20 while Amy Pilkington's step up to the 400m augers well for the future. Ryan Fahey almost reached ten metres in the triple jump and ran a superb first leg in the 4x100m..
Although still young our experienced runners, Thaddeus Anim-Somuah, Dave Forrester, Danny Griffiths, Craig Knight, who injured himself and Steve Clague showed a level of commitment required if the club is to achieve its long term objectives of British League competition. Jake Healy was second in the 1500m then ran a cracking 4x 400m relay leg to bring the club home third.
Phil Robinson was, well, Phil Robinson, producing discus and javelin throws over thirty metres, clearing over three metres in the pole vault and contesting another three events. Ray Vose was magnificent contesting both hurdles (the high hurdles solo after Ian Hayburn fell over in practice - that's what happens when you've just done the steeplechase at Ian's age) and the steeplechase before taking second place in the B javelin. Last year's Athlete of the Year, Michael Hughes, was active in hammer, discus and shot and should be one of those to benefit from the club's purchase of video cameras for the technical events.
Gemma Connolly contested all three middle distance races, taking on the mantle of senior competitor with the improved confidence that has arisen from a superb cross country season.
Julia Hayes competed and officiated. John Irwin officiated (he declined the request to pole vault), our timekeepers were Pam Appleton and Janet Holmes (who would have thrown the hammer had not the event been delayed by an injury to one of the male competitors). Dave Morley was on the judges' stand. Phil Thomas was team manager, spending much of his time trying to recruit people, including total strangers, to cover events.
The team scores were 1) Blackpool,Wyre and Fylde 384; 2) East Cheshire Harriers 342; 3) Holmfirth 336.5; 4) St Helens-Sutton 336; 5) Spenborough & District 308.5; 6) Wigan & District 233.
There was plenty of support in the stands and a wonderful team spirit throughout. If it spreads around the rest of the club we could earn enough points next time out to challenge for a win.