St Helens Sutton Athletic Club
February 2008
Great North West Half Marathon - Blackpool. 24 February
Martin Howard (1.30.59), Sue O'Hanlon (1.48.07) and Rob Stiffin (1.55.32) completed this course which was held over three laps instead of the originally planned two, although the distance was still the same.
North West Inter-Counties Sports Hall Final. Sunday 24 February. Wigan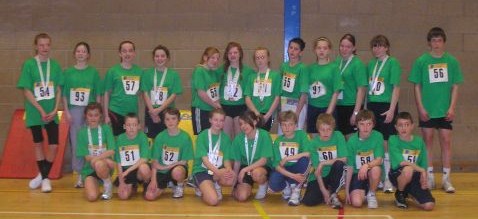 Sixteen club athletes represented Merseyside in the North West County Sports Hall final at Robin Park, Wigan, coming away with ten individual and two team medals. The U13 Girls' team struck gold in the Obstacle Relay thanks to Sophie Cummins, Louise Hayes, Amanda Paton and Lucy Renshall. There were individual gold medals for Tricia Spark (shot) - in which Liane Bibby gained bronze - and a gold for Louise Hayes in the Speed Bounce, a feat also achieved by Heather Drillingcourt in the U15 contest. Heather claimed silver in the vertical jump and earned bronze in the All Rounder competition. Sophie Rigby claimed a speed bounce silver and a two lap bronze. Danielle McGifford took silver in the standing triple jump while collectively the girls team, which also included Sally Shacklady, earned team bronze. Joanna Bebbington didn't win a medal but proved her value as an All Rounder in her own right and remains an invaluable club member.
The U13 Boys' team, which included Matthew Atherton, Chris Garritty, Andy Harvey and Kieran Leyland finished fifth overall, Michael winning gold in the shot putt and Matthew bravely finishing the relay even though he injured himself during the course of the event. Congratulations to all the athletes who made the county team.
National Cross Country - Alton Towers - Saturday 23 February

Dave Forrester collected a bronze medal in the Junior Men's Race as the first world championship qualified junior to finish behind Lee Carey and Alistair Brownlee. Dave's was the only Merseyside medal of the day - achieved in 28.06 - while John Appleton, despite not having run for three weeks, managed to record 35.19 in 175th position. Danny Griffiths was well up early on but was unable to sustain the pace and did not finish on this occasion although he and Dave both have another year in this age group and will have the support of Steve Clague in 2009.
Natalie Garrity also failed to finish - actually she failed to start - after the family car broke down and the hired taxi arrived just in time for Natalie to hear the gun and watch everyone disappear into the distance, including Jemma Shaw (109), Heather Drillingcourt (232) and Lauren Bradshaw (234). As the National is in the South next year we'll probably be staying overnight so Natalie will get her chance to debut in the 2009 event.
The under 15 Boys' quintet, were separated by a mere 52 seconds but such is the intensity of the competition that this represented 115 places. John Ashcroft (87), David T Griffiths (119), Jamie White (140), Danny Hughes (144) and Jamie Webb (202) earned the club sixteenth place, six places better than last year in a tougher field.
The senior ladies not only managed to navigate their way to Alton Towers, they finished 35th, one place ahead of Liverpool Harriers. Gemma Connolly (136), Julia Eccleston (247), Louise Hogg (256) and Karen Jarvis (264) made the count with excellent support from Eleanor Reynolds (331) and Chris Dickinson (371). The potential for improvement is obvious.
Greg Williams underpinned his desire to shoulder more responsibility (there's subtle references in there Greg) by finishing 376th, Ian Costello (414) Chewy Wahid (418), Barry Graney (431), Ian Hayburn (647) and Ian Pass (742) making the counting six for 3028 points and 53rd place. Peter Johnson (754) and Ray "I didn't enjoy the hills" Vose (801) also completed the course. Ian anchored the team home at Birmingham three years ago but it was Chewy's first National and a splen did run.
The under 13 girls' trio of Chelsea Jarvis (67), Rachel Wilcock (221) and Louise Hayes (308) enjoyed themselves getting a taste of the big race atmosphere. Jake Healy (157) led the under 17 event trio including Steve Clague (243) and Adam Fackey (269).
We're hoping someone took pictures for posting on the website. Congratulations to everyone who took part or wanted to take part. It was an excellent day overall and something we can build on.
Advance Notice - Northern Road Relays - Catterick Camp - Sunday 6 April
Steve Tate has obtained a minivan (seats 17) to travel to Catterick. All that is required is to cover the petrol. If we have one car travelling we can taking a men's and women's team plus officials. Names and fees (first come, first served) as soon as possible please and, in any event, before the end of February to Ian Hayburn or Julia Eccleston.
Parbold Hill Race 16 February
Seven club athletes enjoyed the bright weather to compete in the Parbold Hill race. Matt Cullen (7: 41.40), Tony Smith (15: 43.04), Ian Roberts (26: 45.52), Robbie Marsh (53: 48.21) and Martin Howard (144 - 54.04) - Ian and Robbie making welcome returns to competition after enforced absences. For the ladies Karen Jarvis was the first 045 to finish (56.30) and Chris Dickinson was fifth in the same category in 63.27. Results
Liverpool & District Championships - Croxteth Park 10 February
David Forrester became the first St Helens-Sutton A C runner to win the individual championship at the Liverpool & District Championships with a comfortable victory at Croxteth Park in 28.41 while the club collected the silver medals in the team race for the second successive season, despite the absence of three members of last year's team..
David was followed home by Tony Smith (17), Greg Williams (19), Barry Graney (23) , Ian Costello (33) and Steve Tate (35), the last two involved in a titanic battle with each other and Matt Shillabeer (38), who battled through the fog to get to the venue. Ian Hayburn (52), Dennis Wharton (despite falling at the canal turn) (58), Ray Vose (61), Tony Raffle(102) and Christine Dickinson (109) also made it round but Peter Johnson pulled out with a calf injury. Ian White, who was injured still turned up to provide the support as the club demonstrated what it can do with athletes committed to racing, all of which augers well for the Northern Senior Road Relays in April. Full results when available.
The George Grant Trophy, which Dave received, was instituted in 1974 although the Liverpool & District Championship stretched back to the start of the 20th century. Peter Roberts was the last Sutton athlete to win the individual title, beating clubmate Ron Barlow by one second in 1968 with Leo Carroll (Wirral) third. Ron had previously won it while with Wallasey in 1965 and Peter took the title a second time in 1971 when he finished ahead of Wirral's Tim Overington and Johnny Balmer from Liverpool Pembroke. Steve Anders, representing St Helens A C, won it in 1989, the year David was born!!!
Nick Beer 10k Llandudno 10 February
Dorothy Fairhurst won the O65 award recording 58.04 in this event run around the Great Orme. Pam Appleton (50.22) was the third 050 to finish while Jackie Turner (55.07), Pauline Picton (60.59) and Janet Holmes (65.07) were seventh, tenth and eleventh in the same category. The ladies finished fifth team, Jean Dearing recording 61.21 (15th 045). The senior men's trio of John Appleton (78), Chris Reid (81) and John Irwin (149) were fifteenth in the team race.
Blackburn Winter Warmer: 10 February
Jill Colbert was 16th lady in this event, fifth over 35 in 49.21.
Manchester Area League - Wythenshawe 9 February
The U15 Boys' team completed their League season undefeated, John Ashcroft (4), David Griffiths (5), Jamie White (8) and Danny Hughes (10) all finishing within a minute of each other for John to finish second on aggregate and the team to win the League.
The U13 Girls also collected individual and team awards, Chelsea Jarvis finishing second team while Rachel Wilcock (16), Vicky Lamb (23) and Louise Hayes(24) ensured third place was earned on the day for the aggregate bronze. The sole U13 Boy was Chris Garrity who finished a creditable 22nd.
The senior ladies just managed to hang on to third place overall, finishing seventh on the day, but taking third on the aggregate thanks to Gemma Connolly, Julia Eccleston, Louise Hogg and Chris Dickinson. Gemma also earned fourth individual prize. Sue Clague made a brave attempt to get round the course but was too unwell to finish.
The U15 Girls missed out on medals although Jemma Shaw (4), Natalie Garrity (10), Heather Drillingcourt (11), Jenny Lamb and Joanna Bebbington (24) all ran well on the day, Jemma missing out on third place by a whisker.
Jake Healy (8) and Steve Clague (17) finished the U17 Boys' race and, because of the Liverpool & District Championships tomorrow the senior men gave this event a miss.
Karen Jarvis made it a double by finishing second in the O45 category
In accordance with club practice everyone who has represented the club during the season in age groups where team medals were earned (U13 Girls, U15 Boys and Senior Ladies) will receive a team medal. Additional medals have already been purchased for the following U11's: Lucy Griffiths, Elisha Cain, Bethany Baxter, Rosie Johnson, Amy Saunders, Jonatahan Causer. Scott Hougton, Ryan Houghton, Keiron Garrity and Paul Tait.
New Equipment:
The club has recently taken delivery of scissor hurdles and also has on order additional chain hammers, throw balls and a new pole for the pole vault as investments in our provision of all round and specific training requirements. Additional training aids will also be with us before the end of February together with an exciting new development - details of which will be announced soon.
News From Afar
Sprinter Matthew Stone (200/400), representing Leeds Met and building up his endurance for the summer, finished 206th in the Men's B race at the BUSA Cross Country Championships in 35.12. Steve Moran took in the Mumbai 6k for his winter race but his time is at this point unknown, although he has arrived back in Leeds.
Representative Honours
Jemma Shaw, John Ashcroft, Chelsea Jarvis, Julia Eccleston, David Forrester, Danny Griffiths and Jamie White have, so we understand, been invited to represent Merseyside in the Inter-Counties Cross Country Championships at Nottingham in March. Jemma and Jamie have earned places in the Merseyside Schools' team to run in the ESAA Championships at Sefton Park the previous week while Jamie Webb, John Ashcroft and Jake Healy have been invited to take part in a midweek match in Liverpool three days before the National Cross Country Championships to see if they can fill one of the remaining places - no further comment needed.
Watford Half Marathon and Alsager 5 miles 3 February
Rob Stiffin
continued his new method of making sure he's the first club
runner home in races by competing at least 150 miles from St Helens. He latest effort was
1.48.26
in the
Watford Half Marathon (1.48.07
on the chip
),
although he didn't make clear if the latter was the timing or the shop!!
Meanwhile, Dennis Wharton ran superbly well (so he tells me) in the Alsager 5 miles (a top quality race at this time of year) with a time of 32.47 to finish ninth over 50 and one place ahead of a double Nelson in the open contest..
Coaching Courses:
The club can fund some coaching courses for new Level one coaching and anyone interested should contact Phil Thomas as soon as possible. In the first week four people have expressed an interest in coaching. It should be noted that in exchange for coaching funding the club expects all new coaches to contribute to the club's coaching requirements on a regular basis.
Merseyside Schools' Cross Country Championships - Arrowe Park - Birkenhead 2 February
On a bright and brisk day club athletes had an excellent day at the Merseyside Championships. Chelsea Jarvis won the Yr 7 event in which Vicky Lamb was twelfth but, unlike the days when Lyn Vose (Webb) and Sue Woods (Clague) were running, Yr 7's are not allowed to compete at the ESAA as Yr 7's against Yrs 8 and 9.
In the Yr 10/11 Boys Jake Healy and John Ashcroft were seventh and eighth, David T Griffiths (17) almost missed the race and did miss the team presentation for third place with Danny Hughes (21) making the count and John Ashcroft collecting David's medal. Adam Fackey completed the course in 29th position, wearing Steve Clague's vest, Steve having finished eleventh in the senior boys' contest..
In the Yr 10/11 Girls contest St Helens were also in the medals with Jemma Shaw (3), Heather Drillingcourt (16) and Natalie Garrity (17) all making the count. Lauren Bradshaw pulled out with a touch of bronchitis while sprinter Janny Hamon showed plenty of stamina to finish in 25th position.
The Yr 8/9 Girls did not have a team, Rachel Wilcock (21), Jenny Lamb (27) and Louise Hayes (29) were the first three home with Nicola Hamon finishing 42nd.
Jamie White was third and Jamie Webb fifth in the Yr 8/9 Boys' race while Chris Garrity had a good run to take 17th place in the Yr 7 Boys' contest. Full results when available
Life Membership
John Irwin has been awarded Life Membership of the club in respect of his sustained - and continuing - service to the club, coaching, organisation and many other things too numerous to mention which he does because of his love of the sport.
World Cross Country Championships in Edinburgh 30 March
In response to requests from many members Sue Clague is currently organising a coach to travel to the World Cross Country Championships in Edinburgh on 30 March in support of Dave Forrester who we hope will lead England's Juniors against the rest of the world's top runners. Dave and his parents are deeply moved by this expression of support for his efforts at international level and we hope we can get as many people as possible to fill a coach. Please contact Julia Hayes (01744 608504) as soon as possible if you want to go.
Photographs:
The club is hoping to include more photographs on the website. Therefore, the Committee has determined that its policy will be to publish all photographs taken by the club's accredited photographers. Any athlete and/or parent who does not wish to have their/or their child's photograph appear on the website should contact Julia Hayes (01744 608504) to ensure their exemption is recorded. A list of persons accredited will appear as soon as possible. The list includes Phil Thomas although it is uncertain whether Phil's pictures actually include athletes - especially when they're running!!!!!!!!!
Subscriptions 2008
Subscriptions for 2008 are now due and must be paid before 1st April in order to take advantage of the existing rate of £5 for U11's. £8 for junior athletes and students and £13 for seniors. After April 1st fees will rise to take account of UKA's increased registration fee of £5 per athlete which will mean an annual subscription of £10 for juniors and students and £15 for seniors. Please note: Ensure you receive a receipt when paying your subscription.
We understand individual registration cards will be issued by UKA in the near future (they have been promising since September!!). It should also be noted that since April 2007 the club have been registered for Fell running which means that club athletes competing on the Fells can do so as St Helens-Sutton A C. Doing so also means we can establish a long term presence on the fells as a club which also includes and encourages fell running as well as being the Merseyside Fell Running Team Champions.
In addition, it should be noted that the trial for this year's Merseyside Fell Running Championships will take place on Easter Saturday at Rivington Pike. Athletes must enter the Pike race itself separately (details on the club noticeboard £5 in advance - don't leave it until the day) and the Merseyside Championship. £2 for the latter to Phil Thomas as soon as possible please. Let's make it three wins in a row.
Starters:
The sport is short of starters. Therefore, the North West Council has offered to train officials interested in becoming starters at the club on a Level 2 starters' course. As part of the package the new starters would be loaned guns purchased by the Council. The gun would be returned to the Council if the person(s) ceased to act as a starter. There would be no cost to the individual. In addition, training does not imply that the person concerned would find themselves starting in anything other than an emergency at a club meeting. Anyone interested should contact Phil Thomas as soon as possible.
Club Vests & Unattached Levies
The club's attention was recently drawn to an athlete competing without wearing the club's vest. Please make sure you wear your club vest on all occasions as race organisers are within their rights to disqualify athletes who do not. In addition, please note, that members whose subscriptions are in arrears must enter races as unattached (and pay the unattached levy) until those arrears are cleared. England Athletics is making a concerted effort to stop people sponging off club athletes by ensuring the rules are followed. In one recent case an unattached athlete kept entering races as if he was a member of different clubs. He was identified and was obliged to pay £42 in unattached levies to the County Association concerned to avoid being barred from taking part in future events. Our subs offer remarkable value for money, don't let others abuse the privileges we offer.