Manchester University Cross Country Relays - Wythenshawe, Manchester 9 October.
Two senior teams competed in the Manchester Cross Country Relays at Wythenshawe Park, University playing fields, Manchester, on Saturday 9th October on a fast, firm sunny course. With a dozen senior athletes racing, this was a superb turnout considering injury & illness amongst the senior members. Due to injury Ian White unable to compete acted as Team Manager for the day, ensuring competing club athletes were at the right place at the right time! Contesting in the A men's team the 1st out was Rob Marsh, 2nd leg Ian Costello, 3rd leg Mark Davies, 4th leg Dennis Wharton, 5th leg Dave Hampson & 6th leg Mark Liptrot.

The B mixed male & female team comprised of 1st leg leading by example Cross Country Captain Steve Tate, 2nd leg Alan McNally, 3rd leg Cherryl Orrick, 4th leg Sharon Nunn, 5th leg Joe Keogh & 6th leg Phil Robinson.

There was excellent team spirit at this Cross Country 'warm up event', ready for the start of the Country season. Well done to all those that competed and spectated.

Provisional results online, however not yet ratified. Results

Northern Athletics Cross Country Relays - Graves Park, Sheffield 9 October.
On Saturday 10 young runners travelled to Sheffield for the first Northern cross country relays. The course was short and fast but a true cross country .The under 13 girls 1.8K Rosie, Lucy and Danielle set the ball rolling by just missing bronze medal coming home 4th. They put the club up with the cream of the north - well done girls .Next off was the under 15 boys 2K Matty showed a clean pair of heels and ran away from this field (not out of breath not like the rest of the field). Then came the under 15 girls 2k Rachel, Vickie and Maria ran steadily through the field and finished 21st team a good solid team .Last off were the under 17 men 2.3k Jamie White, Nathan Brown and Jamie Webb .All three ran well over the very short course coming home in 6th place (Nathan was happy beating a local rival from Warrington, this made his day). Well done to all it was a good day out, looking forward to the cross country season if this was the start of it we will get some good results - well done once again
Liverpool 10k 3 October
Denis Wharton, Steve Hampson and Helena McGoldrick all contested this event, Helena finishing third in her age group and Denis fourth in his class. Results:
Sportshall League - Kingsway Widnes - 2 October
As is often the case, the first Sports Hall meeting was sparsely attended with single competitors in three age groups. Daniel Elston scored 33pts in the U13, bringing the club home third, while Taylor Caton-Hand's 31 pts did the same for the U15 Boys. Bethany Baxter earned 28.5 pts so the U15 girls claimed fifth spot. Numbers were up in the U11 categories. Caitlin Young, Alex Bottomly, Isabella Halsall and Eleanor Mawdsley scored 93 points as the U11 girls took third spot while Callum Wilson, Joe Ford, Aaron Price, David Barrow and Elliott Davies earned 98pts to finish third in the U11 Boys. Team Manager on this occasion was Colin Spark. Athletes wishing to compete in the next match at the same venue on 24 October please contact Steve Cooper or Colin Spark as soon as possible. Results:
Northern Athletics Road Relay Championships, Wythenshawe - 2nd October
The U13 girls started the day running 2.8k trail course and finishing a creditable 7th overall out of 33 teams .Well done to Danielle, Lucy and Rosie .Rosie was 9th fastest overall . Next to run the same course was the U15 girls who came home in 33rd place, Rachel, Vicky and Maria all ran very well in a class field.
The U15 Boys started ten minutes after the girls. Matt Shirling was the club's only competitor. He kept up his winning run by recording the fastest leg of the day, well done. Next came the U17 men running 3.6k they came home 14th. Well done to Jamie Webb , Nathan Brown and Jamie White. All the youngest did the club proud not just running they were there to support each other even the seniors .It was a good day out for us well done.
Two Senior Men's teams competed in the Northern Athletics Road Relays at Wythenshawe Park, Manchester on Saturday 2nd October on a fast greasy mix of Track, Trail & Road on an overcast 5.6km course. With a dozen Senior athletes racing contesting in the A team the 1st out was the reliable John Ashcroft (18:02), 2nd leg Matt Crehan (18:18) breezed in from Leeds University Fresher's Week, 3rd leg struggling with form Jake Healy (22.25), 4th leg a steady Mark Davies (20:35), 5th leg Adrian Webb (22:35) stepping in at the last minute to complete the team with a swollen ankle and on the final leg an unfailing Ian Costello (20.00) finishing in a combined time (2:01:55), 68th place amongst the 110 Teams.
The B team comprised of 1st leg returning to form Ian Hayburn (21:55), 2nd leg Mark Liptrot racing in the club vest for the first time (21:44), 3rd leg Team Captain Steve Tate (21:58), 4th leg Mark Burrows (22:11), in his inaugural race in club colours, 5th leg Phil Robinson (26:02) improving from injury & 6th leg 'Burger Boy' Pete Johnson (22.07), finishing in a combined time (2:15:57), 87th place.
Well done to all those athletes that took part in the well supported event. Results: Men Women YoungAthletes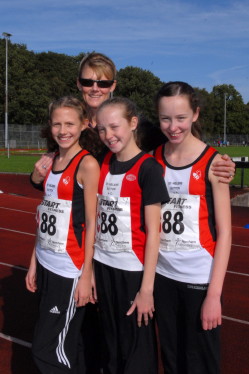 U13 girls team: Overall time: 34:45 U15 girls team: Overall time: 36:58
1.Danielle Webb (13) 11:37 1.Rachel McGoldrick (34) 11:52
2.Lucy Griffiths (11) 12:05 2.Vicky Lamb (31) 12:08 3.Rosie Johnson (7) 11:03 3.Maria McGoldrick (33) 12:58
OVERALL TEAM POSITION: 7th OVERALL TEAM POSITION: 33rd


U15 boy: U17 boys team: Overall time: 37:44
1.Matty Shirling (1) 8:47 1.Jamie White (12) 12:03
2.Nathan Brown (16)12.40
3.Jamie Webb (14) 13:01
OVERALL TEAM POSITION: 14th



Senior women team: Senior men 'A' team:
1.Cherryl Orrick (57) 24:28 1.John Ashcroft (27) 18:02
2.Helena McGoldrick (54) 23:33 2.Matthew Crehan (27) 18:18
3.Chris Dempsey (53) 25:35 3.Jake Healy (55) 22:25
4.Julia Eccleston (48) 22:50 4.Mark Davies (58) 20:35
OVERALL TEAM POSITION: 48th 5.Adrian Webb (71) 22:35
6.Ian Costello (68) 20:00
OVERALL TEAM POSITION: 68th
Senior men 'B' team:
1.Ian Hayburn (103) 21:55
2.Mark Liptrot (101) 21:44
3.Steve Tate (93) 21:58
4.Alan McNally (88) 21:11
5.Phil Robinson (94) 26:02
6.Peter Johnson (88) 22:07
OVERALL TEAM POSITION: 88th
Notre Dame Invitational. Indiana. 1 October
David Forrester finished sixteenth over 8km in a time of 24.15, twelve seconds behind Manxman Keith Gerrard, who was sixth. Results
London Marathon Places
Those members who entered the London Marathon will hopefully be receiving their acceptance magazines shortly. If you are unlucky enough to receive a rejection, you can apply to enter the ballot for one of the club places. For the first call, as well as having a rejection from the ballot, applicants must currently be members of the club and have been so for one year. Please let your captain or the secretary know as soon as possible (with proof of rejection) if you want to apply. As usual if there are any places not filled from this first call a further ballot of members wishing to be considered will be held, again let the secretary/captains know if you wish to be considered in any second ballot. In order to maximise training time the entries to the ballots will close at the end of this month.
Presentation & Social Evening
The club's annual presentation evening has been postponed, it clashes with a few events - it will be re-arranged next year.