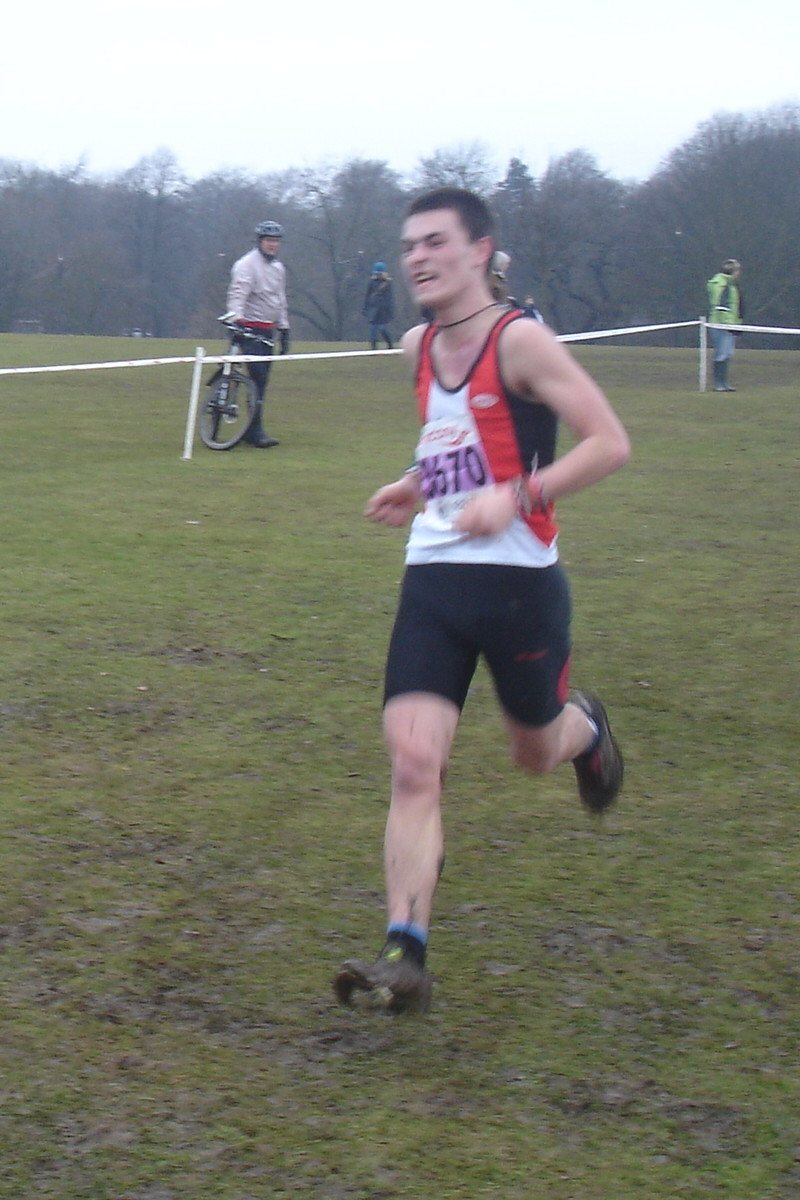 Inter-Counties Team.
The following have been selected for the Inter-Counties Cross Country Championships at Birmingham next month. Rachel Woosey, Rosie Johnson, Danielle Webb and Chelsea Jarvis. John Ashcroft, Matt Shirling, Jamie White and Jake Healy have also been selected with Natalie Garrity and Steve Clague reserves. and there may be additional names following the National Cross Country Championships at Leeds. News will be published when known. We also understand that Gemma Connolly earned automatic selection following her fourth place at the Cheshire Championships.
Lostock 6 - 27 February
John Appleton (83: 40.47) and John Skinley (153: 44.49) contested the above race.
National Independant Schools Cross Country : 26th Feb Princethorpe College, Rugby.
Jamie and Danielle Webb attended the National Independant Schools Cross Country at Princethorpe College Rugby.
Danielle in the year 7 and 8 age group won by approx 20 meters in what was an exciting race.
Jamie finished an excellent 4th in what is only his 2nd race of the winter season. Well done to both.
Atlantic Coast Conference Championships Blacksburg Virginia. 25/26 February
David Forrester, representing Florida State University, set a new club best of 4.07.77 to qualify for the final of the one mile. In the final itself he finished in seventh place in 4.12.52. Florida State won the overall men's championship defeating North Carolina by three and a half points..
Open Meeting - Sport City - 21 February
The first club record of the year fell when Thaddeus Anim Somuah equalled Craig Knight's indoor 60m mark of 7.28, then reduced it by one hundredth of a second to 7.27. Michael Causer produced a leap of 5.39 in the U17 long jump while Heather Drillingcourt was impressive with a mark of 4.69.
Officials Course - 21 February
Colin Spark successfully completed a starters course today and will be officiating at meetings during the summer to complete his grading requirements. Anyone who has passed their coaching courses are reminded that they need to complete a CRB before they can be awarded their coaches' licence. Emma Roberts completed her L1 coaching course, has been CRB checked and should receive her licence soon.
Cheshire Cross Country Championships - Rosheath College - Nantwich 13 February
The postponed championships took place at a dry and almost completely flat course. In the Senior Women's event Gemma Connolly clinched her place in the Cheshire Inter-Counties team, improving on last year's position with a fantastic 4th place (30:06), even though the lack of hills didn't suit her.
In the
Senior Men's
race
Ian Costello
finished
41st (42:41)
and
Mark Davies
was having a great run until an injury forced him to ease down on the last lap, but still finishing
63rd (45:44)
The
under 13 girls'
championship saw
Rachel
McGoldrick
take
fourteenth place (13.06)
and
Maria McGoldrick
finished
seventeenth (13.33) Results
.
Parbold Hill Race : 13 February
Rob Marsh finished thirty-second recording 49.19.
Central Lancashire Half Marathon - Catforth near Preston, 7 February
Dave Hampson was fifty-ninth in a time of 1.34.22
Alexandra Park 5k Manchester 7 February
Julia Eccleston was forty-seventh overall in a time of 22.54
Presentation Evening, Rainhill Club and Sports Lounge : Friday 5th March
Tickets for Presentation Evening are now available from the clubhouse, priced at £4.
In addition to the popular disco, awards are presented for last Winter and Summer season for both Juniors and Seniors.

The evening is an important social event in the club's calendar, please make every effort to attend. We are looking for pictures, old and new, to show as a slideshow on the night. If you have any photos please put them on CD or mail them to us as soon as possible.

Google Map
Buy your tickets now, tell your friends & family and come along for a great night.

Alsager 5: 7 February
Dennis Wharton swapped country for road, preferring a run out at the popular Alsager 5 miler. He finished in the quick time of 31mins 37secs, 161st and 9th v50.
Liverpool and District Championship- Clarke Gardens Liverpool , 7 February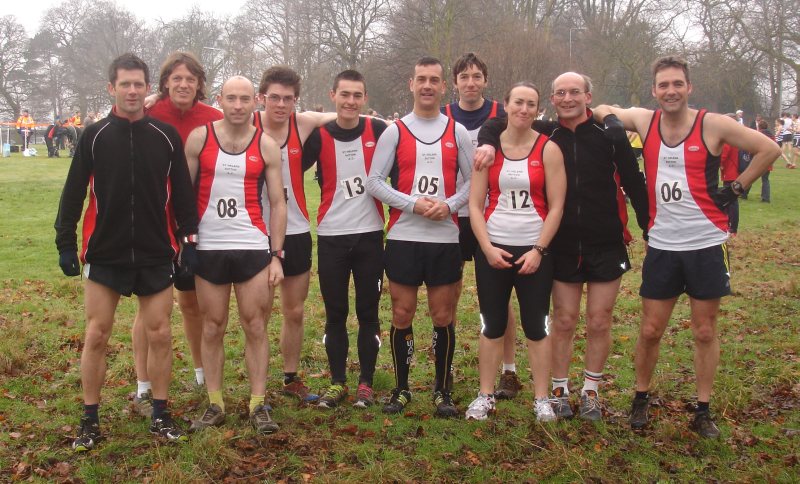 Matt Crehan was game for back to back races and led the squad home with an excellent run, finishing in 5th position (34:06). Good supporting runs from Barry Graney (39, 38:37) finishing just in front of Maurice Collins, then Rob Marsh (47, 38:51) and Ian Costello (49, 39:08) finishing quickly up the final hill. Ian White (68, 40:58) marked another successful step on his comeback from injury, followed by Peter Johnson (84, 42:42) completing the counting six. Ray Vose (93, 43:34) another returning from injury had a steady run. A good run from Lousie Hogg (134, 49:55), despite listening to poor advice about footwear! The final man home from Sutton was Tony Raffle (142, 58:14) as Steve Clague had to stop after picking up an ankle injury. Great to see a good turn out for this long standing fixture.
Greater Manchester Schools - Leigh, 6 February
Matt Crehan clinched a place at the English Schools' by finishing second in the Greater Manchester Schools Championships Senior Boys' Championships held at Leigh Sports Village.
Merseyside Schools - Arrowe Park, 6 February
The Club had 16 athletes competing for St Helens Schools at the Merseyside Cross County Champs on Saturday. 
Some outstanding results achieved,  including wins for John Ashcroft, Chelsea Jarvis and Matty Shirling.

The Yr 7 girls had 4 competing, Rosie Johnson a very close 2nd, Danielle Webb 5th, Lucy Griffiths 9th and Lauren Wilcock 25th
Junior girls were Chelsea Jarvis 1st, Rachel Woosey 5th, Rachel McGoldrick 14th, Vicky Lamb 17th and Maria McGoldrick 22nd

We had two runners in the senior boys (10/11) with Jamie White 3rd and Jamie (first race of the season) Webb 5th.

The Junior boys saw another win with Matty Shirling running with confidence and Chris Garrity coming in 42nd

Intermediate girls had Rachel Wilcock finishing first St Helens counter with a very good 18th. 
We also had two runners in the senior boys (12/13),  John Ashcroft making it look easy in first and Jake Healey coming in 12th.

Well done to all who turned up, we saw some great individual performances and now need work on increasing numbers.

We all look forward to our next race, being the Nationals in Leeds on the 27th February. Results
...