Welcome to St Helens Sutton Athletic Club
January Results 2006
Sports Hall League 29 January : Widnes
The under 11 girls and the under 15 boys each qualified for the regional final at Wigan in March. There were thirteen girls who took part with wins for Louise Hayes, Danielle McGifford, Amanda Payton, Tricia Spark, Gabrielle Large and Rose Hindley. Lucy Renshall, Liane Bibby and Tara Herbert also scored some of the 116.5 points for the club which defeated Sale and Stockport. There was splendid support work from Alice Pike, Alisha Cain, Molly Ramsey and Olivia McMurray. The under 15 Boys consisted of Mike Ehlen and Anthony Marsh each of whom scored maximum points in three of their four chosen events to take second place behind Stockport. Daniel Hughes was the under 13 Boys' team winning two out of his three events and finishing third on the day.
Matthew Grove had two wins for the under 11 Boys and there were points winning performances from Andy Harvey, Chris Sumner, Josh Ward, Sam Murphy, Michael Causer and Joe Machin with Tom Potter also competing as the team tied for first place with 111 points.
The under 13 Girls' team were unlucky to slip out of the qualifying places as the event took place the day after the Northern cross country championships. However,
there were splendid performances all round from Heather Drillingcourt, Emily Dickinson, Lucy Waterworth, Katie Waterworth, Sam Fraser, Natalie Bannister and Lauren Bradshaw.
Teams for the North West final, which the organisers have limited to ten competitors per age group, will be announced shortly. Results.
Northern Cross Country Championships : Witton Park, Blackburn : 28 January
David Forrester continued his excellent form, of recent seasons, collecting bronze in the Under 17 age group behind arch rivals Ross Millington (Stockport) and East Cheshire's Simon Horsfield in a race in which Horsfield's chances of victory collapsed when he went the wrong way. David, hampered by a knee injury over the past fortnight, is looking forward to renewing the battle at the National and inter-Counties.
Tom Griffiths put himself into contention for a place in the Merseyside junior team, running with Steve Mayers, competing after injury, the pair crossing the line together in 39th and 40th positions, closely followed by John Appleton (52), Dave Twigg (59) and Greg Williams (64) who are also getting fit after injury. The team finished sixth and are also looking forward to the National event next month.
Tony Smith ran splendidly to take 77th place (third Merseyside) and has put himself into contention for a Merseyside team place. Ian Hayburn (212), Ian White, running with a cracked rib (264) and Denis Wharton (379) completed the course but there were no other injury or illness free athletes available to make up a team.
The under 15 boys also finished a team, John Dumbell (67), Jake Healy (70) putting in bids for the county team, supported by Steve Clague (159) and Adam Fackey(188) to claim 18th place.
The under 13 Boys were eighth, Jamie White (48), David Griffiths (51) and Daniel Hughes (52) running an excellent team race. John Ashcroft, who is still recovering from pre-Christmas illness, anchored the team home finishing in 83rd position only thirty seconds later to give the club its best team result for several seasons.
A weakened under 13 Girls' team took 13th place, Jemma Shaw (46) and Heather (not her sister Helen!) Drillingcourt (57) leading them home, Heather Leyland (108) and Louise Hayes (152) clinching the team place. Emily Dickinson started the race but found the conditions not to her liking and did not finish on this occasion.
In the under 17 girls' contest Jourdan Cotter confirmed her top six Merseyside place finishing 62nd but closer to the girls who beat her in the county event.
The senior ladies, without Gill Laithwaite and Sarah Charnock, took 25th place led by a flu-ridden Julia Eccleston (114), with Chris Dempsey (200), Chris Dickinson, another 'flu victim (213), Cecilia Fitzsimons, still recovering from injury (218) and Pam Appleton completing the course on a course unsuited to her running style in 226th place.
Although the season hasn't panned out as well as it was hoped at the outset everyone who wasn't frozen to the marrow by the finish enjoyed the day, especially Julia Hayes - who acted as team manager - and John Irwin who pulled the teams together. Many, many thanks to those parents and others who came along in support. Time to target the National. Results:
Helsby Four Villages Half Marathon 22 January
Gill Laithwaite set a new club best of 79.04 (Chip time 79.01) for the half marathon when she was the second veteran to finish (third overall) at Helsby. This was two minutes faster than her previous best at Wilmslow last May.
Mark Glynn made an impressive debut in club colours with 83.29 (82.51), ahead of Dennis Wharton 87.43 (87.05) and Tony Raffle 97:57 (97.48). Sue O'Hanlon showed great strength in recording 101.36 (100.47), just ahead of Gerry Kennedy 102.45 (101.35) and Julia Eccleston 106.18 (105.29).
Peter Code and the beautiful Jo Anne had their annual outing getting round in 1.50.57 (1.48.55), Pam Appleton recorded 1.53.05 (1.51.51), Rob Stiffin 1.55.09 (1.52.39), Valerie Howell 2.11.45 (2.09.23) and Pauline Picton 2.14.46 (2.14.35). If I've missed anyone please let me know.
Northern Junior Championships : Sheffield 21/22 January
The club increased its Northern indoor medal total from one last year to three in 2006. Mike Ehlen added the Under 17 indoor title to the under 15 outdoor title he took in 2006 with 12.63 and raised his high jump best to 1.90 to finish third in the high jump. Josie Barrow also took bronze in the high jump clearing 1.55, just three centimetres shy of the gold.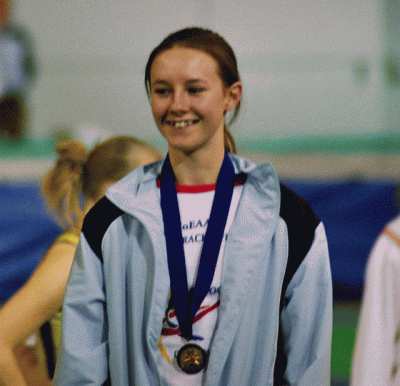 There might have been more as Luke Williams qualified for both the 60m (8.06) and 200m (25.41) finals. Unfortunately, Luke missed the first event and, in accordance with the rules, was disqualified from competing in the second. He's going for revenge in the AAA's.
Thaddeus Anim Somuah, fresh from his record breaking 60m run in 7.53 recorded 23.84 to reach the final in which he was fifth in 23.96. He also recorded 54.79 in his heat of the 400 so Wayne Joyce's long-standing record remains intact. In the 800m Andrew McDonagh, running despite a stomach upset, finished in final in 2.12.8.
Sam Fraser maintained her consistency by taking sixth place in the high jump with a leap of 1.50. She, like this weekend's other competitors, will be taking part in the AAA's in March. Results
Northern Senior Multi-Event Championships ; Sheffield 14/15 January
One year after dislocating his ankle Phil Robinson came away with a magnificent silver medal from the Northern Indoor Multi Event Championship. Phil didn't enter the AAA's but was one of five competitors for the Northern title. Luck was on his side when three didn't turn up but the Big Man did and can be located from the shine emanating from the silver medal he's been polishing deep in the heart of Rainhill. You've got to be in it to win it - and he won it. A well deserved medal for a great club servant. Overall total 2807 pts, including several club records.. Full results to follow, unless he pays me enough not to!!! Information from Phil Robinson - Cloud Nine. Results
Cheshire Cross Country League ; Woodbank Park, Stockport 15 January.
We don't have full results from this match but we do know that our veterans ladies team earned third placed medals. They were Karen Jarvis, Chris Dickinson, Cecilia Fitzsimons and Chris Dempsey. The first three missed out at Wavertree yesterday - Dempsey's just getting greedy (she's known me long enough to know I don't mean it!). Well done to the four of them, they're showing good team spirit.
Merseyside Cross Country Championships - Wavertree 14 January
Dave Forrester and Gill Laithwaite collected individual titles, there were medals for the under 13 boys' and under 13 girls' teams, the senior ladies, two of our veteran ladies while several athletes won guaranteed places in the county team and others have a good chance depending on the results of the Northern.
Gill outclassed the opposition winning by 67 seconds while support from Julia Eccleston, Sue O'Hanlon and Chris Dempsey secured third place behind SouthportWaterloo and Liverpool. Sue and Chris added medals as second and third over 45 veterans behind Southport international Sue Cooper. Some of us remember both of them as 16 year old intermediates competing in the Merseyside Women's Championships in Sherdley Park nearly thirty years ago - but we promised not to mention it!!!.
Karen Jarvis, Chris Dickinson, Pam Appleton and Cecilia Fitzsimons made sure the club was the only one to finish a B team. Pauline Picton began her fight for fitness by completing half the course.
Dave was on his own in the Under 17 race and finished on his own 55 seconds ahead of the nearest opposition having left them from the start. In the equivalent girls race Jourdan Cotter has a good chance of making the county team after finishing sixth and there was a splendid run from Helen Grady who surprised herself but not the club's coaches by taking twelfth place.
In the under 15 boys' race Jake Healey was sixth and will be considered for the county team while Andrew McDonagh made the top twelve. With John Dumbell (21) and Adam Fackey (22) coming in together the team was unlikely to just miss out of the medals by three points. Steve Clague ran in support but was forced out of the race with a hamstring problem just after halfway.
Sara McLoughlin was eighth in the under 15 girls' contest and had support from Alana McKenzie (20) and Elisabeth Mousdale (21) but, as last year, the lack of a fourth counter, prevented the girls from picking up the bronze medals. Third time lucky in 2007!
The under 13 boys packed all four within ten places which will stand them in good stead at the Northern. Jamie White (9), David Griffiths (10), Daniel Hughes (15) and John Ashcroft (19), still recovering from illness, were the counters who collected the medals with Joe Williams making his county debut in 30th place.
There was similarly good packing amongst the under 13 girls Jemma Shaw claiming an automatic place in fourth position, Joanne Sturgeon (9), Heather Drillingcourt (11) and Heather Leyland (17) claiming second place. Louise Hayes (22) and Emily Dickinson (27) set out markers for future years.
John Appleton ran a splendid race to finish fourth in the junior race, as the third eligible junior to compete in the inter-counties. Again injuries cost the club team medals in this case, the gold.
Tony Smith must be considered for the county team following his seventh place in the senior race. The senior team was decimated by illness, injury and work commitments. Barry Graney (53), ranwith flu, behind Ian Hayburn (34) and last minute arrival Dennis Wharton (45) while Paul Burgess and John Appleton made the team for the first time, scoring 252 points for fifth. Barry Mousdale (67), Tony Raffle (70) and John Irwin (79) completed the course, John becoming, as far as we know, the first grandparent to complete the championships in the same year as his grandchild.
Julia Hayes acted as team manager throughout and there was plentiful support from coaches and parents plus Brian Renshall who was on hand to reminisce about his running days. They don't make 'em as hard as they were then Brian. Results:
AAA Multi-Events Championship : Sheffield 7 January 2006
Competing as a first year Samantha Fraser finished sixth in the AAA's indoor championships with an indoor club record of 2505 pts, almost 400 points better than the outdoor record, and with a new club 60m hurdles record of 10.1. Samantha was the second Northern athlete to finish but hadn't been entered for the area event and missed out on a medal but was nonetheless delighted with her 4.29 (long jump), 1.49 (high jump), 7.89 (Shot putt) and 2.52.9 (800).Information from Clare Fraser. Results
Reebok Challenge - Belfast 7 January 2006
Andy McDonagh travelled to Northern Ireland to compete in the latest round of the Reebok Challenge taking 18th place in 14.03. Good warm up for the Merseyside. Information from Mr McDonagh.
Cheshire Cross Country League: Monday 2 January 2006
The club had an excellent turnout at Frodsham at the start of the New Year. There were individual victories for David Forrester and Jemma Shaw and a bakers' dozen representing the club in the men's race.
Matt Cullen (6), Tony Smith(8), Steve Mayers (14) and Ian White (33) were the counters for the men, new recruits, Ian Costello (41) and Gavin Rogers (43) just ousted captain Ian Hayburn (44). Greg Williams made his long delayed come back in 52nd place, just ahead of Dave Twigg (56) and Ray Vose (58). Dennis Wharton (76), Matt Hodgson (83) and Loz Jarviz (121) completed the senior count. The team was fourth, the veterans seventh while Ian White lies sixth in the individual veteran's competition
Six ladies competed, although Catherine Zeta-Jones and Buffy the Vampire Slayer again had to miss the event. Julia Eccleston (19), Karen Jarvis (47), Chris Dickinson (58), Pam Appleton (60), Cecilia Fitzsimons (64) and Janet Holmes (70) all scoring points towards the club championship. The team was ninth with the veteran quartet third.
Dave Forrester's New Year debut showed promise as he won the Under 17 race by 33 seconds. Jemma Shaw adopted a pull back policy of watching the leader in the under 13 race then pulling her back over the latter stages to win. Heather Drillingcourt (10), Heather Leyland (26) and the dependable Emily Dickinson (31) brought the team home third.
Jake Healy ran solo in the under 15 race, finishing 15th after illness. Megan Twigg returned to competition after a long rest, taking 31st place in the equivalent girls' race. The under 13's took sixth place thanks to Jamie White (13), Daniel Hughes (15), John Ashcroft (19) and Joe Williams (38).
The under 11 girls were also sixth led by Chelsea Jarvis (16), Louise Hayes (19), Lucy Renshall (25) Alisha Cain (28) with Amy Shaw, resplendant with new glasses and hairstyle, 39th.
Julia Hayes acted as team manager while support was available from many parents who provided transport. Results