National Indoor Championships: Birmingham.
Jake Davidson set a personal best 12.68m in taking seventh placed in the National Indoor Final. Victoria Johnson took part in the shot and her performance will be reported when known. At Cardiff Laura Davenport reached the B final of the BUSF 800 metres with an indoor personal best of 2.17.
National Cross Country Championships:Temple Newsham,Leeds 21 February
Laura Davenport laid claim to the unique set of Billy McMinnis medals when she finished 19th in the junior ladies' race defeating a number of girls for the first time.
James Farghar made a welcome return after several weeks without training to take 60th spot in the under 15 boys' race. Peter Knowles was first back in the under 13 contest, John Dumbell making a powerful bid to join Peter in the inter-counties team by finishing as the fourth Merseyside runner home.
Steve Mayers and Greg Williams worked hard in the junior men's race and young Zoe Woodward may just have missed selection in the under 13 race but her position, 96th, was superb for a girl who was only 11 in January. Chloe Wilson will have to wait to see if her run has clinched county selection but her performance on the day was excellent.
Ben Clough and a determined Steve Clague ensured we had an under 13 team while under 15's Tom Rigby and Jessica Cretu both completed the course, Jessica motivated by the word "shopping" and a meeting with the great Stan Long, who masterminded Gateshead's run of victories in the 1970's, Tom by the knowledge of winning place in the team for the National Road Relays..
Kim Bridge, who had Nicola Gravener offering vocal support, ran well on a course not to her liking while Katie Jolly coped well with her first National. John Appleton scored maximum championship points in the under 17's.
Senior ladies Louise Casey, Julia Eccleston and Chris Dempsey were unlucky not to finish a team when Cecilia Fitzsimons fell, sprained her ankle and had to pull out on the first of the scheduled two laps. All three ladies felt the course was "testing". On Sunday Cecilia's sprain was diagnosed as a small fracture and she's decided to take an end of season break.
The senior men were provisionally placed 111th but have appealed following the failure to include Ian Hayburn in the team count and could finish 95th. Ian (657) led the team splendidly ahead of Barry Graney, Ray Vose, Ian White, young Anthony Davies, Ritchie Bradshaw and Tony Raffle. Both John Irwin and Alan Davies started the race but decided discretion was the better part of valour and retired early.
Last season the club had 23 starters and finishers. This season we had 28 starters and 25 finishers. It would have been more had it not been for injuries, illnesses and holidays but still shows an improvement over a year ago. It was encouraging to see those unable to compete turn up to offer vocal support. Tom Griffiths, Mellissa McLoughlin, Sara McLoughlin, Jason White, Lucy Cannon, Louise Hayes, Janet Holmes and Pam Appleton included amongst them.
In addition, we had numerous families present including the Mr & Mrs Farghar and four children, Mr & Mrs Knowles, Mr & Mrs Dumbell and daughter, Paul & Mrs Davenport, Steve Eccleston and offspring, Mr Jolly, John Woodward, Aileen Wilson, Mr Bridge, Mrs Graney, Anthony Davies' fiancÚ and the family dog.
Phil Thomas acted as team coordinator with management of individual teams being carried out by Julia Hayes, Danny McLoughlin, Sue Clague and John Irwin. The club tent proved to be a boon on a cold day and proved inspirational in the acquisition of practical skills. Additional classes will be held in the near future.
Results
Regional Sports Hall Finals: Wigan 21 February.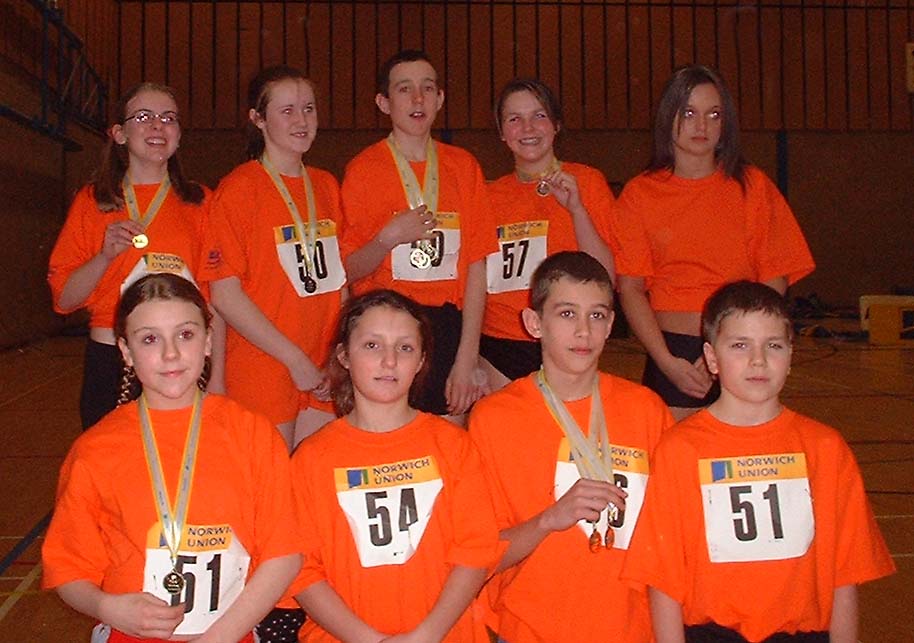 Hanna Green, called into the Merseyside team on Thursday, came away with a gold medal in the Speed Bounce with 76 bounces. Laura Crook won the six lap, Mike Ehlen took gold in the standing triple jump and 8 lap Parlauf while Anthony Marsh won the vertical jump with 56cm and also collected a silver medal in the 4 lap race. Mike also won the bronze in the 4 Lap Parlauf while there were bronze medals too for Rachael Hutchinson (Vertical Jump) and Becky Keegan (Shot Putt).

Also representing Merseyside were Vicky Johnson in the shot putt and relay, Kelly Rigby (High Jump) and Adam Taft (Sprint). Last year we had 5 athletes in the Merseyside team and won 5 medals. This year we had nine athletes in the team and won nine medals. In addition, Laura Crook and Mike Ehlen were awarded Indoor Athlete of the Year awards. Many thanks to Roseanne Hutchinson, Joe Ehlen and Geoff Johnson for their excellent work with the team. Results

Cheshire League : Woodbank Park, Stockport 15 February

The under 11 girls' squad did what they've threatened to do all season and won the team race with running reminiscent of Sutton's halcyon days. Zoe Woodward, Laura Crook and Joanne Sturgeon filled the first three places, Amy Fairclough was fifth, Heather Drillingcourt ninth, Katie Jolly eleventh and Louise Hayes, still a year under age, 23rd. The team award was won with 52 points to spare.

In view of the proximity of the National the other age groups were sparsely attended but the quartet of Dennis Wharton, Ian White, Ritchie Bradshaw & Tony Raffle placed 7th in the senior and fourth in the veterans' race. Mike Burke &Tom Rigby were a minute apart in the under 15 contest, John Appleton and Ben Clough were seventh in the under17 & under 13 events respectively while Cecilia Fitzsimons was the only senior lady competing.

The under 11 girls now lead the aggregate competition while the men's teams are second overall and the combined ladies' teams are ninth. Results:

Nick Beer 10k : Llandudno: 15 February

Despite having a weakened team the club finished a magnificent second only 12 points behind Abergele in the ladies race. Louise Casey was 11th in 44.29, Julia Eccleston 18th in 47.42 and Pam Appleton 23rd in 50.19. In the men's race John Appleton was 49th male overall and fifth over 50.Louise was 29 seconds quicker than last year and Julia 7.12 faster than 2003. In the three years we've contested the team race we have been third, first and second. The organisers also awarded the girls our prize from last year.

Bits & Bobs

: 7 & 8 February

Dave Forrester finished second in the Greater Manchester Schools Championships at Hopwood Hall in Middleton. Laura Davenport was 31st in the British Universities Championships at Dundee, leading her Staffordshire team home into ninth place. Kim Bridge and Jessica Cretu led Cowley Language College to their first complete team finish in the Merseyside Schools' League for several seasons, John Jameson showed excellent form finishing in the top twelve at the Merseyside Schools' Boys League. Two of our veterans were in winning form in the Northern Veterans race at Stockton Heath, Chris Dempsey the first lady over 40 and John Appleton the first over 50 to complete the course.

Sports Hall League 1 February : Deeside.

St Helens Sutton reached the final of the North West Sports Hall League in two age groups. The under 11 girls were second overall behind Crewe & Nantwich, while the under 13 Boys team were fourth overall.

At Deeside, there was a double first for the club's under 11 teams. Louise Hayes, Laura Crook, Zoe Woodward, Jenny Harmon, Heather Drillingcourt, Kate Waterworth, Lucy Waterworth, Lauren Hyde and Katy Jolley scored 132 points to defeat West Cheshire, Warrington, Deeside and Frodsham. The under 11 boys matched the girls, Andrew Hutchinson, John Ashcroft, Jaimie White, Tom Green, Ryan Marsh and Luke James scoring 134 points defeating Warrington, West Cheshire, Frodsham and Deeside.

The under 13 Boys' team of Graeme Morley, Anthony Marsh, Mike Ehlen, Adam Taft, and Lee Taft finished second to West Cheshire but clinched a place in the final. The under 13 trio of Becky Keegan, Rachel Hutchinson and Hannah Green claimed fifth spot, Beck recording 8.92metres in the shot putt.

Our under 15 teams were Vicky Johnson and Tom Kingsley both of whom scored more points than Warrington to clinch fourth spot.

Two teams in the final is a new standard for the club and the overall positions of 13th in the girls and 14th in the boys under-estimates the tremendous progress made during the season under the guidance of Roseanne Hutchinson and Joe Ehlen. Plans are already afoot to double our presence in the 2005 North West Finals. Results: