Veterans' Round Up:
A brief search through the Northern Veterans' website revealed that Andy O'Connor was the third (first over 40) at Stockton Heath on February 9th in a time of 38.12, Andy Boyack recorded 42.18 to finish 11th in the over 50 category at the cross country championships in Wrexham on March 16th while Pam Appleton, running at Lymm as a guest on April 6th, was the first over 45 in 57 mins 14 secs.

St Helens Corporate Cup: Sherdley Park.27 April
Cecilia Fitzsimons took time out for a restful run in the Corporate Cup leading the Legal Eagles team from Cuff Roberts into 39th place in a time of 23.07. Stephen Powell (28.50)had a much improved run for The Stellas who included Jim Powell (27.17)and Linda Green (29.20)as they claimed 14th spot in the Friends and Family Division. The Halewood Leaders from Jaguar Cars motored through into 55th place thanks to a sterling contribution from the improving Michelle Holmes (31.35).

Whitley 10k : 27 April.
This popular race has a long association with St Helens-Sutton. Its organiser is the grandson of Charlie Straw, the great Sutton Harrier who won the Internatiional, National and Northern Cross Country titles in 1906. Bill Brough, who was the assistant masseur to that team, was the club's masseur when our President, Bill McMinnis, joined the club as a 21 year old at the start of the 1936/37 season. In those days it was normal to have a massage immediately after training but the young Bill McMinnis always found Walter's hands a bit cold for the purpose so he stayed out and did some extra mileage so that Bill Brough had completed his task by the time he came back. It certainly paid off when Bill won the National Marathon title in 1955.

Our own masseur, Louise Casey, was the first of the girls back, finishing fifth, followed by Julia Eccleston with Janet Holmes and Margaret Hunter-Frackelton (universally known as granny for those who haven't heard about the recent birth of her first grandchild, a girl) also completing the course.

In the Fun Run Andy O'Connor's two lads, Michael (11) and Callum (8), turned out for their first competition. Callum zipped round in 24.12 to finish 11th and Michael wasn't that far behind in 26 mins dead. Congratulations to both lads.Results to follow when available.

Sheffield Open Meeting: Don Valley Stadium 26 April
Zoe Woodward travelled to Sheffield where she finished 3rd in the 100 metres in 15.4, 2nd in the 800 metres in 2.46.6 and 2nd in the 200 metres in 32.0. These results placed her equal sixth in the all time list for the 100 metres at the meeting, which has been held annually since 1996, third in the 200 metres and fifth over 800 metres.

Chorley Parks Series: 25 April
Mike Ehlen had a run out on the undulating parks course at Chorley finishing seventh, first under 13, in a time of 6 mins 27 secs.

Croxteth Park 5k, West Derby, 23 April.
There was a splendid turnout at the first race in the Croxteth Park 5K series organised by LPS. Last year we had six ladies and one male competitor. This year we had seven ladies and six males taking part. The latter were led home by Tony Smith, who produced an excellent sprint finish to take ninth place. Andy O'Connor, fourth over 40 in 16th place, Danny McLoughlin(31), Joe Ehlen(84) and John Irwin who was second vet over 55. Danny came in one place behind John Appleton.

John was outsprinted by Julia Eccleston who was our third lady home behind the rejuvenated Louise Casey and Pam Appleton. Claire Newing and Toni Garnett continue to make large strides with times of 25 mins 10 secs, quicker than at Sherdley Park, while Dorothy Fairhurst, fresh from her over 60's win at the Halton Bridge race, was again first in her age group. Janet Holmes produced a sturdy performance as 38th lady.

Tony Smith, Andy O'Connor, John Appleton, John Irwin, Louise Casey, Pam Appleton and Dorothy Fairhurst all set 2002/3 season best performances for their respective categories and intend to improve them next time out.

The club expects to increase its entry in the final two races of the series with the unwell Cecilia Fitzsimons, holidaying Chris Dempsey and recovering Pauline Picton ready to compete and one or two more senior men to add to the numbers.

Many thanks to Julia Hayes, Louise Hayes, Mike Ehlen, Julie Ehlen, Mandy McLoughlin, Frank Hayes and Phil Thomas for providing logistical and vocal support. Results

Priory Relays - Sale 21 April 2003
Dave Forrester led the under 13 Boys to their final success of the cross country season by recording the fastest lap at Cossford Bridge. Ben Clough and Mike Ehlen were overtaken by Warrington and Liverpool but clinched third place.

The under 13 Girls and the Under 11 Girls each placed sixth, Sara McLoughlin, Lucy Cannon and Kim Bridge running for the former and the three musketeers, Laura Crook, Katie Jolley and Zoe Woodward bring home the latter.

In the Under 9 race Louise Hayes finished 19th , half way up the field. Many thanks to those parents who went in support of the final cross country race of a very successful season. Results

Halton Bridge Race: 20 April
Dorothy Fairhurst competed in this event and won the over 60 category, finishing 245 in a time of 45.23.

Good Friday Races : Southport 18 April
Bright sunshine and a stiff breeze welcomed runners competing at the Southport Good Fridat 4 miles for men and women and the 3k fun run for youngsters.


The Fun Run was first, although the number of club runners makes it an all ages race. Ben Clough surprised Mike Ehlen cataching him in the last half mile to claim 21st place, Sara McLoughlin was only nine places adrift defeating sister Melissa by 50 seconds with Lucy Cannon only four seconds further back. Louise Hayes was a creditable 83rd in a field of 192 finishers.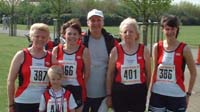 In the women's race Louise Casey finished 20th, running eight seconds a miles slower than last year but much better than of late, Cecilia Fitzsimons was 35th closely followed by Pam Appleton and Julia Eccleston, who improved last year's time by five minutes. Dorothy Fairhurst and Janet Holmes battled it out to the finish, running only one second a mile different and finishing 82nd and 84th respectively in a field of 144.


We doubled our number in the men's race Ben Fitzsimons finishing 210 in 31 mins 10 secd and John Irwin 31 mins 27 secs. Many thanks to supporters Danny McLoughlin, Joe Ehlen, Julia Hayes and John Appleton who ran for the Northern Vets. An excellent turn out which we hope to increase at next Wednesday's Croxeth Park event. Maps for these races are up on the club noticeboard. Results

Cheshire League - Bury 13 April.
Improvisation and early season markers were the order of the day in the first Cheshire League match of 2003 at Bury.

The senior men were assisted by Joe Ehlen who made up the relay which earned third place, the same as the senior ladies for whom Louise Casey made up the numbers. The three mustketeers (Laura Crook, Zoe Woodward and Katie Jolley) were joined in the under 11 girls by Sammy Gaines who made an impressive start with a win in the 800 metres.

Melissa McLoughlin, in support of regulars Kirsty Lewis, Sarah Lewis, Laura Savage and Charlotte Walkden, surprised herself with a win in 100 metres while Stephanie Currie returned to competition with one of two second places in the shot putt, the other going to all rounder Laura Savage.

Dave Twigg, Tom Griffiths and John Appleton saw off the opposition in the under 17 boys' 800 metres, a feat repeated by Mike Ehlen and Ben Clough in the under 13 age group.

Emma McCletchley and Layla Tapley worked tirelessly throughout the afternoon for the senior women, Lucy Mitchell adding her speed in the 100 metres and relay and distance runners Louise Casey and Cecilia Fitzsimons each earning second place in the 3000 metres.

Rachael Hutchinson, Kim Bridge and Sara McLoughlin kept the under 13 girls together with Jon Calder, Alan Geraghty and Barry Cunliffe doing the same for the senior men.

Lucy Cannon and Adam Littler both made their Cheshire League debuts and a combined relay team including two girls finished second in the under 13 Boys' race. As is often the case in the Cheshire League improvisation was the order of the day. The Northern and National Young Athletes Leagues in May will be more structured.

In the team contest the girls finished third with 116 points and the boys lie fourth with 73 points. The full scores were Women: 1 Bury 148; 2 Crewe & Nantwich 135; 3 St Helens-Sutton 116; 4th = Altrincham and Manchester 71; 6 Halton & Frodsham 45. Men: 1 Bury 197; 2 Manchester 150; 3 Crewe & Nantwich 136; 4 St Helens-Sutton 73; 5 Halton & Frodsham 62; 6 Altrincham 32.

The under 11's are scored separately from the main competition but as a combined score of boys and girls. We are currently fourth overall, having finished second in the girls' competition. The team scores are 1 Bury 86; 2 Crewe & Nantwich 85; 3 Halton & Frodsham 64; 4 St Helens-Sutton 63; 5 Manchester 36; 6 Altrincham 27. With more lads to support Adam we can be challenging for first place at the next match.

Many thanks to those who travelled in support on the day including team managers Julia Hayes, John Irwin, timekeepers Pam Appleton and Janet Holmes, Joe Ehlen, Roseanne Hutchinson, Danny McLoughlin, Mr Bridge, Mr Crook ,Mr Woodward and Louise Hayes.Results

Sefton Corporate Cup - Southport 5k 13 April
Four of our newest members took part in the Sefton Corporate Cup and, contrary to their predictions, we were able to find them in the results.

Jim Powell, Stephen Powell and Linda Green made up 75% of The Stellas who finished 11th in the Family & Friends division. Jim recorded 27 mins 05 secs, Stephen 29 mins 15 secs and Linda 29mins 40 secs.

Michelle Holmes ran as part of the Halewood Leapers team which took 50th place in division one, recording 31 mins 27secs first time out.

Melbourne Trophy Wavertree 12 April
Owing to the clash with the Cheshire League only a small number of athletes travelled to Wavertree for this event. Zoe Woodward and Laura Crook were active in the under 11's, Jessica Cretu ducked under 30 seconds for the 200 metres while Mike Ehlen and Ben Clough tried out different racing tecniques in the 800 metres. Results

Warrington Open Meeting 6 April
Joe Ehlen followed his exertions in the Northern Road Relays with second place in the discus at Victoria Park. Mike Ehlen and Ben Clough were in action for the under 13's, the three musketeers, Laura Crook, Zoe Woodward and Katie Jolley, took part in the under 11's competition while Louise Hayes made full use of the under nine races to establish early season marks. Results

The Northern Road Relays - Blackpool 5 April
The inexorable emergence of St Helens-Sutton as a competitive club continued apace with an historic double along the promenade at Blackpool. The ladies' team improved two places on their debut performance of a year ago and the men fielded a complete team for the first time in almost a decade. The team spirit, personifed by Adrian Wilson's willingness to compete if required, Alan Davies' withdrawal in favour of Tony Raffle's run on the glory leg and Janet Holmes attendance as reserve in case of last minute withdrawals, permeated this historic occasion in the club's long term development.

The ladies' team performed as expected, Louise Casey leading them out and Julia Eccleston anchoring them in with an improvement of five places in the intervening stages from Pam Fitzsimons, Cecilia Fitzsimons, Chris Dempsey and Pam Appleton. The girls again engaged Bury and Longwood, beating both - and with talented youngsters ready to force their way into the team can look forward to improving still further next season.

With the first three runners in the men's team still in the junior ranks Barry Cunliffe's opening salvo in 35th place was an important building block for next season. Youngsters Greg Williams and Steve Mayers gave Barry Graney a solid position on the second long stage. Danny McLoughlin, Richie Bradshaw and Anthony Davies maintined the pressure, while cooperation and tight scheduling saw Joe Ehlen and John Irwin hold the middle-order together for Andy O'Connor, Andy Boyack and Tony Raffle to complete the historic performance.

Of all Merseyside teams only Wirral A C (12th in the women's race and 25th in the men's contest) and ourselves (20th in the women's race and 37th in the men's event) fielded complete teams. Liverpool's final leg runner in the women's race failed to appear and LPS did not enter a ladies' team. 2003 has provided the marker for next year when we will be looking to improve on this performance.

Thanks to John Irwin, Janet Holmes and Phil Thomas who managed the team managers' duties between them and Melissa McLoughlin, Sara McLoughlin, Mike Ehlen and Lucy Cannon for bringing Danny along to run. Owing to the disqualification of one team for running an ineligible athlete, the club's position is now officially recorded as 36th. Results