Welcome to St Helens Sutton Athletic Club
Results
FURTHER PROGRESS AT THE NORTHERN
Sefton Park,Liverpool 28TH September
St.Helens-Sutton continued their progress at Northern level with the men's team improving nine places and the women claiming a place in the National Road Relays in 31st place.
The men's team showed two changes from two years ago with Barry Cunliffe and Adrian Webb replacing Gary Moore and Stan Earlam. Barry led the lads off in 50th place out of 69 starters followed by steady running from Barry Graney, Ray Vose and Adrian Webb. Richard Farrar ran a cracker to gain six places on leg five and Andy O'Connor moved up to 44th on the final circuit with the club the fifith Merseyside A team to finish.
The first 25 clubs won automatic invitation to the National Road Relays and the ladies were the 24th A team to complete the course thanks to Louise Casey, Pam Appleton, Cecilia Fitzsimons and Elaine McNamara. The girls were the fifth Merseyside team to finish and beat Warrington, to whom they lost narrowly last week, as Elaine gained five places on the final lap.
Sue Clague was unable to compete owing to illness so the B team of Jackie Lewis, Julia Eccleston and Janet Holmes ran for pride, Janet beating Wigan for good measure as she gained four places. In the Phoenix A team Gill Bacon showed the benefit of her track training with a superb run on leg three.
The men's B team of Danny McLoughlin and Richard Bradshaw made an appearance providing the club with the incentive of providing two full teams next season. Many thanks to Joe Ehlen our official marshall and to all supporters who turned up including Lyn Webb and Diane Appleton neither of whom were able to run owing to injury and illness. Results



LAST CHESHIRE LEAGUE OF THE SEASON
Triumph at Bury. 22ND September
The club finished the track and season in style with top three places in the final match at Bury. The girls team scored 154 points to finish second, the boys 156 for third place, matched by the under 11 team of Mike Atkinson while the under 11 girls were first with 60 points. Zoe Woods and Zoe Woodward both produced electrifying finishes to win the 75 metres and 600 metres respectively.Both girls conributed to the record setting 64.1 relay victory while both Zoes took first in the long jump and Miss Woods won the javelin along with Louise Hayes. There was superb support work from Katie Jolley and Sara McLoughlin (75, 600 and relay).
Jessica Cretu, Laura Savage, Charlotte Walkden, Vicky Johnson, Samantha Currie and Kirsty Lewis provided the points for the under 13's with Vicky's 8.24m shot putt outstanding. Greg Brierly made an impressive debut for the under 13 boys alongside regulars Ben Clough and Mike Ehlen.
The weather conditions were not conducive to fast times but Anna Sheffield, Melissa McLoughlin, Sarah Lewis and Caroline Morley produce a respectable 57.5 in the under 15 relay only 0.2 seconds slower than the lads' team of John Appletton, Tom Griffiths, Mike Griffiths and Ryan Tapley.
Peter Seddon is ready for winter conditioning work after scoring all the points for the under 17's and Barry Cunliffe rounded off a week in which he joined the long list of John Orrell Mile winners by winning the 1500 metres and producing a superb final leg in the 4 x 400 metres.
Newly qualified coaches Frank Atkinson and Joe Ehlen got some practical experience, Janet Holmes interrupted her stint as timekeeper to take third spot in the 3000 metres while Lucy Mitchell, Emma McCletchey and Layla Tapley all came up with wins.
Thanks to our officials, John Irwin, Frank Atkinson and Janet Holmes (all of whom also competed), Phil Thomas who didn't and team managers Julia Hayes, Danny McLoughlin and John Irwin (!). Many thanks to the parents who provided transport and support throughout an afternoon which veered from the hot to the windy and all points in between. And a big thank you to Bury A C for all their hard work in staging the fixtures. Results Link


NORTH WEST ROAD RELAYS AT STOCKPORT
Triple Silver Medal Success. 21st September
St Helens-Sutton are back in the medals. Competing in the Merseyside County Road Relays as part of the combined North West Counties Championship at Woodbank Park, Stockport, the club's senior ladies', under 13 boys' and under 13 girls' teams each took second place.

The youngsters started the ball rolling when Kim Bridge, Lucy Cannon and Sara McLoughlin powered home behind Liverpool Harriers, a feat emulated by Mike Burke, Mike Ehlen and Ben Clough for the lads, Mike Burke recording the sixth fastest time in the combined counties' championship.
The senior ladies trio of Louise Casey, Pam Fitzsimons and Lynn Webb were the second Merseyside team to finish, the B team of Cecilia Fitzsimons, Elaine McNamara and Jackie Lewis were also second while the C team of Chris Dempsey, Julia Eccleston and Sue Clague demonstrated the club's strength in depth as the only C team to finish in the North West.
The men's team faced formidable opposition from Liverpool Pembroke-Sefton, Liverpool Harriers and Wirral but still claimed fourth spot thanks to Barry Cunliffe, Tony Smith, Richard Farrar and Andy O'Connor.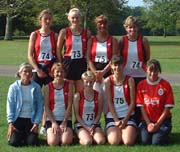 Times were also consistent in the B team of Anthony Davies, Barry Graney, Ian White and Ray Vose while Adrian Webb made his case for promotion in the Northern Relays next week as the fastest C team member alongside Andy Boyack, Dave Vose and John Irwin.
Many thanks to team managers Sue Clague, John Irwin, Ray Vose and the non-competing Phil Thomas plus those parents, grandparents, brothers and sisters, who turned up to support another significant step forward in the club's history.
(Pictured: (Back Row) Jackie Lewis, Lyn Webb, Sue Clague, Elaine McNamara (Front Row) Cecilia Fitzsimons, Chris Dempsey, Louise Casey, Julia Eccleston, Pam Fitzsimons). Results



VICTORY FOR MICHELLE 14th September
Michelle Lewis won the National 10k wheelchair event in Gloucestershire in 31 mins 23 secs for the course. Michelle, who is a popular figure at Sutton-St Helens, was second in the London Marathon earlier this year and was awarded the OBE in the New Years honours.
NEW RECORD FOR EMMA
Cheshire League
8th September
Emma McClatchey broke the senior club record with a leap of 1.42 in the high jump as a good turn out provided the club with a double victory the penultimate Cheshire League fixture. Having started the season tentatively the club is now poised for a top three finish in both the Boys' and Girls' division. The under 11's also chipped in with a first and a second. Many thanks to John Irwin and Dave Morley for all their sterling work as officials and to those parents who chipped in with transport. The club may consider hiring transport in 2003 if there is sufficient demand. Results link.


Ladies Fifth at Rufford
8th September

The senior ladies took fifth place in the team race at Rufford in the opening run of the year long unofficial road race championship. Louise Casey, Pam Appleton and Elaine McNamara were the counting three with Chris Dempsey, Julia Eccleston and Janet Holmes taking third in the B team contest. In the veterans competition the girls were fourth. On a tough course with weather conditions deceptively difficult everyone found it hard including Alan Davies who nevertheless finished 25th in the over 50 category. Chris Dempsey was only three second short of third place in the over 40' and both Pam Appleton and Janet Holmes were in the top dozen over 45's. The next race in the club championship will be the Southport 5 or the Great North Run with this year's races determining what will happen in 2003/3004. See Results section.
(Pic: Back Row) Pam Appleton, Alan Davies, Elaine McNamara, Janet Holmes. (Front Row Christine Dempsey, Louise Casey, Julia Eccleston.


SUCCESS AT COLWYN BAY
Colwyn Bay Open Meeting
7 th September
Several members made it a weekend in North Wales by attending the Colwyn Bay Open Meeting the day before the Cheshire League match. Julia Hayes improved her season's best in the hammer, Mike Atkinson, Zoe Woodward, Vicky Johnson, Mike Ehlen, Joe Ehlen, Barry Cunliffe, Ryan Tapley and Layla Tapley all showed that Open events can be popular and rewarding. It is likely that more will be on the fixtures list in 2003.
Colwyn Bay Open Results.
Colwyn Bay Cheshire League Results


Late Season Flourish - Trafford
3rd September
There were good performances from athletes who travelled to Trafford for the final Grand Prix run of the season. Gill Bacon set another club best of 10.17 in the 3000m, Barry Cunliffe ran the 800 metres in 2.01.1, Dave Twigg went round in 2.08 and Jodie Nelson recorded another 2.30. The official Status of Barry and Dave's performances will be clarified once the club records have been researched.


Liverpool Half Marathon
1st September

Julia Eccleston and Alan Davies set the fastest half marathon times of the 2002/2003 road racing season when they recorded 2.05.58 and 2.28.50 to finish 1354 and 1647 in the Liverpool Half Marathon on 1 September. As the season runs from 010902 to 310803 there's every reason to believe these times might not remain unbeaten for the full year!! Both will be turning out in the Great North Run at the beginning of October so look for sub-2 hours and sub 2.20 times next time out. It was Julia's debut at the distance, two days after running the West Cheshire 5k.